3 Alabama players go on social media detox as part of NIL deal with Six Star Pro Nutrition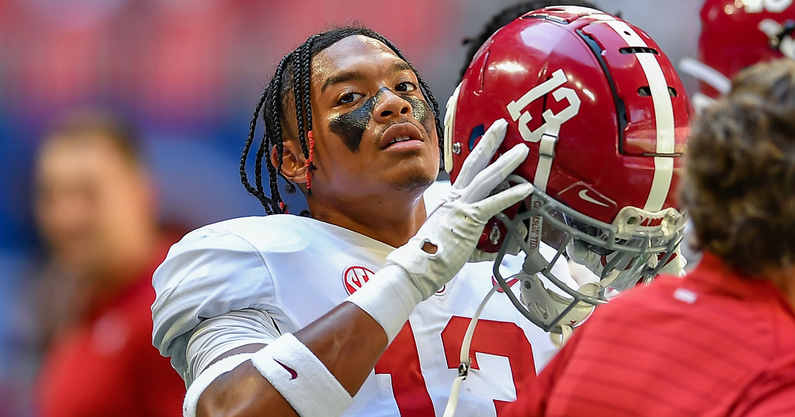 Six Star Pro Nutrition is teaming up with three Alabama Crimson Tide football players for one of the most detoxifying NIL deals out there.
Crimson Tide safety Malachi Moore, offensive tackle Javion Cohen and receiver Jermaine Burton have agreed to a NIL deal with Six Star Pro Nutrition. As part of the deal, Six Star Pro Nutrition has challenged Moore, Cohen and Burton to ditch their cell phone screens. They will stay off social media for the rest of training camp.
Normally the start of college football camps comes with numerous distractions. That's especially true at Alabama where the Crimson Tide is the talk of the college football world. Plus, Crimson Tide students are often exposed to #BamaRush, a viral trend on TikTok and Instagram with posts documenting Greek Life and Rush Week on-campus that annually generate attention from top pop-culture media outlets.
"It all starts with eliminating distractions, putting down the phones and focusing on the task at hand," Moore, a junior who started in all 15 games last season, including the national championship, said on his Instagram page.
"Nothing against #BamaRush, but we're focused right now. It's why I've teamed up with Six Star Pro Nutrition to go on a mini social media detox through the rest of preseason so we can represent y'all well this fall. We know what the goal is."
The NIL deal with Moore, Cohen and Burton comes after Six Star Pro Nutrition challenged several Pittsburgh Steelers to stay off social media last NFL season. NFL Defensive Player of the Year, T.J. Watt was the leader of the challenge. The Steelers won their final two games of the season and made the playoffs during the challenge.
Studies say social media detox is a good thing
According to studies, the average American spends more than five hours each day on their mobile phone, with teenagers spending more than seven hours connected to screens during the pandemic. Other studies suggest that humans may spend decades of their lifespan looking at a screen, either via TV, laptop or mobile device. These issues extend to what young people are doing on those screens. According to Instagram data, one-in-five teens say that the social media platform makes them feel worse about themselves. 
Six Star Pro Nutrition, which signed one of the first NIL deals with Hanna and Haley Cavinder on July 1, 2021, is a maker of proteins, pre-workouts and hydration products. In recent months, the brand has taken stances on where they'd like to see improvement in the sports world. This includes gender equality and NIL rights for student-athletes.
"We've been fairly vocal on the fact that for marketers, reaching college students and college marketing shifted from Greek Life to the athletes once NIL came into play," said Jarrod Jordan, Chief Marketing Officer at Iovate Health Sciences International Inc., the makers of Six Star products.
"But #BamaRush offered an opportunity to bring both together through this unique campaign. What you don't see on social media, including the #BamaRush reality show, is that excess screen time has become a major problem in our society, whether it is tempting our ever-futile attention spans, or showcasing unrealistic body images and cyberbullying."
More NIL deals focus on social issues
Many view Name, Image and Likeness only as an opportunity for student-athletes to make money off their brands. But NIL observers say more athletes are doing deals that raise awareness on social issues.
"Deals like this where the athlete is using his or her NIL to draw awareness to a social issue are definitely growing," Mit Winter, a sports attorney at Kansas City-based Kennyhertz Perry LLC, said earlier this year. "I think these types of deals are great for the athlete, the brand they're working with and the social issue being addressed.
"For the athlete, it shows the public and other brands that they have interests beyond athletics. So often, athletes can get pigeonholed as just an 'athlete.' I'm a big fan of deals where athletes can open up about their interests outside of sports. And these deals also allow athletes to use their star power to bring attention to issues they feel passionate about."
Moore currently has an On3 NIL Valuation of $282,000. Burton has an On3 NIL Valuation of $596,000, and he also ranks No. 41 in the On3 College Football NIL Rank. Cohen has an On3 NIL Valuation of $68,000.
The On3 NIL Valuation is the industry's leading index that sets the standard market NIL value for high school and college athletes. The On3 NIL Valuation calculates the optimized NIL opportunity for athletes relative to the overall NIL market and projects out to as long as 12 months into the future.