5-star USC QB commit Malachi Nelson is face of NIL for football recruits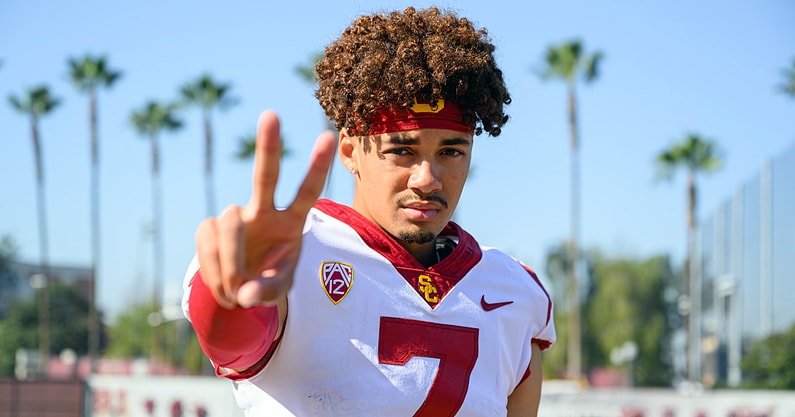 As a Five-Star Plus+ record-breaking quarterback committed to USC, Malachi Nelson is unlike any other recruit in the country. So, it's no surprise to see him break the mold again by becoming the face of NIL for high school football players.
Nelson out of Los Alamitos, Calif., turned heads when he signed a NIL deal in June with The h.wood Group. The company is a global hospitality firm with more than 30 restaurants and clubs worldwide that are frequented by A-list celebrities like Drake, Gwyneth Paltrow, Elon Musk, Justin Bieber, Kanye West and the Kardashians. Along with that deal, ESPN reported Nelson is "expected to agree to nearly a million dollars in endorsement deals by the time he enrolls" at USC.
"There are other high school football players that have signed deals with businesses, as opposed to collectives," said Mit Winter, a sports attorney at Kansas City-based Kennyhertz Perry LLC. "But Nelson's deal has been the most publicized and discussed and is also probably the most lucrative. He'll also probably appear in public advertisements in the LA area, so people will see those and be more aware of the deal."
Malachi Nelson is able to take advantage of the fact California is one of 13 states that allow high school student-athletes to do NIL deals without losing eligibility. In fact, California was the first state to allow high school athletes to agree to commercial endorsements in the country.
And Nelson became one of the first five-star football recruits – not just in California but also in the country – to go public with a major deal based off his Name, Image and Likeness. And Nelson did the major deal before he even took a snap under center with the Trojans.
It's a sign of the new NIL world we've entered for high school superstars.
"It's wild, really," said Nelson, who ranks as the No. 3 player in the country in the On3 Consensus and the second-ranked quarterback. "Everything with NIL. There are people acting like they know what they're talking about. But nobody really does. Everybody is still learning as we go through this. It's cool, though, to be in front of it and learn as we go."
How Malachi Nelson's NIL deal came about
Malachi Nelson mentions his "team" a lot when talking about navigating the murky NIL waters. It's that team, headlined by manager Justin J. Giangrande of Levels Sports Group, that helped Nelson land his first ever NIL deal.
The h.wood Group was founded by former USC walk-on quarterback John Terzian and his partner Brian Toll. Nelson said he will promote SLAB, a Texas-style barbecue restaurant in LA, through social media. He'll also host "two or three" USC tailgating events this season.
"I have a connection to those guys through my management team," Nelson said. "We ended up putting together a really cool deal. It worked out perfect. We all got what we wanted. We got the endorsement side, and we're giving back as well to the community. And it's a good networking deal to have. They basically run LA. It worked out well and was an amazing deal."
It took a while for the deal to materialize. But that was by design. Nelson said he and his family took things carefully. They talked with other families of high-profile quarterbacks. This includes the family of current USC quarterback Caleb Williams and Heisman Trophy winner Bryce Young. Both Williams and Young have been crushing it with their smart and strategically executed NIL deals.
Nelson said he also got guidance from his team at Levels Sports Group.
"I have a really, really good team around me," Nelson said. "They kind of steered me in the right direction. They're experienced in the world of marketing and networking, getting endorsement deals, NFL players and stuff to kind of bring that knowledge to this level.
"I would be lost without my team. They put me in great positions. You learn how to say 'No,' to things and do smart things that align with your beliefs. It's not just go after money. I'm glad we're getting into it now because a lot of times you're in the NFL learning all these things."
'He may feel some pressure to perform at a high level'
But with the good, could come the bad.
Nelson said he understands the pressure that comes with being a recruit with a major deal and an On3 NIL Valuation of $752,000. He also knows there's going to be a moment in the upcoming high school season where he throws an interception or overthrows an open receiver. Critics will question if he's focused too much on endorsements instead of football.
"You want to put yourself in the right position to not look like you're just doing it for the money," Nelson said. "Last year there were some college guys that had a bad game and then they had to wake up the next morning and post this endorsement deal. It doesn't look very good. So, my team has put me in a good position to avoid that from happening."
Winter – a former William & Mary basketball standout – agrees from the perspective of a former high school and college athlete the deal might put more stress on Nelson to perform at a high level.
"I'm sure opposing fans will let him know they don't think he's worthy of the deal if he has a bad game," Winter said. "And he may feel some pressure to perform at a high level so The h.wood Group feels it's getting its expected ROI, and so other businesses want to do deals with him in the future.
"But as a highly rated and well-known player, I'm also sure Nelson is a competitor. He is already used to dealing with high expectations and heckling from opposing fans. So, I wouldn't expect the fact that he has a publicized deal to lead to more scrutiny than he would be under already."
Malachi Nelson has learned a lot through NIL process
All eyes will be on Nelson this fall. But another NIL expert said that might not be such a bad thing in the long run.
"I think high-profile athletes always face pressure, regardless of a NIL deal or not," said Christopher Aumueller, who is the CEO of FanWord, a company that allows students to showcase, promote and monetize their NIL. "Does this add another layer of pressure, sure. But in my opinion, it's something that will prepare him for later parts of his career, too. If you have the game of your life and don't perform the same the week after, people will criticize you. If you make it to the pros and sign a big deal and don't perform as expected, people will criticize you.
"One of the most valuable skills high-profile athletes can learn is how to deal with the comments of the media and general public. Having a deal prior to playing a single snap in college will just help Malachi 'learn that skill' sooner."
Nelson said he's also learned other skills going through the experience of his first NIL deal. Skills that will help him become a better person, businessman and performer on the field in the future.
"I think the biggest one is learning how to say 'No,'" Nelson said. "I think for a lot of these kids, especially since it's new, finally all the hard work is paying off and you get paid for this. It's hard to say 'No.' I think that's completely the biggest thing I've learned. Do you just want to go hold this bottle up and get paid for it? Or do you want to do something that's going to align, give back, whatever it is you believe in? I think that's something big."
Nelson's doing NIL the right way
David McGriff, an attorney helping athletes during the NIL process, is a fan of how Malachi Nelson did his deal. He knows some have questioned and even criticized Nelson for striking the deal while he is still in high school and before he's even taken a snap in a USC uniform.
But he thinks that criticism is hogwash, and he's on board with the idea that Nelson is a trendsetter in the NIL space for high school athletes.
"Mr. Nelson's deal makes him one of the faces of NIL for football recruits, particularly because of the apparent transparency in the way in which the deal was announced and the contracting party – a USC alumnus," McGriff said. "Arguably, Mr. Nelson's deal lines up with the original expectations of what NIL deals would look like. California is a state that allows for high school NIL deals, and good for Mr. Nelson to take advantage of that law."
Winter fully expects others to follow Nelson's lead.
"Recruits entering college with pre-existing NIL deals is going to be a more common thing in the future," Winter said. "As we get a few years into NIL, it won't be as novel for a high school athlete to already have deals in place."