9 Illinois offensive lineman sign NIL deal to "Help Tackle Hunger"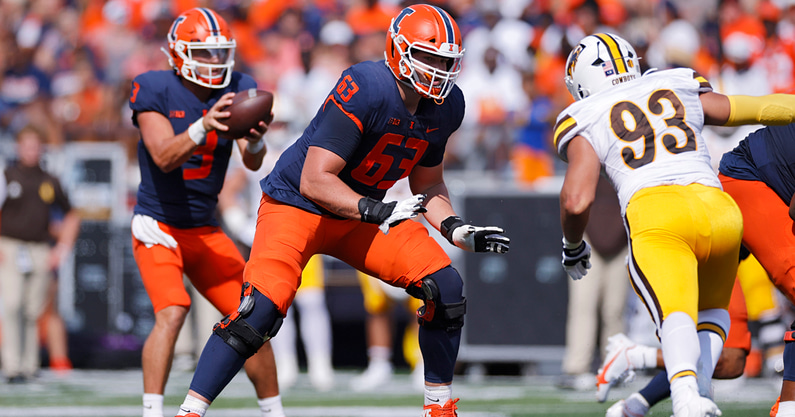 Illinois-focused collective Illini Guardians is teaming up with nine Illini offensive linemen through a NIL deal to tackle hunger throughout the state.
Zylon Crisler, Jamal Woods, Jordyn Slaughter, Keith Randolph, Alex Pihlstrom, Julian Pearl, Alex Palczewski, Johnny Newton and Bryce Barnes agreed to a NIL deal with the collective. They are partnering with Illini Guardians as part of the "Help Tackle Hunger" program – the brainchild of Illinois alums John Dauer and Bonnie Dauer.
Program organizers say the hope is that the offensive linemen can help bring awareness to a statewide community crisis. After the COVID-19 pandemic, organizers say one in five Illinois children suffer from food insecurity.
"When we saw the national push for college athletes to earn money by licensing their celebrity, we knew there had to be a way for us to help the Illinois football program remain competitive in the NIL world, while simultaneously combating the food insecurity crisis in Illinois," John Dauer said in a news release. "We were thrilled to see the Illini fan collective, Illini Guardians, already situated to bring such ideas to life."
Through the NIL deals, the offensive linemen will orchestrate both a local in-person food drive and a virtual food drive. The terms of the deals with Illini Guardians were not released.
According to Illini Guardians, the players will meet with students at St. Matthews Catholic School in Champaign, Illinois. The offensive linemen will kick off competition at the school with classes vying to donate the most food items to Feeding Illinois and its system of local food banks across the state. For their participation, Illinois coach Bret Bielema will host students at an open Illini football practice in October.
Illinois O-line help with virtual food drive
Furthermore, with support from the Illini offensive linemen, Feeding Illinois has also launched a virtual food drive through the Eastern Illinois Foodbank. Illini fans can donate to purchase food items for those in need. Every dollar donated through the virtual drive will buy 10 meals for Illinois families.
"We are so excited to work with these great Illini student-athletes to use their notoriety to bring attention to the growing food insecurity crisis," Amanda Borden, Vice President of Development of the Eastern Illinois Food Bank, said in the release. "We are hoping the commitments from the Dauers and the players can serve as a template for other universities to use their NIL efforts in the same way, to really help tackle hunger in Illinois and elsewhere."