How Adam Breneman went from All-American to NIL executive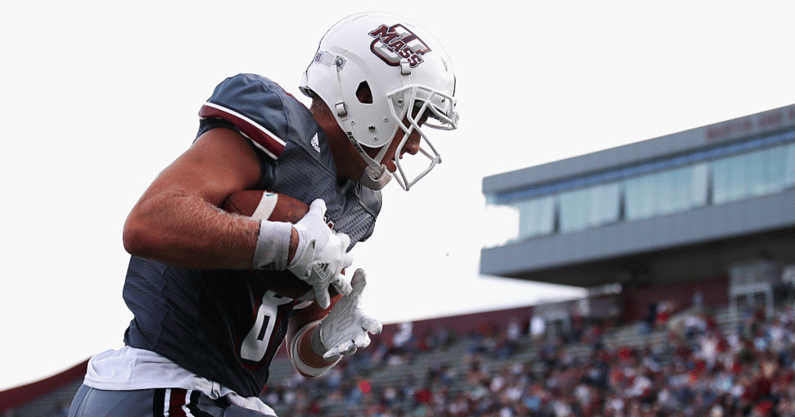 Adam Breneman never had the chance to cash in on NIL.
The former four-star recruit turned Penn State tight end never had the career he envisioned. After a knee injury derailed his college football career, he joined a Pennsylvania state senate campaign as its chief of staff at the age of 21.
But even after he got his candidate elected, he felt the urge to return to football. So, Breneman played for two years at UMass, winning All-American honors in 2018. The knee injury sustained at Penn State kept him from the NFL and forced him to medically retire. So, he pivoted.
He joined the coaching staff at Arizona State in 2020 as a graduate assistant. By the next season, he was promoted to tight ends coach and was viewed as a rising star in the college football world. After just one season, however, Breneman resigned from his position amid an NCAA investigation into the program.
When the tight end committed to play for the Nittany Lions and Bill O'Brien, he thought the NFL was just a few short years away. Turns out he never made a dollar off his performance on the field — injuries and all. More than a decade after his commitment, he's now helping athletes monetize their NIL.
Breneman signed on as the vice president of NIL for Mercury in early August. He's working directly with athletes on personal brand building in the new role. Mercury creates exclusive digital-first platforms and communities for top collegiate brands to bring fans closer to their favorite athletes and teams. 
"You know, back in the day, there weren't last names on the jerseys," the 27-year-old recalls. "They just picked the numbers of the star players and sold them at the bookstore. But the players never actually got a piece of that. I remember when I first found out they were selling my jersey, I remember I was ecstatic. I remember calling my family and telling them, 'They're selling my jersey at the bookstore!'
"And now looking back on it, it's so crazy to think I never made a dollar off those jersey sales."
Why Adam Breneman believes he can guide athletes in NIL
In just one year since its launch, Mercury has partnered with Kentucky and Kansas. More school partners are set to be announced later this month. Creating digital collectibles for fans and collectors, the company has launched team-specific websites where fans can buy and trade NFTs online.
So, how does Adam Breneman fit into the NFT puzzle?
Mercury plans to have Breneman serve as an advisor in the NIL space. But also one of the faces of its NIL team. When the company strikes a deal with a team or institution, he will be sent in to have discussions with players. Thanks to his football background, he still has connections with plenty of athletes across the country.
"Him being in that room. Him communicating with the athletes — that is so important to us to generate that trust with all the athletes we deal with," Mercury co-founder and CEO Porter Grieve said. "With athletes, you might never be as relevant to a singular community as you are right now."
When he talks to athletes or visits campus, one of his talking points will be brand building. He's started to grow his brand ever since he left college football, too. He started the "Adam Breneman Show," which he markets as a sports lifestyle video podcast. Jared Goff, Kenny Pickett and Sean Clifford have all been on the podcast. He's also constantly pushing out NIL content on his social media channels.
Getting a jump start on building a brand or legacy was not something he ever thought about during his high school recruitment. High school recruits are now putting NIL above other factors of their recruitment. Thirty percent of recruits surveyed by On3 said they would be willing to go to a school that's not a perfect fit for a NIL deal.
"Being able to build their brand the right way, and build some long-term partnerships with companies that make sense for them," Brenneman said, alluding to what NIL can do for athletes. "And I think the thing that also helps these guys, that not a lot of people talk about, is exposing these big-time athletes to financial decisions before they get to a professional league."
NIL just first step in right direction
Adam Breneman remembers what college football looked like before NIL. It was not always glamorous. Some teammates who received their cost-of-living check, which was supposed to cover housing and meals for a year, would send the cash to their parents. Then they'd be forced to make things work with nearly half the cash they were allotted.
Things have changed. For top-flight players, an average NIL deal is roughly 10 times the amount those checks were worth. Not everyone is executing those partnerships, though. The average value of NIL transactions in year of NIL was $1,815, per data from INFLCR. That dropped to $558 outside of Power 5 conferences.
If Breneman can do anything for the athletes he works with, he wants to be a sounding board. Helping build their brand and identify deals will come with time. But relating to athletes and providing any insight he can — that's where he sees his niche.
"There's a lot of bad players in the NIL space, or at least you hear about some of the bad players," he said. "I think when you have that trust factor with the athletes, and they realize that we're all aligned, we're aligned with the athlete, we're aligned with the representation, we're aligned with the university — it just makes things that much easier."