Adidas expands footprint with NIL deals with 4 top college basketball stars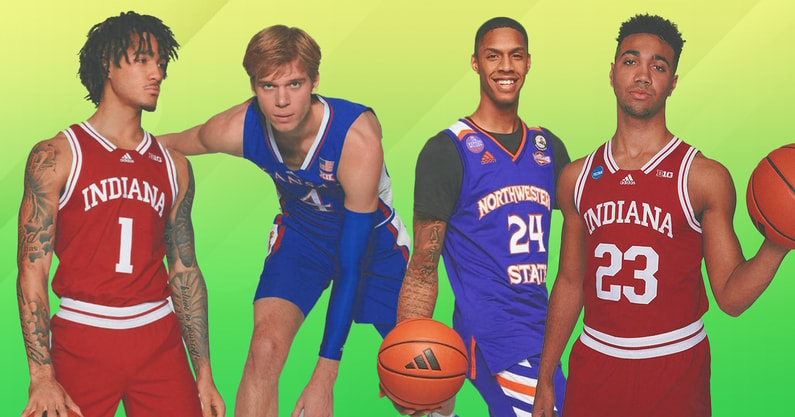 After making a NIL splash partnering with 15 female student-athletes in recognition of the 50th anniversary of Title IX, adidas has jumped back into the space with new deals with some of the top men's players in the country.
Adidas announced on Tuesday it has NIL executed deals with Northwestern State's Hansel Enmanuel, Kansas' Gradey Dick and Indiana's Trayce Jackson-Davis and Jalen Hood-Schifinio.
"These four student-athletes join Hailey Van Lith of Louisville as part of the adidas basketball roster," the company said in a statement to On3. "They will participate in upcoming campaigns."
Adidas partners with top young college hoops stars
Enmanuel has taken the NIL world by storm. While he's only played in four games so far this season for Northwestern State, he's a well-known name in the basketball world. He became a dominant high school recruit after losing his left arm when he was 6 years old.
The deal with adidas adds to his growing list of partnerships that already include T-Mobile, Gatorade and other companies. He has the highest On3 NIL Valuation in college basketball at $1.5 million. Plus, he has more than 4.2 million social media followers.
Dick, a former On3 Consensus five-star recruit, has made an immediate impact for the Jayhawks. He's averaging 15.4 points, 4.1 rebounds. He is also shooting 46% from 3-point range. Dick was just announced as the Big 12 Newcomer of the Week for the second time this season. His scoring average leads the Big 12 freshman class. Additionally, his 24 three-point field goals rank second in the league.
Like Enmanuel, Dick is also a NIL star with an On3 NIL Valuation of $349,000 and a long list of deals. He recently starred in a commercial with a local car dealership in Kansas that turned a lot of heads for its creativity.
Indiana teammates part of adidas NIL deal
Jackson-Davis entered the season as an All-American candidate after earning second-team All-Big Ten honors in 2021-2022. He currently leads the Hoosiers with 18.3 points a game and 8.6 rebounds a game.
He, too, has built a strong brand with NIL deals with Merchants Bank of Indiana, Pennzoil and a partnership with the Hoosiers For Good collective. Jackson-Davis has an On3 NIL Valuation of $611,000 and is No. 11 on the On3 College Basketball NIL Rankings.
Like Dick, Hood-Schifino entered the 2022-2023 season as a top-25 recruit in the On3 Consensus. He's made an immediate impact for Indiana. This includes dominating in a victory over North Carolina. Hood-Schifino had a career-high 14 points on 6-of-10 shooting and 2-for-3 from 3-point range. Jackson-Davis called the performance by Hood-Schifino "special."
Hood-Schifino is just starting to build his NIL portfolio.
So, the deal with adidas is big for the future. He's already executed a partnership with Hoosiers For Good. But now that he's on the national radar on and off the court, he should see his On3 NIL Valuation balloon from the $30,000 mark it's at now.
About the On3 NIL Valuation
The On3 NIL Valuation is a proprietary algorithm that calculates the projected annual value of high school and college athletes' marketability in the NIL ecosystem. It includes a student-athlete's brand value and roster value, which incorporate their respective value to third-party sponsorship opportunities and to their team. The latter factors in the influence of NIL collectives, which are organizations ranging from marketing agencies to nonprofit organizations that facilitate NIL deals.