Alabama announces plans for NIL hub called The Advantage Center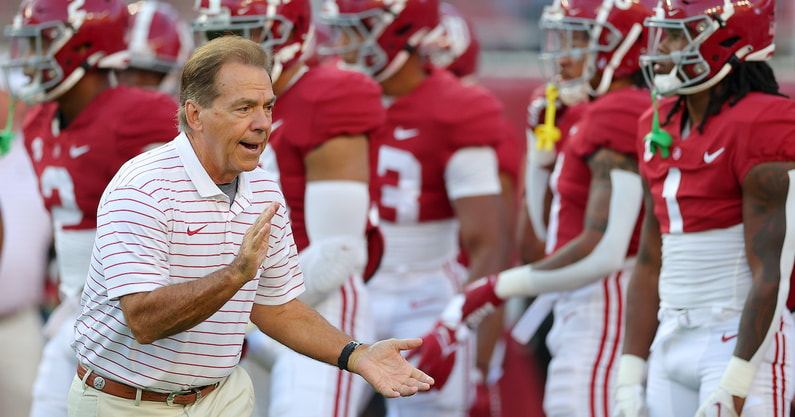 Alabama announced Tuesday it has extended its multimedia rights partnership with the media, data and technology services company LEARFIELD through a 15-year agreement. The agreement includes the creation of an NIL hub called The Advantage Center.
A press release said The Advantage Center will serve as the "epicenter" for more than 600 athletes' NIL activities.
The Advantage Center will include a "team of dedicated staff to provide education and resources for student-athletes with respect to NIL opportunities, as well as a location to showcase successful local and national NIL relationships."
"LEARFIELD is the industry leader in cutting-edge fan engagement and brand connectivity. Continuing to partner with LEARFIELD will provide us with the resources and innovative solutions to deliver on our mission of providing the best student-athlete and fan experiences possible," Alabama Director of Athletics Greg Byrne said in a statement. "The new NIL center and plans for exciting new content for our fans are just a few examples of the ways in which LEARFIELD will continue to help us be the leader in college athletics for years to come."
The Advantage Center will be located in Bryant-Denny Stadium next to The Authentic, which is Alabama's retail store that operates in partnership with Fanatics. Fans can purchase officially licensed merchandise at The Authentic.
"We're thrilled to continue working alongside Greg and the outstanding leadership at Alabama, enhancing this longstanding partnership with the most innovative solutions in college sports," LEARFIELD President and CEO Cole Gahagan said in a statement. "From industry-leading data management and content to a first-of-its-kind NIL destination for Crimson Tide student-athletes, the investments that LEARFIELD and the University of Alabama are making to benefit fans, brands and student-athletes are extraordinary."
Schools create NIL-specific facilities like The Advantage Center
There has long been a facility arms race in college athletics as institutions try to keep up with the Joneses, especially regarding weight rooms, practice facilities and support centers.
NIL-specific facilities are now part of that equation.
Miami recently announced that its new football operations center will include an NIL suite. The seventh floor of the center will offer personal branding services and a digital media lab.
However, schools that create NIL-specific facilities are expected to provide the same resources to students who aren't athletes.
When the NCAA released its latest NIL guidance last October, it addressed institutional involvement in NIL activities. The NCAA's guidance stated that it's impermissible for institutions to "proactively assist in the development/creation, execution or implementation of a [student-athlete's] NIL activity (e.g., develop products, develop promotional materials, ensure [student-athlete] performance of contractual NIL activities) unless the same benefit is generally available to the institution's students."
The guidance outlined the same policy regarding institutions that provide access to equipment that supports NIL activities, such as computers, graphics software and cameras.