LSU's Angel Reese signs NIL deal, joins 2023 SI Swimsuit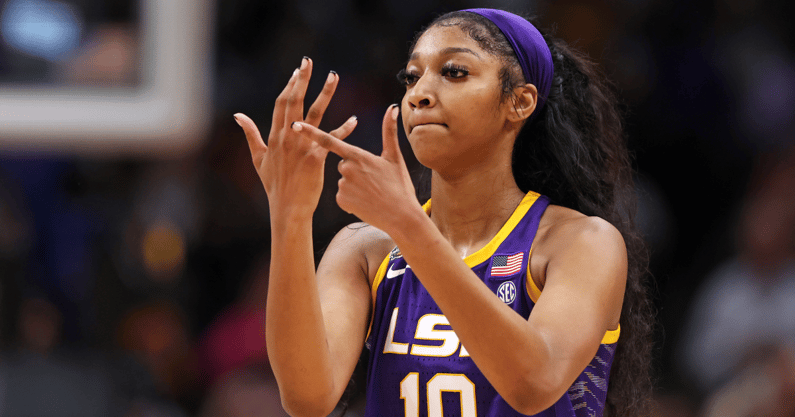 Angel Reese has become one of the most marketable college athletes following this spring's national title run. Now she will appear in this year's SI Swimsuit edition next to LSU gymnast Livvy Dunne, who was announced as part of the magazine last month.
LSU will have two athletes featured in this year's edition of Sports Illustrated Swimsuit, which is set to release May 18. They are the first two college athletes to ever appear in the swimsuit issue.
"We've done so much within a year," Reese told SI. "We weren't even supposed to be in the Final Four. We had nine new players, and it was coach [Kim Mulkey]'s second year in the SEC, so we didn't know what to expect. We just went out there and had fun all the time and put in a lot of work all season."
Landing two athletes on the cover shows the success LSU has had in the NIL space across the last 22 months. Dunne is the most followed college athlete in the country. And maybe nobody else has seen their off-court profile rise like Reese.
A Maryland transfer, she immediately made LSU a national title contender in her first year in Baton Rouge. Her profile started to rise, too. Nicknamed the "Bayou Barbie" for her on-court demeanor and eyelash extensions and long pink nails, Reese has embraced college athletics' NIL era. She filed to trademark the nickname and has been openly campaign for a partnership with the Mattel toy company.
Averaging a double-double on the court this past season, she signed endorsement deals with Bose, Coach and Sonic. The list has only grown following the national title, as her social media following has jumped to more than four million followers.
Reese is represented by Jeanine Ogbonnaya.
The first-team All-American is not going anywhere, either. She has at least one more season at LSU until the WNBA draft. The Tigers have been agressive this offseason, too, landing two of the top prospects in the transfer portal.
Reese's celebration aimed at Iowa's Caitlin Clark in the final seconds of the NCAA championship game turned into a national story. She was unabashedly herself when First Lady Jill Biden talked about inviting the Hawkeyes to the White House along with LSU.
But the LSU basketball star is done with the Reese vs. Clark narrative.
"Caitlin and I are cool," Reese said. "It's just being able to force people to accept that women can talk trash. The women's side gets penalized for it or we're considered as not being ladylike and that we're not playing by the rules. We work just as hard as the men. Women can be who we are; women can be competitive."
Angel Reese's On3 NIL Valuation
The 6-foot-3 forward has seen her On3 NIL Valuation rise in unison with her social media following. Entering March Madness, Angel Reese had a $371,000 On3 NIL Valuation. Her valuation now is $1.4 million, which is the top-ranked women's basketball valuation. Reese also ranks No. 10 in the On3 NIL 100, which is the first of its kind and defacto NIL ranking of the top 100 high school and college athletes ranked by their On3 NIL Valuation.
She is one of just 20 athletes to have a valuation in the seven figures. The rise in her profile is a mix of the LSU star's persona and established brand.
Companies are lining up to work with her. She signed a new endorsement deal last week with Mercedes-Benz of Baton Rouge with the help of the LSU-focused Bayou Collective. The deal was executed through the MatchPoint Connection marketplace.
While the full terms of the agreement were not disclosed, On3 confirmed part of the car was paid off in an NIL deal. Another piece was paid by Reese herself. She will be driving around a new EQS580 around town.
With at least another season in college, the NIL options remain endless for Reese.
The On3 NIL Valuation is the industry's leading index that sets the standard market NIL value for high school and college athletes. A proprietary algorithm, the On3 NIL Valuation calculates an athlete's NIL value using dynamic data points targeting three primary categories: performance, influence and exposure.
About On3 NIL Valuation, Brand Value, Roster Value
While the algorithm includes deal data, it does not act as a tracker of the value of NIL deals athletes have completed to date, nor does it set an athlete's NIL valuation for their entire career. The On3 NIL Valuation calculates the optimized NIL opportunity for athletes relative to the overall NIL market and projects out to as long as 12 months into the future.