Anthony Richardson becomes first Florida athlete to sign with Gatorade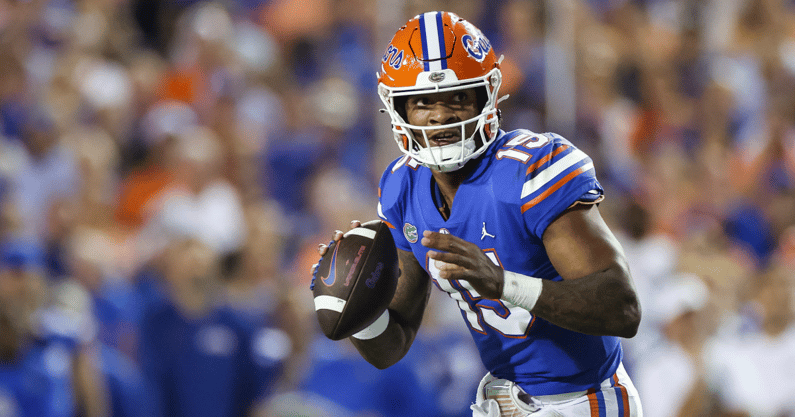 Anthony Richardson has made Florida athletics history.
The Gators quarterback has officially signed an NIL deal with Gatorade. The sports drink was developed by a team of scientists at Florida's College of Medicine for the Gators football back in 1965. The initial purpose for the drink was to act as a replacement for body fluids lost when playing football.
And now Richardson has become the first Florida athlete to ink a Name, Image and Likeness deal with the company, IP attorney Darren Heitner confirmed to On3. Heitner represents Richardson in sponsorship, endorsement and marketing agreements.
As part of the deal, the quarterback is promoting the SEC "Game Day Challenge" in partnership with Gatorade. It's all part of a major campaign from the brand titled "Fuel Tomorrow." Fans can enter to win a trip to the SEC Championship Game, along with the ACC, Big Ten and SWAC title games.
"It brings me great joy to have brought together two of my clients, Gatorade and Anthony Richardson, to work together in promoting the iconic Gatorade brand," Heitner told On3. "The sky is the limit for Anthony, and I look forward to continuing to assist him off the field."
Richardson and the Gators are currently in their bye week and starting prep for next weekend's rivalry game with Georgia. Florida is 4-3 with games against the Bulldogs, Texas A&M and Florida State all still on the schedule.
Through seven games, he's has thrown for 1,367 yards, six touchdowns and seven interceptions. He's excelled on the ground, too, averaging 7.1 yards per carry along with another dozen touchdowns.
This is not the first deal the Florida quarterback has signed since the start of the season. He most announced a partnership with Champs Sports in September. And earlier this month, he inked a NIL deal with Fanatics, signing signing jerseys, posters and footballs.
"We set off on a strategy saying, 'Look, this may take some time and you're going to have to prove yourself, but if and when that happens, you're going to be able to capitalize on it," Heitner previously told On3. "And don't be like so many of the other athletes out there jumping at every single opportunity. Focus on quality over quantity.'"
Anthony Richardson's On3 NIL Valuation
Anthony Richardson currently holds an On3 NIL Valuation of $413,000.
The On3 NIL Valuation is the industry's leading index that sets the standard market NIL value for high school and college athletes. A proprietary algorithm, the On3 NIL Valuation calculates an athlete's NIL value using dynamic data points targeting three primary categories: performance, influence and exposure.
While the algorithm includes deal data, it does not act as a tracker of the value of NIL deals athletes have completed to date, nor does it set an athlete's NIL valuation for their entire career. The On3 NIL Valuation calculates the optimized NIL opportunity for athletes relative to the overall NIL market and projects out to as long as 12 months into the future.
He's continued to add to his social media following, too. With more than 114,000 followers, he holds a per post value of $1,300. Richardson now ranks No. 78 among college football players.