Arkansas QB KJ Jefferson uses NIL to support Jackson, Miss., residents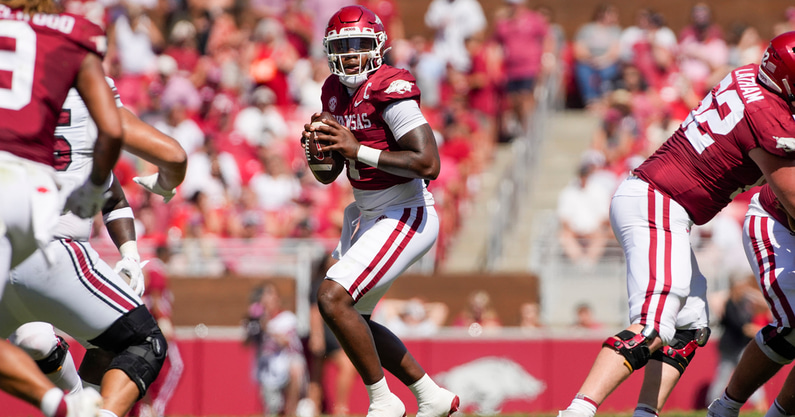 Arkansas Razorback quarterback KJ Jefferson is using his NIL to support the people of Jackson, Mississippi, who are hurting because of a water crisis that's lasted for more than two weeks.
Jackson remains in national headlines because of a water emergency at the city's O.B. Curtis water facility. People in Jackson haven't had a water supply for more than two weeks and the city has also had a boil-water notice in place for more than a month. People across the country are rallying to support the people of Mississippi. That includes Jefferson, who is a native of Sardis, Mississippi. He played his high school football at North Panola High School.
Jefferson announced via social media a new NIL partnership with Arkansas 211, a program provided by the United Way of Arkansas which provides support to critical health and human services.
Through the deal, Jefferson is asking for donations for his home state.
"The Pearl River has flooded the capital of my home state," Jefferson said in the social media post. "Join me, with the support of Arkansas 211 and give today. Please TEXT QB1Arkansas to 41444. All proceeds go to water crisis relief in Jackson, MS."
The deal was brokered by ONEArkansas NIL, a Razorback-focused NIL collective that aims to "connect, educate, and facilitate their charitable efforts while serving fellow Arkansans and others." Additionally, ONEArkansas NIL is spearheaded by Marvin Caston, a former Razorback football player and Senior Director of Development at the Razorback Foundation.
"Just like on the field, KJ has led the way with this one from the start," ONEArkansas NIL said on social media. "Please consider giving — even a $1 donation will go a long way!"
KJ Jefferson has On3 NIL Valuation of 643K
KJ Jefferson currently has an On3 NIL Valuation of $643,000. The On3 NIL Valuation is the industry's leading index that sets the standard market NIL value for high school and college athletes. The On3 NIL Valuation calculates the optimized NIL opportunity for athletes relative to the overall NIL market and projects out to as long as 12 months into the future.
Furthermore, KJ Jefferson also ranks No. 50 in the On3 NIL 100. Plus, he also ranks No. 30 in the On3 College Football NIL Rank. The On3 NIL 100 is the first of its kind and the defacto NIL ranking of the top 100 high school and college athletes ranked by market valuation. In Arkansas' two victories this season, Jefferson has thrown for 385 yards and four touchdowns. He also rushed for 129 yards and two more scores.