North Carolina's Armando Bacot inks NIL deal with Rhoback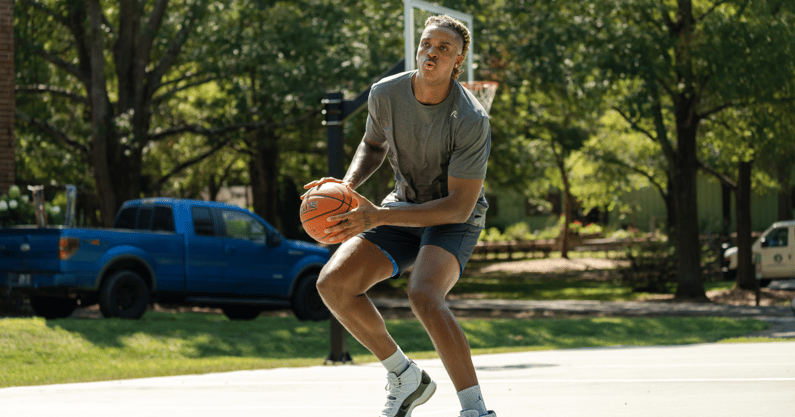 Rhoback has made its first NIL move of the college basketball season.
The brand has signed Armando Bacot to an endorsement deal. The North Carolina star becomes the second college basketball athlete to sign with the company and joins a growing list of NIL talent. Former Texas captain Andrew Jones became one of the first college athletes to sign with Rhoback last winter.
Now it has signed Bacot, one of the biggest names in college basketball. He registered double-doubles in all six of North Carolina's NCAA Tournament games this past spring, helping the Tar Heels reach the national championship game.
He will be compensated and have an opportunity to earn commission for sales he drives in, as part of the agreement. Plus, he will receive a substantial amount of gear. The other unique aspect of signing with the company is content creation. Rhoback is in the process of creating a media house. Athletes can work with the apparel company on brand messaging, along with content creation for social media channels.
The brand has focused on finding athletes who are some of the top in their sport and play for some of college sports' top brands. Alabama's Jalen Milroe and Will Anderson, Notre Dame's Michael Mayer and Texas running back Bijan Robinson all signed with the apparel company this summer.
"These are some of the most loyal fan bases in the country and being able to really get introduced to them and associate ourselves with them is the end goal," Rhoback's athlete and brand relations rep Will Lawler previously told On3. "Whether that's through announcing a partnership, whether that's through deepening it through content, whether that's through apparel."
As for the exclusive apparel aspect of the partnership, the deal expires once Bacot heads to the professional ranks. Rhoback is an activewear brand, meaning its athletes are open to signing on with business or formal apparel companies.
Armando Bacot cashing in on NIL potential
The North Carolina senior quickly turned his March Madness fame to NIL success. He inked a slew of deals, however, none more notable than with the hit Netflix show Outer Banks. The 6-foot-11, 235-pound center will appear in season three, which is set to drop this winter. He appeared on set in the summer and will reportedly appear in a few episodes as a character named "Mando."
He recently signed with MoneyLion and ZIPS Car Wash. His social media following took off following last season, too. Bacot now has more than 232,000 followers, with 141,000 coming from his Instagram account. That should only grow this season — the Tar Heels are the top-ranked team in the country.
The Richmond, Virginia, native holds an On3 NIL Valuation of $1 million. He ranks No. 21 in the NIL 100, which is the first of its kind and defacto NIL ranking of the top 100 high school and college athletes ranked by their On3 NIL Valuation. He also ranks third among college football players.
The On3 NIL Valuation is the industry's leading index that sets the standard market NIL value for high school and college athletes. A proprietary algorithm, the On3 NIL Valuation calculates an athlete's NIL value using dynamic data points targeting three primary categories: performance, influence and exposure.
While the algorithm includes deal data, it does not act as a tracker of the value of NIL deals athletes have completed to date, nor does it set an athlete's NIL valuation for their entire career.
The On3 NIL Valuation calculates the optimized NIL opportunity for athletes relative to the overall NIL market and projects out to as long as 12 months into the future.