Athletic Brewing signs NIL deals with trio of basketball players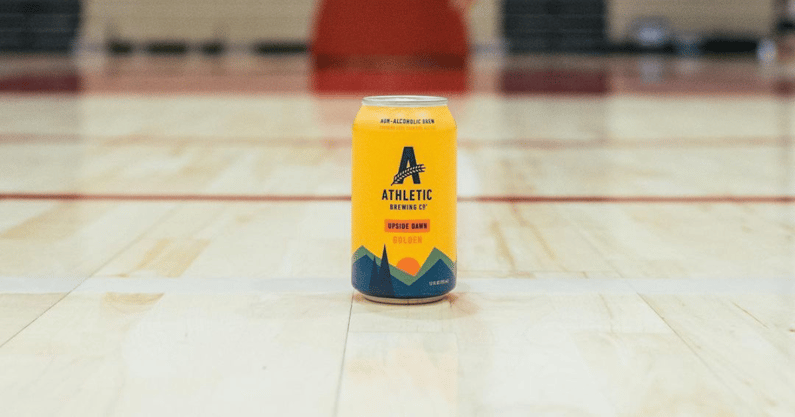 Athletic Brewing has returned to the NIL space ahead of March Madness.
A leading manufacturer of non-alcoholic craft beer, the brewing company has been an active player in NIL since the jump. It has invested heavily in the last 20 months, aligning with notable names in college football and basketball.
Now it has signed a trio of college basketball players entering the sport's craziest month. USC's Boogie Ellis, Texas' Rori Harmon and Houston's Marcus Sasser have all promoted the beer on their Instagram pages.
All three are participating in the company's "Fit For All Times" campaign, which launched back in September. When it comes to athletes promoting alcohol using their name, image and likeness, the NCAA has taken a backseat on the issue. Instead, states and schools have been left to make the decision.
In most institution's NIL policies, athletes are prohibited from promoting alcohol, tobacco and gambling.
"Beer sponsorships have always been problematic for NCAA athletes," Athletic co-founder and CEO Bill Shufelt previously said. "As the country's leading non-alcoholic brewer, we want to inspire change around the idea that you need to sacrifice your college experience in order to succeed in the classroom or on the field."
Ellis is averaging 18.1 points and 3.7 rebounds for a 22-9 USC team that is expected to make the NCAA Tournament. A former four-star recruit, the point guard transferred to Los Angeles from Memphis in the spring of 2021.
The top-ranked team in the nation, Houston has Sasser to thank. The guard is averaging 17.1 points per game and shooting 43.1% from the field. He's also dishing out 3.3 assists a contest for the Cougars, who are expected to grab a top seed in the NCAA Tournament.
Harmon has only improved her output since winning Big 12 Freshman of the Year last season. The Texas guard is averaging 11.9 points and 7.3 assists an outing. In the latest women's bracketology, the Longhorns are expected to host an opening-round game.
Breaking down On3 NIL Valuations
Marcus Sasser has a $388,000 On3 NIL Valuation, which sits at No. 20 in the college basketball rankings. With nearly 30,000 social media followers, he has signed a number of NIL deals. The guard has struck partnerships with Little Woodrow's, Gallery Furniture and AP Law Group.
Ellis has built a major brand on social media with nearly 150,000 followers across Instagram, TikTok and Twitter. The USC star has previously promoted the school through a deal with Amazon.
As one of college basketball's young stars, Harmon has a $35,000 On3 NIL Valuation. The evaluation ranks in the top 30 of women's college basketball. She signed on with WME Sports for NIL representation last September.
The On3 NIL Valuation is the industry's leading index that sets the standard market NIL value for high school and college athletes. A proprietary algorithm, the On3 NIL Valuation calculates an athlete's NIL value using dynamic data points targeting three primary categories: performance, influence and exposure.
About On3 NIL Valuation, Brand Value, Roster Value
While the algorithm includes deal data, it does not act as a tracker of the value of NIL deals athletes have completed to date, nor does it set an athlete's NIL valuation for their entire career.
The On3 NIL Valuation is publicly available. Performance, Influence, and Exposure ratings along with the athlete's personal Brand Value Index and Roster Value Index are available only to the athlete in the "Athlete Verified" private dashboard on the On3 Athlete Network.