On To Victory signs NIL deals with Auburn basketball, volleyball programs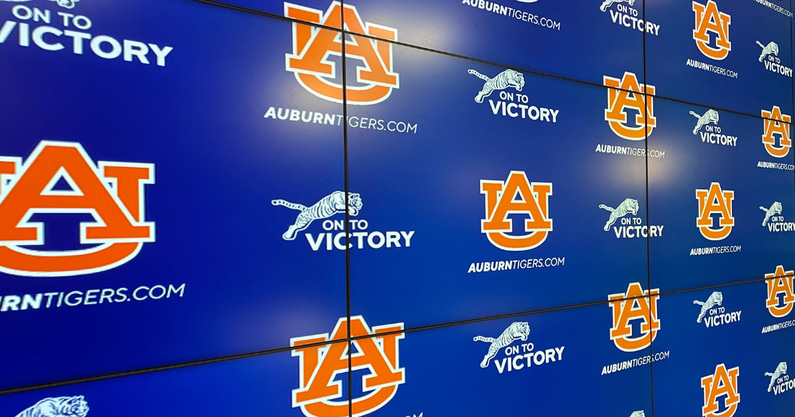 The ninth-ranked Arkansas men's basketball team went to a food science facility in the fall to make chili through team-wide NIL deals with the North American food company Conagra Brands. All 15 players on the team were involved in the partnership.
The tomato product brand Hunt's and the canned tomato and chili brand Ro-Tel, which are both owned by Conagra Brands, were sponsors of the partnership. Each player wore an apron featuring the two brands' names and logos.
"This is about working together as a team. I want you to grab your ground beef out, get your apron on," chef Steven Brooks said in a video filmed from the chili-making experience. "Let's get ready to start cooking."
Walmart, which is headquartered in Bentonville, Ark., was also prominently featured in the video.
In addition to Walmart, the headquarters for J.B. Hunt and Tyson Foods are based in Northwest Arkansas, which means that many of those companies' suppliers also have offices in the area.
"You start going through the list and we've got all of these companies that are within 10 to 20 miles of our campus," Arkansas Senior Associate Athletics Director for Athlete Brand Development and Inclusive Excellence Terry Prentice said in a phone interview. "I'm trying to think of the right way to describe our basketball team but you just think about them and their cachet. You've got McDonald's All-Americans. You've got high-profile transfers. You've got returning players that are fan favorites. All that kind of ties into their marketability. You add all that together, of course you're going to have brands reaching out.
"Conagra was really one of the first to do so on a team-wide scale."
'The time that we spend together…is the best part' of NIL deal
Prentice said a representative from Conagra Brands inquired over the summer about a potential team-wide NIL deal with the Arkansas men's basketball team. Conagra Brands then connected with the players' representatives and the parties were able to reach a deal for each player.
"The brand partner came with a budget," Prentice said. "I mean with a real budget to be able to work with every single member of the team, or at least offer the opportunity to work with them, and I think it was special."
A camera crew filmed the experience. The players posted the edited video on their social media channels.
"This is the best part. This right here," Brooks, the chef, said at the end of the video. "The time that we spend together as a family is the best part."
Prentice said the team's camaraderie started in May and June, when the six freshmen and five new transfers arrived on campus. Arkansas coach Eric Musselman is known for recruiting high-level transfers annually. In 2022, he also enrolled the No. 2 recruiting class in the country, according to the On3 Consensus, highlighted by former five-star shooting guard Nick Smith Jr. and combo guard Anthony Black.
"They started working on that cohesion as a unit back then and that dovetailed into them going over to Europe and having that foreign tour," Prentice said. "Then coming into the school year and already having a team-wide deal with AAC — Athlete Advocate Consortium — so they've already been used to doing something as a group and then adding Conagra into the equation.
"In particular, with a reputable brand, I think made it even more cohesive. You see that they're really trying to build something special here and you saw guys laughing, smiling, joking. I mean, they're making chili."
The brand exposure under Arkansas coach Eric Musselman
Arkansas men's basketball players aren't the only ones in the program who promote regional and national brands.
Scroll through Musselman's Twitter feed and you'll see videos of him distributing various sponsored awards to players after games. After a recent win over Troy, Makhi Mitchell won the Libman Company glass cleaner of the game. Black won the J.B. Hunt delivery of the game for a pass to Trevon Brazile. Ricky Council IV won Energizer player of the game.
Musselman gave the players products tied to their respective awards.
"From my vantage point, they've done a phenomenal job in branding in all facets," Prentice said. "Branding that you're going to become the best basketball player you can be and we're going to expose you and it might be to our fan base, it might be to scouts, it might be to potential brand partners. It's to season ticket-holders and those that support us."