Barstool's TwoYay joins crowded market, not only aimed at NIL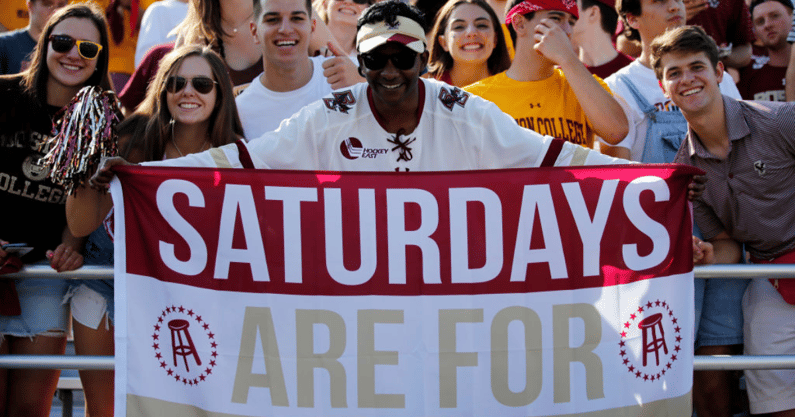 When Barstool announced its new marketplace, TwoYay, Wednesday night at its upfront event in New York City, many heralded the move as the sports entertainment company serving as a disruptor in the NIL space.
Since Dave Portnoy announced the formation of the Barstool Athlete program in July 2021, more than 150,000 college athletes have joined the network. That includes all NCAA divisions as well as NAIA. The NCAA website currently lists 187,000 student-athletes participating at the Division I level.
On top of the athlete network already being established, Barstool is not charging fees on either side of deals and pledges to never take a cut from the athlete side. The new marketplace's website does state in its terms that there is a possibility the company will charge subscription fees and campaign fees.
Multiple sources have indicated to On3 that NIL was not the only reason behind the launch of TwoYay. On top of serving collegiate athletes, Barstool talent will use the platform to fulfill deals they broker with brands. Athletes and guests they bring on shows and podcasts across Barstool will also be held accountable using TwoYay.
Other sources in the NIL industry pointed out the need to hire a major staff. That will be a must if TwoYay wishes to serve as a true disruptor as a college athlete-specific marketplace. Bringing major brands on board, running campaigns and ensuring activations are fulfilled takes a full staff.
Barstool CEO Erika Nardini left the possibility open Wednesday night that advertisers and brands who do deals through TwoYay could be charged fees in the future. If TwoYay does grow into a robust NIL platform, athletes could also be charged. As Extra Points' Matt Brown reported Friday morning, just 258 athletes had signed up for TwoYay as of 8:30 p.m. on Thursday night.
What this means for the NIL industry
Barstool did not launch TwoYay without first talking to marketplaces already established in the space. Opendorse met with the entertainment company and had preliminary discussions. A possible plan was for Barstool to launch a marketplace similar to Opendorse's, but the plan was never developed.
With 150,000 athletes signed up in its NIL athlete program, Barstool could theoretically have a larger base in its marketplace. Opendorse currently has 65,000 college athletes using its service. And INFLCR has launched nearly 50 local exchanges across the Division I landscape. Other marketplaces MOGL, Dreamfield, MarketPryce and Icon Source all have large groups of athletes signed up for their services.
"We are excited to see a major brand in sports media put resources toward athletes making money," Opendorse CEO and co-founder Blake Lawrence told On3. "That's true no matter who it is. We're excited to see Barstool come out with something that is going to help the ecosystem. A rising tide lifts all boats, and this is an example of it.
"We've been in touch with Barstool from the beginning when Dave launched Barstool athletes. We spent a lot of time with their leadership team on what this could look like and how it could operate it. And it's here."
Barstool will continue to serve as a sports entertainment business, too. The company has its Barstool Sportsbook. And it has launched the Barstool Sports Arizona Bowl. Later this year will be the first-ever Barstool invitational men's college basketball tournament
TwoYay can serve all college athletes, but the top 200 or so across Division I sports will reap most of the benefits. And the newly launched company is also set up to one day host content creators and influencers, something that NIL marketplaces are not trying to cater towards.