Baylor, Gonzaga men's basketball game to offer NIL opportunities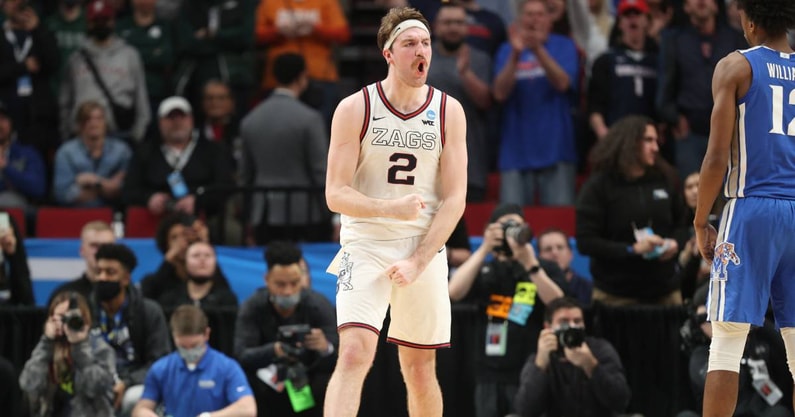 When Baylor and Gonzaga's men's basketball teams meet on Dec. 2 for the first time since appearing in the 2021 national championship game, the schools' players will have NIL opportunities that weren't possible in April 2021. December's matchup, which is the inaugural "Peacock Classic," will stream exclusively on Peacock at 8 p.m. ET. Participating players can partner with the event's sponsors for NIL deals.
NBC Sports Athlete Direct, which is NBCUniversal's NIL pilot program, will facilitate the NIL deals. A press release said players will be paid the same rate. Each player can opt in to have the opportunity to promote the Peacock Classic's sponsors via social media.
"Presenting and sponsoring the first-ever 'Peacock Classic' is a historic moment for Peacock, providing fans with a must-see matchup featuring two of college basketball's premier programs," Rick Cordella, the president of programming for NBC Sports and Peacock, said in a statement. "In conjunction with NBC Sports Athlete Direct, we're excited to offer an innovative NIL opportunity that benefits Gonzaga and Baylor student-athletes."
In the latest AP Top 25 poll, Gonzaga is ranked No. 2 and Baylor is No. 5. The game will be played at the Sanford Pentagon in Sioux Falls, South Dakota. Complete Sports Management and Range Media Partners are involved in the presentation of the event.
"Our goal is to create the most visible platform for student-athletes and provide them the best opportunities to showcase their skills and build their brands," Range Sports President Will Funk said in a statement. "With this event, we want to play a key role in the evolution of collegiate athletics by ensuring that the student-athletes are given opportunities to monetize their name, image, and likeness."
Gonzaga's Drew Timme, Baylor's Keyonte George have six-figure On3 NIL Valuations
Some of the most marketable players in the sport will appear in the inaugural Peacock Classic.
Gonzaga senior forward Drew Timme has an On3 NIL Valuation of $912,000. That ranks No. 29 in the On3 NIL 100.
The On3 NIL Valuation is industry's leading index that sets high school and college athletes' projected annual value (PAV). The On3 NIL Valuation utilizes a proprietary algorithm that calculates an athlete's NIL value using dynamic data points targeting three primary categories including performance, influence and exposure. The On3 NIL 100 is the first of its kind and the defacto NIL ranking of the top 100 high school and college athletes ranked by their On3 NIL Valuations.
Baylor freshman guard Keyonte George has the highest On3 NIL Valuation of any Baylor athlete at $505,000. George's On3 NIL Valuation ranks No. 16 among current men's college basketball players and No. 92 in the On3 NIL 100.
NIL could be a contributing factor why a player such as Timme, who's a talented, traditional big man, returned to college.
Over the summer, Michigan junior center Hunter Dickinson told On3, "I've been talking to those guys," in reference to other returning, All-America-level big men, including Indiana's Trayce Jackson-Davis, North Carolina's Armando Bacot and Kentucky's Oscar Tshiebwe.
"I think NIL played a factor with all of us," Dickinson said. "Being able to not have to worry about money but also being able to play college basketball, I think, was the best of both worlds for a lot of us."
Timme's potential opportunity by playing in the Peacock Classic is just one of the many NIL opportunities he will have this season.
NBC Sports Athlete Direct facilitates NIL opportunities
NBC Sports Athlete Direct has offered NIL opportunities to athletes at Notre Dame, Temple and Vanderbilt. Its main focus has been "the other 99%" of athletes.
However, the platform also helped Notre Dame running back Chris Tyree launch a fan club. It was the first fan club NBC Sports Athlete Direct launched.
Fans could join Tyree's membership program for $99.99. They received access to a members-only podcast, an autographed photo, a virtual meet and greet with Tyree, two movie tickets from Fandango and six months of Peacock Premium. Peacock exclusively streamed Notre Dame's home game against UNLV.
"We are very different than a lot of the companies in the space because not only are we coming to you with this Gen Z influencer network, we have the ability to integrate into other sales packages," Damon Phillips, NBC Sports Group's senior vice president of strategic initiatives, previously told On3. "We can sell you TV. There's video advertising that we can do on top of what we're doing with NIL. There's digital. There's all these other things that we can do so we can come to you with multiple solutions and NIL is a part of that package."