Bijan Robinson's On3 NIL Valuation spikes following record-setting performance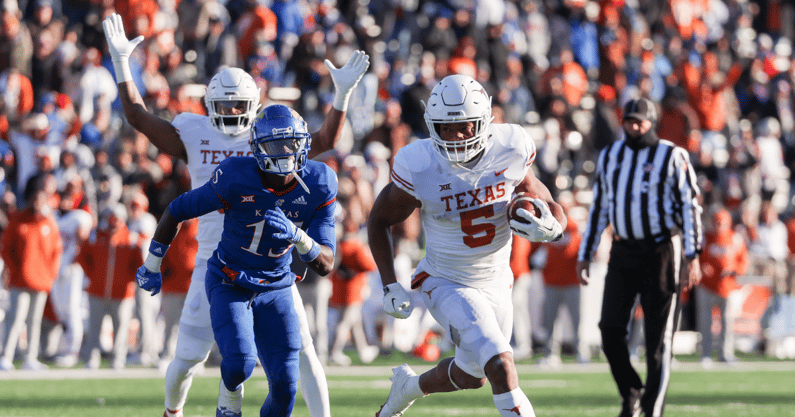 Bijan Robinson had expectations to meet before he even enrolled at Texas.
The tailback rushed for 2,000 yards in three consecutive seasons during his Arizona high school career. A five-star recruit, Ricky Williams comparisons were being uttered before he stepped foot in Austin.
Robinson has not disappointed. And this past weekend at Kansas, he became the seventh player in Longhorns history to tally 3,000 career rushing yards. The achievement came on the same day the junior rushed for a career-high 243 yards and four touchdowns on 25 carries. Even in his COVID-shortened freshman season, Robinson produced 703 yards.
Across 30 career games seasons, he's averaging 6.3 yards per carry. Saturday's performance came after one of the worst games in his Texas career. Against TCU, he was stymied, producing just 29 yards on 12 carries.
And, obviously, there were major NIL implications following the Kansas win. Robinson's On3 NIL Valuation spiked to $1.7 million — a $313,000 jump. He saw significant growth in both his Instagram and Twitter following.
The running back now sits at No. 8 in the NIL 100, which is the first of its kind and defacto NIL ranking of the top 100 high school and college athletes ranked by their On3 NIL Valuation. He also ranks fourth among college football players.
Bijan Robinson's strong NIL portfolio
For all the success Robinson has had during his time at Texas, he's emerged as one of college football's NIL stars. With more than 180,000 social media followers, the brand recognition of Texas and his on-field performance, companies have jumped at the opportunity to work with the running back.
When the NCAA put its interim NIL policy into place in July 2021, Robinson quickly signed with Raising Cane's and Cameo. He inked a long-term ambassador deal with Athletic Brewing Co., which will carry over to his NFL career.
His most notable endorsement deal to date, however, came together this past spring. He signed with Lamborghini Austin, which will expire in spring 2023. As part of the agreement, Robinson is allowed to drive a Lamborghini off the lot.
The Texas star appeared in a set of NFTs this fall for Candy Digital. Rhoback also scooped him up along with Will Anderson, Michael Mayer and Jalen Milroe. Represented by NFL agent David Mulugheta and NFL marketing rep Bryan Burney, Robinson has not had problems finding partnerships.
About the On3 NIL Valuation
The On3 NIL Valuation is the industry's leading index that sets the standard market NIL value for high school and college athletes. A proprietary algorithm, the On3 NIL Valuation calculates an athlete's NIL value using dynamic data points targeting three primary categories: performance, influence and exposure.
While the algorithm includes deal data, it does not act as a tracker of the value of NIL deals athletes have completed to date, nor does it set an athlete's NIL valuation for their entire career.
The On3 NIL Valuation calculates the optimized NIL opportunity for athletes relative to the overall NIL market and projects out to as long as 12 months into the future.