LSU's BJ Ojulari joins Gordon McKernan's growing NIL roster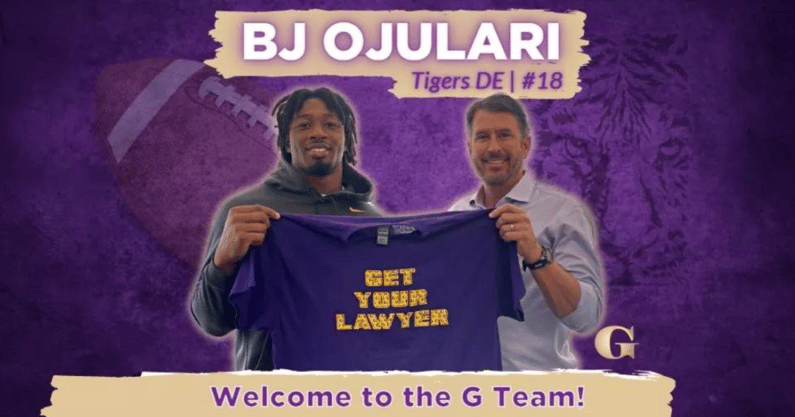 BJ Ojulari has signed yet another impressive NIL deal.
Exactly a week after he signed his first car deal, the LSU defensive end has become the latest Tiger to ink an endorsement contract with Gorodn McKernan Injury Attorneys. The Baton Rouge-based firm has quickly become one of the biggest name in the LSU market, sweeping up player after player.
One of the top pass rushers in the SEC this season, he landed the keys to a Ram TRX Hellcat truck last week with Jimmy Granger Ford Lincoln dealership. Now he's on Team McKernan
"Aside from being a fantastic athlete, what really struck me about BJ is that he's an individual of extraordinary character," McKernan said in a statement. "I look forward to navigating our partnership."
The injury attorney has been on a tear following LSU's win over Alabama. He has signed Jayden Daniels, Josh Williams, Mason Taylor and now Ojulari. That's on top of previously signed athletes, such as Kayshon Boutte, Harold Perkins, Maason Smith and John Emery Jr. 
The 6-foot-3, 250-pound edge rusher has wrecked havoc on SEC defenses this season. Through seven games, Ojulari has 36 total tackles with 6.5 tackles for loss and a forced fumble. He racked up 11 tackles against Alabama, including a sack. And last weekend against Arkansas, he had seven tackles with two fumble recoveries.
LSU has suddenly catapulted itself back into the College Football Playoff conversation. Part of that is the Tigers defense, which ranks in the top 30 in the nation allowing only 21 points per game. The Tigers have locked their spot in the SEC title game, too. A win over Georgia appears to be enough to earn a playoff berth.
Gordon McKernan's growing NIL roster
Gordon McKernan has been one of the most active figures in NIL. He hasn't generated as much national attention as Miami mega-booster John Ruiz and LifeWallet. But McKernan and his firm have struck significant NIL deals with top student-athletes at all of the top college programs in Louisiana.
He is also a supporter of LSU, and many NIL insiders believe he's helped the Tigers massively support roster maintenance in Baton Rouge.
McKernan previously told Sports Illustrated the price tag for elite players is often at least $100,000. He said he will pay $500,000 in NIL deals this year.
BJ Ojulari's major On3 NIL Valuation
The LSU edge rusher currently holds a $409,000 On3 NIL evaluation. The valuation ranks No. 75 in the college football NIL rankings.
BJ Ojulari has amassed more than 26,000 social media followers. That's in large part to the nearly 18,000 followers he has on Instagram. The possible 2023 NFL draft prospect has a per-post projection of $489.
The On3 NIL Valuation is the industry's leading index that sets the standard market NIL value for high school and college athletes. A proprietary algorithm, the On3 NIL Valuation calculates an athlete's NIL value using dynamic data points targeting three primary categories: performance, influence and exposure.
While the algorithm includes deal data, it does not act as a tracker of the value of NIL deals athletes have completed to date, nor does it set an athlete's NIL valuation for their entire career.
The On3 NIL Valuation calculates the optimized NIL opportunity for athletes relative to the overall NIL market and projects out to as long as 12 months into the future.