Oregon's Bo Nix opens up on 7-Eleven 'Cleat Crew' deal, using NIL to help others
Oregon STILL Hungry JD PicKell
In September, Oregon's quarterback Bo Nix was one of nine athletes to sign an NIL deal with 7-Eleven's "Cleat Crew" program. As part of the campaign, Nix got to design a pair of cleats and auction them off, with the proceeds benefitting a Children's Miracle Network hospital of his choosing.
Nix and Dominic Ciambrone, "The Shoe Surgeon," teamed up to design the cleats, which featured the names of children being treated at PeaceHealth Sacred Heart in Eugene, Oregon. The auction ran Sept. 22-27 and brought in $3,400, all of which went to the hospital.
But one of the most important pieces of the design was the praying hands – something Nix wanted to work in to celebrate his faith.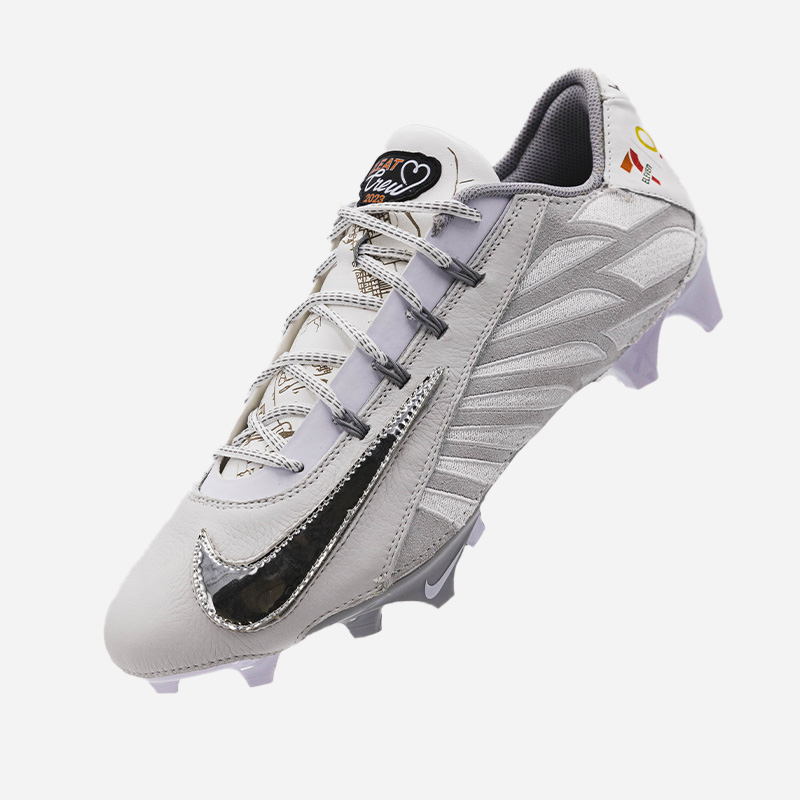 "There was a lot that went into the design," Nix told On3 earlier this week. "But most of it was the praying hands of Jesus and just kind of centering around my faith and how important it is for not only for me to share, but for me to be able to use in my own personal life.
"It was just a lot of little connections within the shoe design that helped us share our story and with the help of everyone involved, I think we were able to do that."
Once the campaign wrapped up, Nix continued to give back.
He hosted the local Children's Miracle Network champion, named Eas, and his family for a day at practice. Eas spent the first three months of his life in the NICU at PeaceHealth Sacred Heart, and Nix said he and his wife also plan to spend some time with Eas after the season. His handprint is on the cleat because he's too young to sign his name.
The ability to raise money and spend time with children treated at a Children's Miracle Network hospital made the NIL campaign stand out to Nix.
"I think they go above and beyond to make sure that this is possible not only for athletes," Nix said. "I think it's just very cool that they use athletes for something bigger than just a social media post or something else. Using what they're being able to use and highlight is just, I think, very unique from a company like that. I think it's had a really good, positive action that has come out of it."
Bo Nix focused on using NIL to 'help other people'
Bo Nix is one of the highest-profile college football players in the game with an On3 NIL Valuation of $1.5 million. That puts him at No. 6 in the On3 College Football NIL Ranking and No. 9 in the On3 NIL 100, the first of its kind and defacto NIL ranking of the top 100 high school and college athletes ranked by their On3 NIL Valuation.
As Nix makes a name for himself on the field – he enters Week 12 as the Heisman Trophy favorite, according to BetMGM – he also wants to make sure he's giving back along the way. That's part of his thinking with his NIL deals.
"I think with my influence and my platform, the best thing I can do is turn around and help other people through it," Nix said. "I think NIL just allows that for a lot of us who want to go in that direction. This was a great opportunity for me to do just that."
The "Cleat Crew" program isn't Nix's only charitable venture. He also works with ALS Northwest to donate $100 for every touchdown he scores this season. One of his biggest goals is to "serve a bigger purpose" as he goes through his journey, which has been an interesting one from Auburn to Oregon.
Still, to maximize his potential in the NIL space, Nix said it starts with his performance on the field. From there, he can work on ventures away from the gridiron – with help from the right people, of course.
"I think it's evolved as I've gone on," Nix said of NIL. "A lot has changed, and been able to kind of see where it's gone. Obviously, for me, the main thing is what I put on the football field and how I play each Saturday, and the rest kind of takes care of itself.
"I think it's just important to put the right people around yourself and make great connections and use the relationships that you have to kind of build this bigger brand not only just for NIL, but just for influential purposes and things like that."
About the On3 NIL Valuation
The On3 NIL Valuation is the industry's leading index that sets the standard market NIL value for high school and college athletes. A proprietary algorithm, the On3 NIL Valuation calculates an athlete's NIL value using dynamic data points targeting three primary categories: performance, influence and exposure.
About On3 NIL Valuation, Brand Value, Roster Value
While the algorithm includes deal data, it does not act as a tracker of the value of NIL deals athletes have completed to date, nor does it set an athlete's NIL valuation for their entire career. The On3 NIL Valuation calculates the optimized NIL opportunity for athletes relative to the overall NIL market and projects out to as long as 12 months into the future.