Clemson's Brevin Galloway signs NIL deal with Shinesty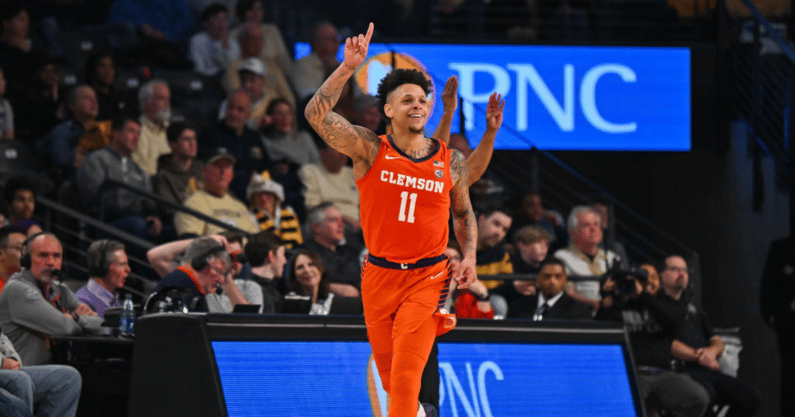 Fresh out of surgery last week, Brevin Galloway took to Twitter to explain his situation.
The Clemson basketball player and former Boston College transfer had a testicular injury that would be keeping him sidelined for a couple games.
"So this morning I went to lift," Galloway said in the video posted on Twitter. "I came back, took a nap. I woke up from my nap. My (testicles) and my (scrotum) exploded. Now, I go to the doctor, I have surgery, three hours later my (testicles) are back to the normal size. I don't know what happened."
Luckily, he was able to get into surgery and has made a strong recovery.
Working closely with his agency Raymond Representation, Galloway has made sure to use the viral moment as an NIL opportunity. And on Thursday, Shinesty, a men's underwear company, announced a partnership with the him.
While the terms of the agreement were not disclosed, the company made clear in its release that the cash component of the deal would cover Galloway's deductible. Shinesty will also be providing ball hammock pouch underwear.
"When we heard about Brevin's nightmarish outcome, we knew we had just the solution so this never happens to him again," Shinesty's creative director Ben Lauderdale said in a statement. "There's always a great opportunity for an endorsement deal when a rising athlete 'explodes' onto the scene Our company has a passion for testicular comfort and scrotal safety. It just makes sense to partner with a set of balls in need."
This is not Shinesty's first move in the NIL space. Colorado offensive lineman Tommy Brown was dubbed the company's "underwear supermodel" in October after initially signing with the brand this past summer.
Galloway was back on the court for practice Thursday. So far this season with Clemson, he's averaging 10.6 points and 2.6 assists per game.
Brevin Galloway's nutty T-shirts
Before he signed with Shinesty, he dropped his own merchandise to monetize the situation.
With a website already up and running, the Clemson guard decided to make some T-shirts. The first is a play on "The Nutty Professor" with Galloway over the words and a pile of acorns in the foreground. The other design shows him in a jersey with his name superimposed behind him. But across the chest of the jersey is "Ballsy."
It's a smart, lighthearted move from Galloway and his team at Raymond Representation.
Additionally, Brevin Galloway currently has an On3 NIL Valuation of $82,000. That's in part thanks to his massive social media following, which is just short of 200,000 followers. He has seen significant growth across the platforms following his tweet last week.
His evaluation has seen a $3,200 growth over the past 10 weeks.
The On3 NIL Valuation is the industry's leading index that sets the standard market NIL value for high school and college athletes. The On3 NIL Valuation calculates the optimized NIL opportunity for athletes relative to the overall NIL market and projects out to as long as 12 months into the future.
The evaluation accounts for an athlete's roster value and brand value. Roster value is the value an athlete has by being a member of his or her team at his or her school, which factors into the role of NIL collectives. Brand value factors in an athlete's personal brand and the value it could bring to regional and national brands outside of the scope of NIL collectives.