Florida gymnast Bri Edwards signs NIL deal with Athlicity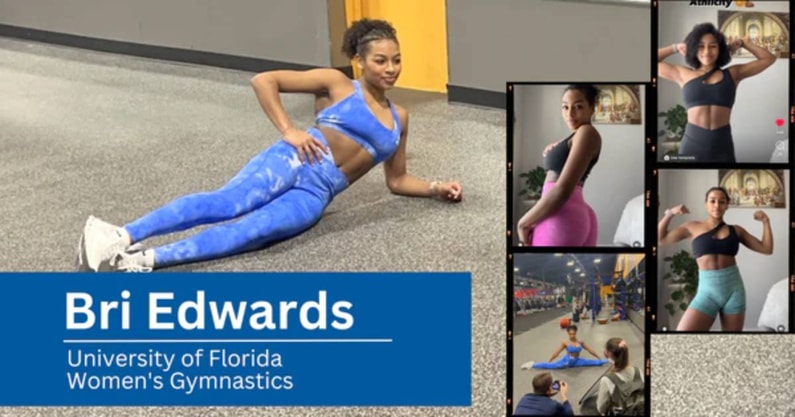 The apparel company Athlicity announced Monday it has signed Florida gymnast Bri Edwards to its first NIL partnership. Edwards is a sophomore for the Gators who specializes in vault. Through the partnership, she'll receive apparel and compensation, according to a press release. Edwards will promote Athlicity through advertising and on social media.
Athlicity launched in 2022 with the goal of "making high-end functional fitness clothing that is also affordable for students." Athlicity's products include leggings, shorts and sports bras.
"I am so excited to announce my partnership with Athlicity," Edwards said in a statement. "Their workout gear is amazing quality, and who doesn't love some cute shorts to make you feel good on leg day?"
The press release from Athlicity said the company's partnership with Edwards "will be the first of many."
She scored a 9.850 in vault in the Gators' season-opening quad meet. Florida beat West Virginia, Ball State and Lindenwood. Edwards scored a 9.775 in Florida's narrow victory over Auburn last week.
She appeared in the vault lineup five times as a freshman. She recorded a score of 9.825 in her college debut, which was her highest score of her freshman season.
"We are overjoyed to be partnering with such an inspirational and strong athlete," Becky Klipin, who's a member of Athlicity's leadership team, said in a statement. "Bri Edwards embodies the type of character and commitment necessary to be a successful athlete and hardworking human. We can't wait to watch her continue to shine!"
Gymnasts capitalize in NIL era
College gymnasts have been some of the most marketable athletes in the NCAA's NIL era. Olympic gymnasts in particular have been able to benefit significantly. They no longer have to decide between going pro or retaining their amateur status in order to compete in college.
Auburn's Sunisa Lee, Utah's Grace McCallum, Oregon State's Jade Carey and UCLA's Jordan Chiles have all benefited from competing in the Tokyo 2020 Summer Olympics.
LSU's Olivia Dunne and Lee are the top two athletes in the On3 Women's NIL 100, which ranks the high school and college athletes with the highest On3 NIL Valuation. The On3 NIL Valuation establishes the projected annual value of an athlete's NIL opportunities. It factors in both an athlete's brand value and roster value.
Brand value is the value an athlete's personal brand can provide to regional and national sponsors. Roster value incorporates the role of NIL collectives in the landscape.
Edwards is the latest Florida gymnast to benefit from her athletic ability and platform.
Trinity Thomas is the reigning NCAA champion in all-around, floor exercise and uneven bars. She has partnered with numerous local and national brands such as Amazon, European Wax Center, Novashine Teeth Whitening and Tropical Smoothie Cafe.
Last fall, Leah Clapper announced an NIL deal with the blockchain platform CAMPUS. Through the partnership, fans could submit their "best dance move" on TikTok and Instagram. Clapper agreed to incorporate one of the submissions into her competitive beam routine.
In September, Leanne Wong announced the first design of her own line of leotards, which feature her name in the middle of a bow, through her partnership with GK Elite.