Bronny James tops NIL valuation projections from On3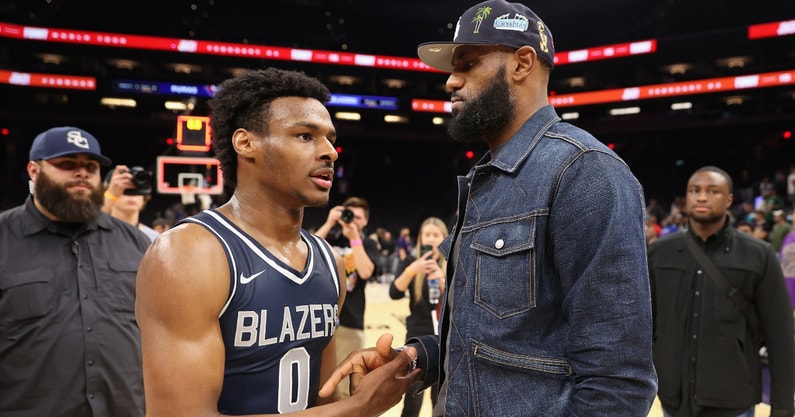 Sierra Canyon School guard Bronny James has been a viral sensation for most of his life as the oldest son of NBA star LeBron James. And while the younger James has built a reputation as a top-50 high school player in the 2023 class, he has amassed an even bigger following on social media and in the NIL world.
His name recognition and connections made him basketball royalty even before he steps foot on a college campus. He's the most valuable high school athlete in the name, image and likeness era with an On3 NIL Valuation of $6.4 million.
Bronny James is the No. 1 player in On3's NIL 100, which ranks high school and college football and men's basketball players. The On3 NIL 100 is the first of its kind and the defacto NIL ranking of the top 100 high school and college athletes based on projected market valuation.
Bronny James' massive $6.4 million On3 NIL Valuation is fueled largely by his huge followings on Instagram and TikTok. Only four other high school athletes currently have NIL Valuations surpassing $1 million: Texas commit and Five-Star Plus+ quarterback Arch Manning ($3.4 million), five-star combo guard Mikey Williams ($2.7 million), three-star guard Hansel Emmanuel ($1.4 million) and Tennessee quarterback commit Nico Iamaleava.
Based on his On3 NIL Valuation, one Instagram post from James has a projected value of $77,000. He's also become one of the youngest athlete entrepreneurs in the world with endorsement deals with companies like PSD Underwear.

The recruitment of the younger James has been a bit of a mystery as detailed here by On3's Joe Tipton.
About the On3 NIL Valuation
The On3 NIL Valuation is an index that looks to set the standard market value for both high school and college-level athletes. The NIL valuation does not act as a tracker of the value of NIL deals an athlete has completed to date. It rather signifies an athlete's value at a certain moment in time.
The On3 NIL Valuation is comprised of a number of dynamic data points that focus on two primary factors – an athlete's social media presence and their level of athletic performance. It takes into account a player's performance on the field or the court and social media engagement, as well as the athlete's school and position.
A base valuation is generated from the number of followers on each social media platform an athlete has (Instagram, Twitter, and TikTok). Each platform is weighted differently based on the number of marketing dollars that brands and advertisers typically spend on each.
With a baseline established through their individual social platforms, an athlete may also receive various boosts or penalties based on the following factors:
Engagement

Athletes are assessed on how much engagement their posts and stories generate. Athletes that consistently show high engagement rates will receive a boost while those with low engagement rates receive a minor penalty.

Relative Social Media Strength

In order to maintain parity, athletes are not penalized for not having strong followings across all 3 social media platforms. However, a boost is applied for athletes with strong followings and engagement across all three platforms relative to their peer group.

College Prestige

Each college is ranked from top to bottom, with athletes attending the top-ranked colleges receiving the highest boosts. High school athletes receive a partial boost once they commit to a college and receive 100% of the boost value once they are enrolled.
The colleges are ranked on the following:

Team Ranking per sport
College TV Ratings
College Revenues from sports

Individual Player Rankings

Utilizing On3's rankings, an athlete's recruiting or On300 ranking will give them a boost according to their ranking. Once an athlete is in college, the On300 player impact ranking is used instead of their recruiting ranking.

Position

For college football only. The QB position is the highest-rated position, followed by skill positions – RB, WR, TE, CB, S, Edge. There are no boosts or penalties for the other positions in football. In basketball, there are no boosts for position.

Gameday Performance

Athletes who excel on a particular game day will receive minor bonuses for their performance.
The gameday boosters can be for the following:

Conference Players of the Week
National Players of the Week
Team Win (opposition strength is factored in)
Outstanding performances on gameday, especially in key games with large viewership

Prestigious Achievements

Athletes nominated (or those in the running at earlier stages in the season) for awards such as the Heisman Trophy will receive a boost. As the odds change throughout the season for the leading contenders, so will the boost. The maximum points awarded for this boost are applied once the winner and finalists have been announced with the winner receiving the highest boost and the other finalist sharing the remaining points based on their final position.

Legacy

Athletes who come from prestigious/ famous families will receive a boost. These boosts are usually applied to athletes who come from a family with national fame. An example of a legacy boost is Bronny James as the son of LeBron James.

Media

Athletes who appear in major publications or are highlighted in productions and special features on major networks will receive boosts or penalties based on the positivity or negativity of each article. This is not solely based on the number of articles or productions but rather the sentiment of the articles.

Existing NIL Deals

As part of the valuation, deal flow is considered and athletes that are signing a large number of valuable contracts will indeed be boosted to reflect their success in the market. This is a relatively minor boost and the increase in the value of the athlete is not equal to the value of the deals they have signed. This is solely a marker to reflect an athlete's ability to get deals signed and executed.