Tennessee receiver Bru McCoy signs with Athletes First for NIL representation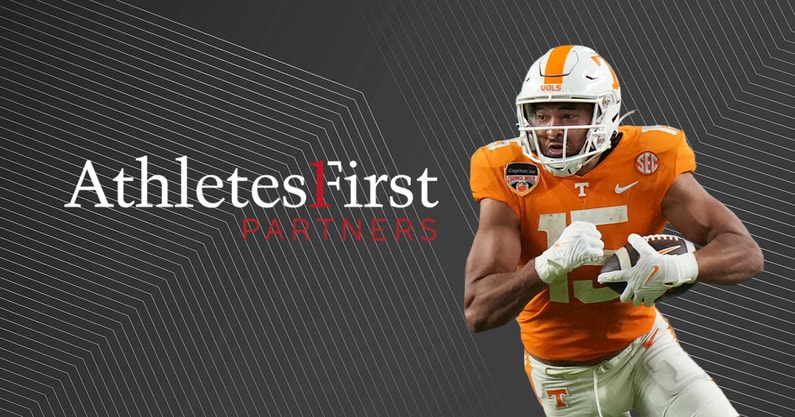 Bru McCoy transferred to Tennessee last offseason hoping for a fresh start.
The former On3 Consensus five-star recruit did not have an easy start to his college career. Seventeen days into his early enrollment at USC, he left Los Angeles and transferred to Texas. But that was short-lived. McCoy was back with the Trojans in June after going through spring practice with Texas.
He eventually took a redshirt, not making his college debut until the 2020 season. And he was suspended indefinitely in July 2021 following an arrest, even though the charges were eventually dropped.
The move to Tennessee worked, though. McCoy finished this past season with 52 catches for 667 yards and four touchdowns. While Jalin Hyatt had one of the best seasons by a Vol receiver in recent memory, winning the Biletnikoff Award, McCoy quietly had the best year of his career.
Now he's looking to build off of that, positioned to be the top target in Tennessee's offense. McCoy announced on Instagram on Thursday he's signed with Athletes First for NIL representation. The move sets him up to capitalize off the field.
The management firm primarily works in the NFL but has started to sign more and more athletes to NIL representation agreements. Former Ohio State quarterback CJ Stroud worked with the agency during his time in college, signing notable agreements with Designer Shoe Warehouse, Express and Athletic Brewing Company.
McCoy has started to build his brand. The Volunteer Club, the Tennessee-focused NIL collective run by Spyre Sports, signed him to an event series deal earlier this week. The organization has a monthly membership program, distributing more than $4.5 million to athletes to date. As part of McCoy's deal with The Vol Club, he will make appearances at a number of events and post on social media.
Bru McCoy's On3 NIL Valuation
The Tennessee wide receiver currently holds an $85,000 On3 NIL Valuation. McCoy has nearly 30,000 social media followers, and that will only rise as the Vols' fan base gets to know him more. With Hyatt and Hendon Hooker off to the NFL, he will be the face of Tennessee's offense with quarterback Joe Milton.
The On3 NIL Valuation is the industry's leading index that sets the standard market NIL value for high school and college athletes. A proprietary algorithm, the On3 NIL Valuation calculates an athlete's NIL value using dynamic data points targeting three primary categories: performance, influence and exposure.
About On3 NIL Valuation, Brand Value, Roster Value
While the algorithm includes deal data, it does not act as a tracker of the value of NIL deals athletes have completed to date, nor does it set an athlete's NIL valuation for their entire career. The On3 NIL Valuation calculates the optimized NIL opportunity for athletes relative to the overall NIL market and projects out to as long as 12 months into the future.
The On3 NIL Valuation accounts for an athlete's roster value and brand value. Roster value is the value an athlete has by being a member of his or her team at his or her school, which factors into the role of NIL collectives. Brand value factors in an athlete's personal brand and the value it could bring to regional and national brands outside of the scope of NIL collectives.
The On3 NIL Valuation is publicly available. Performance, Influence, and Exposure ratings along with the athlete's personal Brand Value Index and Roster Value Index are available only to the athlete in the "Athlete Verified" private dashboard on the On3 Athlete Network.