'We'll probably sell some cars': Clemson quarterback Cade Klubnik inks NIL deal with Fred Caldwell Chevrolet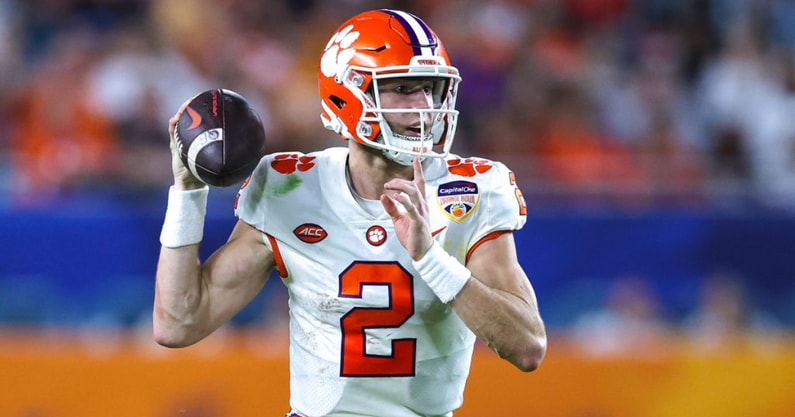 Cade Klubnik has joined the club of college football players to enter a car deal.
The unquestioned Clemson starting quarterback has signed with Fred Caldwell Chevrolet, the dealership confirmed to On3 on Monday. The former five-star recruit in the 2022 cycle shared the news Friday afternoon in an Instagram post.
Over the last two years, the Clover, South Carolina, based Chevrolet dealer has worked closely with Bryan Bresee. With the defensive tackle drafted in the first round of last month's NFL draft by the New Orleans Saints, Fred Caldwell Chevrolet general manager Martin McKinley knew he would need to find a new partner if he wanted to continue his NIL program.
Klubnik was a no brainer. After spending most of last season behind DJ Uiagalelei, he was tapped as Clemson's starting quarterback in the ACC Championship Game. Coming off the bench late in the first quarter, he led the Tigers to a conference title throwing for 279 yards and a touchdown.
"I actually had Bryan Bresee in a truck for the last two years," McKinley said. "When he decided to go pro, I had already developed a relationship with Cade's representation. So I thought that was pretty easy. I'm a Clemson grad. I pay my IPTAY dollars. I just try to support my school. It's more than that than anything for me."
McKinley said he has already seen his return on investment through Klubnik's promotion on social media. Since the quarterback posted about his new truck, the photo has been liked more than 20,500 times. The quarterback directly tagged Fred Caldwell in the caption, too.
"I don't really look at it, and I've never looked at it, as an opportunity to sell cars, almost an image thing," the general manager said. "You know, you have those last two representatives who have a great following. They're closing or 100,000 people following them [on Instagram]. So any exposure I think, as long as it's a positive relationship and the athlete presents a positive image of themself, is a good reflection of us.
"The truth is we'll probably sell some cars off it. We did with Bryan [Bresee]."
McKinley declined to get into the specifics of the agreement. He did deliver the truck to the quarterback.
Klubnik is represented by Athletes First, working closely with Austin Lyman. Every contract is set up differently, yet most car deals call for dealerships to hand over the keys to the vehicle in return for social media promotion.
Insurance is almost always required. For luxury car deals, athletes have been given a mileage cap or asked to trade in the car after so many days.
Helping draw some attention to NIL opportunities around Clemson football is another reason why McKinley is happy to partner with athletes. He's quite happy with the program's two national titles in the Dabo Swinney era.
With NIL playing a factor in some recruitments, prospects can easily view Klubnik's new car on social media and see the possibilities.
"If it helps them recruit, that's great," McKinley said. "I would never go to a high school and offer them a car to try to get them to go to Clemson or anything like that."
Cade Klubnik's growing NIL brand
The 2021 Elite 11 MVP is setting himself up for success on and off the field.
He dropped a merchandise line back in December, releasing a variety of T-shirts, long-sleeve shirts, pants, beanies and hoodies for sale. The apparel features his logo, jersey number or the motto "Join the Klub." Prices range from $30 to $50.
He signed with Mercury's ClemsonTigers.io in November, a digital platform to serve as a meeting place for athletes and fans, back in November. Through the partnership, he's appeared on podcasts and chats with the possibility of digital collectibles coming soon.
Klubnik has amassed 112,000 social media followers between Instagram and Twitter. Entering his first regular season as the starting quarterback, he is bound to add followers this fall.
He also holds a $335,000 On3 NIL Valuation, which ranks in the top 125 of college football. The quarterback's valuation is ranked third on the Clemson football team.
The On3 NIL Valuation is the industry's leading index that sets the standard market NIL value for high school and college athletes. A proprietary algorithm, the On3 NIL Valuation calculates an athlete's NIL value using dynamic data points targeting three primary categories: performance, influence and exposure.
About On3 NIL Valuation, Brand Value, Roster Value
While the algorithm includes deal data, it does not act as a tracker of the value of NIL deals athletes have completed to date, nor does it set an athlete's NIL valuation for their entire career. The On3 NIL Valuation calculates the optimized NIL opportunity for athletes relative to the overall NIL market and projects out to as long as 12 months into the future.