Caitlin Clark, Caleb Love star in NIL advertisement calling for modernization of Small Business Administration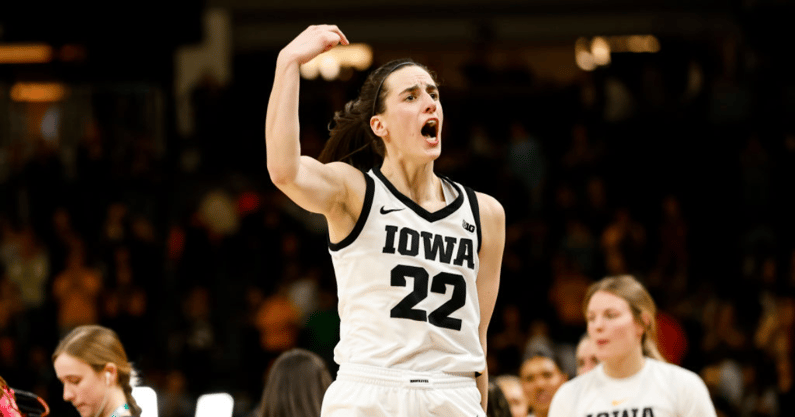 Caitlin Clark and Caleb Love appear to have made NIL history.
While some athletes have used their publicity rights to throw their support behind political figures, the pair of college basketball players are advocating for federal policy in a deal announced Wednesday.
Clark and Love have signed with Goldman Sachs' 10,000 Small Businesses Voices program, releasing a nationwide commercial supporting the modernization of the Small Business Administration. Former North Carolina women's basketball player Iman McFarland is also featured. She is a 10,000 Small Businesses alumna and owner of 21st Century Expo Group.
"Caitlin and Caleb might be best known for their work on the court, but in this fun ad they are showing America that reauthorizing the Small Business Administration should be a layup for Congress," national director of Goldman Sachs' 10,000 Small Businesses Voices Joe Wall said in a statement."We're grateful that Caitlin and Caleb are joining our full-court press to modernize the SBA."
The campaign will air throughout March Madness on TV and throughout digital media platforms. Clark and Love are both 21 years old, born after the SBA was last reauthorized.
Launched more than a decade ago, 10,000 Small Businesses is a free, 12-week program focused on business growth with access to network of leaders and advisors. The Voices intiative allows alums of the program to carry out their work advocating for policy change.
The decision to run the campaign is planted in 10,000 Small Businesses Voices new plan to modernize the association to better fit today's small business world. Recommendations include the equitable access to capital and modernization of entrepreneurial development resources, according to the press release.
Caitlin Clark, Caleb Love's notable NIL brands
Two of the biggest names in their respective sports, each have found success in NIL.
Clark may just win National Player of the Year. The junior guard is third in the country with 27 points, also dishing out 8.3 assists. Iowa has the nation's best offense, leading Division I in scoring (87.5 points) and has a No. 2 seed in the tourney.
She has inked recent deals with Buick and Nike. With nearly 250,000 social media followes, Clark is also a marketable name. Her $154,000 On3 NIL Valuation is No. 12 in women's basketball.
North Carolina is sitting out of the NCAA tournament this March, but that is not a knock on Love. The guard closed out the season averaging 16.7 points and 3.7 assists. He has yet to announce if he will return for another; some think he could be drafted this spring.
He has aligned with brands like Outback and Sleep On Latex. Love also has more than 415,000 social media followers and a $371,000 On3 NIL Valuation.