Villanova's Cam Whitmore signs NIL partnership with Ethika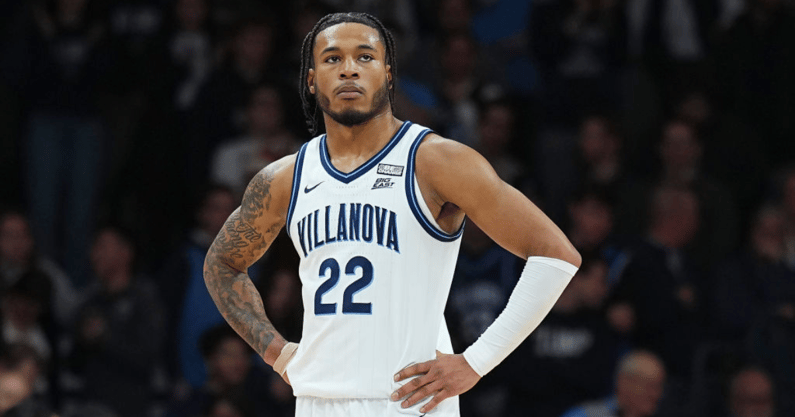 Cam Whitmore is a potential lottery pick.
In its first year without Jay Wright, Villanova has struggled this season. Landing a spot in the NCAA Tournament seems out of the question. But the forward has been a bright spot this season, averaging 12.6 points and 5.1 points per game.
A former five-star recruit, Whitmore is in position to be a top pick in this spring's NBA Draft. He's used his first year in college to set himself up for success off the court, too. Thanks to name, image and likeness, he has signed a number of marketing deals.
On Wednesday, he added another to his portfolio. Whitmore has signed a partnership with the men's and women's underwear company Ethika. Through the agreement, the Villanova star has created two custom pairs of underwear which will be sold online and in retail stores.
"Ethika has been a part of my life for as long as I can remember, I grew up always rocking Ethika," Whitmore said in a statement. "To think that I now have my own custom pairs of underwear, designed in part by me, yea that's tough. I want to thank Tyler [Reddy] as well as Darius [Burton] and the rest of the group at Ethika for making this become a reality."
One of the pairs is called "God Speed", which is a motto Whitmore lives by. The pair of briefs features the saying, along with a galaxy theme with an astronaut performing an in-between the legs dunk. The astronaut is also featured wearing a gold medal arounds it neck, commemorating the gold medal Whitmore won with Team USA in the FIBA U18 Americas Tournament. The underwear also features his No. 22 and his home state of Maryland's flag.
The second pair has been dubbed "Slimeville." The term has a special meaning to Whitmore, who uses it to describe his hometown of Odenton, Maryland. These briefs have slime dripping down from the waistband along with a few UFOs.
With the announcement, Whitmore enters a into an official relationship with Ethika.
"Working on the Cam Whitmore-Ethika collaboration has been nothing short of exciting," Ethika's director of partnerships Darius Burton said in a statement. "I've watched Cam hoop on many different levels, so it was music to my ears when Tyler reached out to us saying that Ethika was a select brand that was organic to Cam and one that they wanted to work with. Coming up with the design and photoshoot concepts with Cam and his team didn't feel like work because we all brought different visions to the table that made it magical."
Cam Whitmore's On3 NIL Valuation
The Villanova forward has been active in NIL, signing notable endorsement deals with Lemon Perfect and Joe's Kwik Mart. He has a $190,000 On3 NIL Valuation, which ranks in the top 40 of college basketball.
His social media following has continued to grow this season, now sitting at roughly 40,000. He has yet to announce his NBA draft decision.
The On3 NIL Valuation is the industry's leading index that sets the standard market NIL value for high school and college athletes. A proprietary algorithm, the On3 NIL Valuation calculates an athlete's NIL value using dynamic data points targeting three primary categories: performance, influence and exposure.
About On3 NIL Valuation, Brand Value, Roster Value
While the algorithm includes deal data, it does not act as a tracker of the value of NIL deals athletes have completed to date, nor does it set an athlete's NIL valuation for their entire career.
The On3 NIL Valuation is publicly available. Performance, Influence, and Exposure ratings along with the athlete's personal Brand Value Index and Roster Value Index are available only to the athlete in the "Athlete Verified" private dashboard on the On3 Athlete Network.