Charlie Hustle's NIL deal with KU QB Jalon Daniels shows power of emerging athletes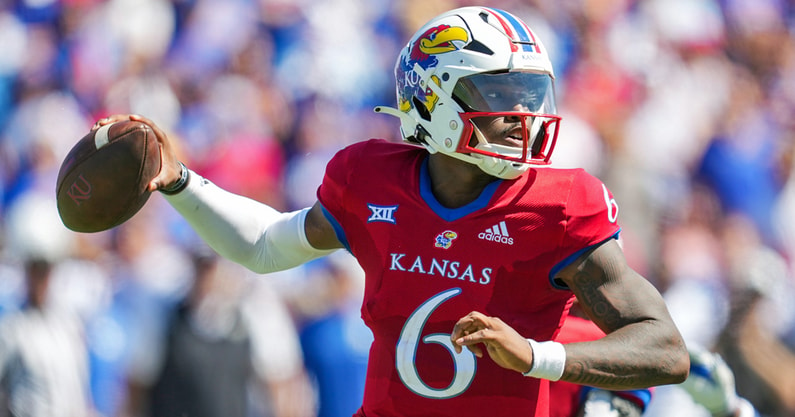 Kansas is the story of the 2022 college football season so far with its 5-0 start. The Jayhawks have been sparked by the dynamic play of quarterback Jalon Daniels, who has emerged as a Heisman Trophy candidate. Daniels is also emerging as a big-time NIL winner.
Charlie Hustle – the Kansas City-based company known for its iconic KC Heart T-shirts and other NIL deals with student-athletes in the nation's heartland – announced Tuesday it has reached a NIL partnership with Daniels.
As part of the agreement, Charlie Hustle will be selling T-shirts featuring Daniels and his "dynamic energy" and "shifty ball skills." The deal was facilitated by KU-focused collective Mass Strategies.
Jalon Daniels deal materialized swiftly
Mirroring Jalon Daniels' speed on the field, Greg Moore of Charlie Hustle said the deal with the star KU quarterback was completed in less than 24 hours.
"With Kansas' surprising start to the season, we prioritized a focus on the football team," said Moore, who is Chief Operating Officer for Charlie Hustle.
"Part of that was quickly landing a NIL deal with KU's quarterback, Jalon Daniels. Thanks to (Mass Strategies) and Jalon's father, Tyrone, we were easily able to get an agreement in place and approval on the T-shirt design."
Helping with the speed of the deal was the fact that Daniels and his family have set up JD6 Enterprises as a way to help orchestrate NIL deals.
"The family having necessary paperwork set and being responsive on approvals and feedback were the catalysts to the quickest NIL deal we've ever done," Moore said.
Charlie Hustle active with Big 12, Big 10, SEC stars
Charlie Hustle has also executed NIL deals with a number of top athletes around the Midwest, including Kansas State All-American running back Deuce Vaughn.
Vaughn's "Deuce is Loose" T-shirt is one of the most popular shirts Charlie Hustle produced in 2022. It quickly sold out but is now back in stock.
Here are some other NIL deals Charlie Hustle has executed recently as part of its College Roadshow:
Charlie Hustle does partnerships smartly
Moore says NIL deals are an important part of Charlie Hustle's business and it can be a big boost to companies that don't have the same massive operations as Fanatics and others in the college sports apparel industry.
"We can't afford to just go through and fund all the big stars," Moore said. "So, let's be smart about it."
The company initially struck NIL deals in 2021 with KU basketball stars Mitch Lightfoot and Ochai Agbaji. The deals made sense because of KU basketball's massive fan base in the Kansas City area. Sales went well, but more importantly, Moore said Charlie Hustle as a company saw a way that NIL can help insert their business in college communities across the region.
"It's the influence," Moore said. "When you look at a company like ours, we're great because of the KC Heart T-shirts, so now we're embedded in the community.
"We asked ourselves, 'How do you embed yourself in Ames, Iowa? In Columbia, Missouri? In Manhattan, Kansas? The stars are the student-athletes walking around. Ochai and Mitch gave us that first real case study. It showed that something is here, and we need to go into this."
And Charlie Hustle is again striking while the iron is hot in Lawrence, Kansas, with the deal with Jalon Daniels.