With season days away, Dabo Swinney talks NIL concerns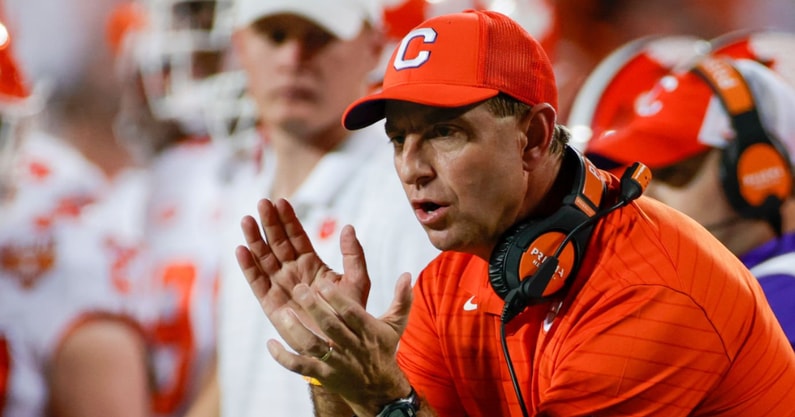 Whenever Dabo Swinney speaks his mind on NIL, it's caught the attention of college football.
Back in 2014, the Clemson head coach said he'd leave coaching the day players were allowed to be paid. Seven years later, NIL is the law of the land across the NCAA. The Tigers have an in-house program, Reign. They have three collectives on campus, too.
Swinney has come around on the idea of athletes monetizing their Name, Image and Likeness. That doesn't mean he's thrilled about the state of college athletics, though. Now entering his 20th season with the Tigers — 15th year as their full-time head coach — he's seen how college athletics has changed. Speaking to media members Thursday, he alluded to the phases of the sport he's witnessed. Facility upgrades. Support staff expansion. Nutrition departments.
And now college football is grappling with NIL recruiting inducements. There's the story of the five-star recruit signing a contract worth $8 million. Similar stories have followed. And the transfer portal dominated headlines this offseason, with coach after coach telling horror stories of players leaving for promises of cash.
NIL has Swinney worried about where college football is headed.
"There's no doubt about that," Swinney said Thursday. "And the people in the business, we saw that coming a mile away. Again, the intentions are good. And I think the intentions in what needed to happen outweigh the negative consequences that have come from it. Yes, it's got to be addressed. These are young people. When you have people making decisions based on just one thing, it's usually not a great result.
"It's not intended as a recruiting inducement. It's not. And then you throw in the bigger issue — the tampering of the transfer portal. That's the No. 1 issue because — there's no barrier. You got a lot of pressure on a lot of people to win today. Win right now. There's quick fixes. There's not people going into the portal without a plan."
Swinney has never been a fan on the transfer portal. He's made that clear over the years. Dipping into the portal means he doesn't trust the roster he's assembled.
His opinions on NIL's role in ramping up pay-to-play in college football is not new. Nick Saban and Jimbo Fisher went punch-for-punch this past offseason, as the Alabama head coach accused Texas A&M of buying its entire recruiting class. And Power Five commissioners penned a letter to U.S. senators Tommy Tuberville and Joe Manchin calling for legislation due to "payments inaccurately labeled as NIL."
There's unison among Swinney's ranks that changes need to come. But forget about a timeline.
Clemson collectives aligning with Dabo Swinney
Clemson currently has three collectives on its campus: Dear Old Clemson, TigerImpact and the Tiger NIL Club.
Dear Old Clemson signed the entire freshmen class to deals. And TigerImpact has signed two of Clemson's top defensive linemen. Each were founded by Clemson alumni who are familiar with how Swinney runs his program, something the head coach has been adamant about.
Tiger NIL Club is a YOKE player-led collective, one of the more than two dozen that have sprung up across the nation. It has not officially launched yet but will be set up in a donation format. Football players won't be required to sign up. Compensation will be evenly split among players and 18% will be kicked back to YOKE.
"It's been awesome, man," Swinney said. "It's been great for our guys to be able to have opportunities. We've got a couple of great collectives out there — I guess I can talk about that. They align with our program, as far as we're purpose driven. It's great to see our guys serving the community. It's great to see our guys giving them back. And it's great that they have the opportunity to make some money."
Dabo Swinney has created the exact culture he envisioned around the Clemson football program. He's continuously recruited at a high level. Last year's 2022 class finished ranked 14th in the On3 Consensus Team Rankings.
NIL has caused some headaches. But he's not going to change who he is over the new era of college sports.