Clemson's Will Shipley, K.J. Henry donate NIL earnings to endowment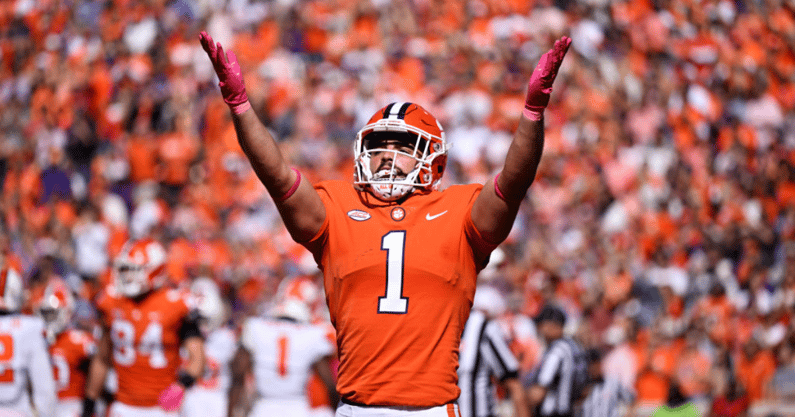 Clemson announced Saturday that running back Will Shipley and defensive end K.J. Henry will provide five-figure donations to the "1 CLEM5ON" endowment they've established. It's a unique example of players donating money they've earned through NIL opportunities.
The "1 CLEM5ON" endowment will help provide resources to Clemson students.
"Once again our young leaders are on the cutting edge of scholar-athlete leadership," Clemson Assistant Athletic Director of Football Player Relations and P.A.W. [Passionate About Winning] Journey founder Jeff Davis said in a release. "What K.J. Henry and Will Shipley are doing is a small representation of their commitment and bright future. When the impact of NIL is one of the focal points of college athletics, these two leaders are The Example of how empowering our scholar-athletes has immeasurable dividends, from supporting their fellow scholar-athletes' and students' endeavors to promoting their love for Clemson University."
Shipley previously donated $10,000 of his NIL earnings to the Charlotte-based Levine Children's Hospital.
"Will Shipley, another great story. He's a running back [for the] football team, he works with the Levine Children's Hospital and Will has done some great work," Kevin Gemas, a co-founder and board member for the Clemson-focused NIL collective TigerImpact, told On3 in July. "I mean, he just donated the other day $10,000 to the Levine Children's Hospital. I mean these are things student-athletes in the past really couldn't do. Didn't have, obviously, the monies to do it and not only are they doing it but they're working on behalf of them."
For the first five years of the endowment, the donations from Shipley and Henry will support Clemson's Harvey and Lucinda Gantt Multicultural Center and the athletic department's "Hear Her Roar" campaign. In future years, their contributions will support Clemson's P.A.W. Journey program.
Will Shipley, K.J. Henry's NIL opportunities
Shipley, a sophomore running back, rushed for 1,092 yards and 14 touchdowns in the regular season. He's one of four finalists for the Paul Hornung Award, which is awarded to the most versatile player in the country.
"I have been so blessed here at Clemson University to be associated with P.A.W. Journey and everyone involved in it," Shipley said in a release. "They've given me opportunities and tools I'll be able to carry with me for a lifetime. At an older age, looking back, I'm really going to appreciate the journey and how much I've learned throughout my time here.
Henry has 49 tackles, nine tackles for loss and 3.5 sacks.
Shipley has an On3 NIL Valuation of $248,000 and Henry's is $266,000. The On3 NIL Valuation utilizes a proprietary algorithm to calculate the projected annual value of an athlete's NIL opportunities. While the algorithm includes NIL deal data, it doesn't act as a tracker of the value of an athlete's NIL earnings.
"P.A.W. Journey was a big reason why I wanted to come to Clemson — to benefit from this program's focus on the growth of the man, not just the athlete," Henry said in a release. "I saw a chance to give that opportunity to students who don't play sports, students going about their everyday lives, and allow them to receive these same tools that we are equipped with. It seemed like a no-brainer. And then seeing Clemson's female athletes and how hard they work, as well as seeing the platform that the Clemson Softball launched from beginning with such great backing and support, Will and I wanted to help these new programs coming in as well in the athletes and programs we have here now. We want to raise the bar for all of our student-athletes.
"With Will and I being men of God and men of faith, we know that money is short-term. There is a lot of love we can spread with it with the platform we have, so it is a blessing to be granted with this opportunity to give back to our fellow athletes and students."