Donors, NIL collectives grapple with recruiting success in college football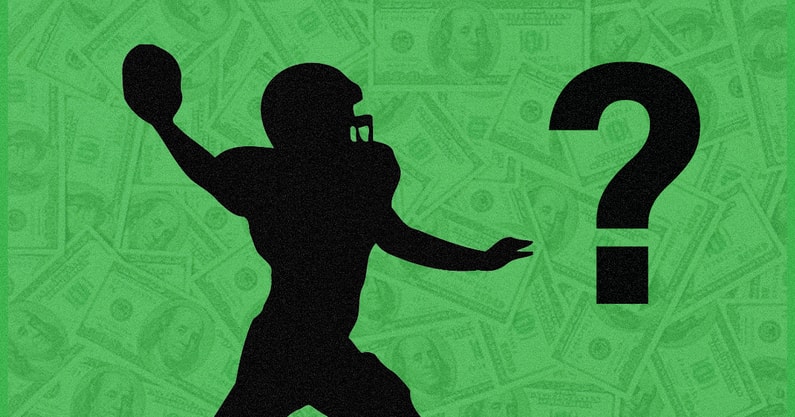 For years, college football coaches have tried to assemble the perfect recruiting class. Deep down, however, they likely know there is no such thing, even with 21st-century scouting data and technology. 
Traditionally, programs could sign up to a 25-player signing class, a limit that was waived for two years. However, not every athlete is going to be an all-conference player. There are hits and misses. A recruit is likely considered a hit if they develop into a multiyear starter who doesn't leave for the Transfer Portal.
Alabama's 2017 class is considered one of the best ever assembled. Eight players were selected in the first round of the NFL draft, including quarterbacks Tua Tagovailoa and Mac Jones, running back Najee Harris and wide receivers DeVonta Smith and Jerry Jeudy. Fifteen total players have signed with an NFL franchise from the class. Some of them helped the Crimson Tide win a pair of national championships.
But even that class only had a hit rate of roughly 65%, excluding specialists.
There are currently more than 200 NIL collectives across the country, many of which publicly state their goals of recruiting and retaining top talent. For some, achieving those standards means preparing lucrative financial packages for high school athletes.
It leads to the question: Are collectives and their donors approaching NIL with the same understanding of coaches and recruiting staffers that not every player will have on-field success? 
"The people that can afford to put this type of money in on a football recruit from a booster standpoint would be bankrupt if they made the same decisions in their businesses," said a veteran college football assistant, who spoke on the condition of anonymity.
What is a winning hit rate?
Over the past five recruiting classes, on average, only four of the top 10 quarterbacks in the On3 Consensus have developed into a "hit," or a productive multiyear starter at their initial school. As On3 recently reported, the top high school quarterbacks can command the equivalent of a seven-figure annual salary through NIL deals. 
For collectives, that could translate to hundreds of thousands, if not millions, of dollars mismanaged, depending on how they measure return on investment. 
"Look, I think quarterback is the hardest position to play in sport. Hardest position to evaluate and coach," a former NFL scouting director told On3. "There are some non-negotiables to be a big-time quarterback. Accuracy, processing and leadership. … When you look at quarterbacks who fail, they fail in one of those three areas. It is a difficult position to evaluate. 
"A lot goes into a quarterback developing into a top player. Sure, you want to see the right size and work ethic to be great. There's so much that goes into it, and that's why very few make it to the top."
Through multiple conversations with recruiting staffers and assistant coaches, On3 was able to determine a 60% hit rate for a recruiting class would likely be considered a major success at any program. For some, bringing in a class with that much talent could change the trajectory of a program.
In today's NIL landscape, collectives can provide the infrastructure to pay top high-school talent. 
Many high-profile boosters in the NIL landscape also run successful businesses, as collectives often boast the years of business experience of their board members. So, why would these stakeholders expect their return on investment to be any different in college football?
"What business operates at a 60% failure rate and is viable?" said the veteran college coach with NFL experience.
College football's top evaluators extend evaluations as far as possible into a recruit's high school career. However, unlike scouting for the NFL draft, college scholarships are offered and commitments are made while high school players are still developing.
"Most prospects' recruitment is over by their senior season and the senior season is infinitely more valuable from an evaluation tool than anything we have up to that point," On3's Director of Scouting and Rankings Charles Power said. "That's the biggest inefficiency."
Collectives struggle to establish NIL market value for recruits
With the advent of the Transfer Portal and the one-time transfer rule, each program is going to place a different emphasis on high school recruiting.
There are now proven college players who can play immediately at their next school. Hundreds of FBS scholarship players entered the Transfer Portal on Dec. 5, the day the transfer window opened.
"The market is tremendously inefficient," Jason Belzer, the co-founder and CEO of the agency Student-Athlete NIL, said of the landscape nationally with the opening of the Transfer Portal window. "Like insanely inefficient. People are gonna overpay."
Multiple sources indicated to On3 the Transfer Portal has impacted high school recruiting, such that some coaches prefer to use their recruiting resources on proven talent at the college level.
Positions such as quarterback, wide receiver, EDGE and defensive back – the same positions that are highly valued in the NFL draft – are typically the most sought-after for college football programs and collectives.
They're often the most handsomely paid, yet it can be a struggle to establish the market value for players at these positions. Market value is whatever someone is willing to pay, yet collectives' budgets and programs' positional needs can vary. Various collectives and marketing agencies can also define market value differently based on the specific deliverables in a player's contract.
"Market value on this end of it, you don't know what it is because you don't know what is real and not real," said an SEC collective operator, who spoke on the condition of anonymity. "That's what I don't really love about this. Market value is what somebody is willing to pay.
"It's an interesting concept and trying to navigate it with what the rules are and what is practical and the way it should be are two different things."
While each collective has its own approach to which athletes they support, an estimated average of 75 to 80% of collectives' funds go to football players.
The average collective nationally has raised $3 million to $5 million, estimated Belzer, whose agency powers roughly 20 collectives.
That means the average collective will spend roughly $2.25 million to $3.75 million per year on football players.
The collectives that spend the most money, which mainly sit in the Big Ten and SEC footprints, might spend $7.5 million to $12 million on football players alone.
"I don't think that paying athletes without any type of business model other than just doling money out is sustainable year over year," said one collective operator, who spoke on the condition of anonymity. "Maybe those collectives view wins and national championships as the gold standard for justifying it. But when you go 4-8 or 5-7 and you spent all that money, you're like, 'What good did that do?'"
While elite prospects at quarterback or wide receiver can command a significant market value, for a collective that has raised in the low seven figures, how many players are worth six or seven figures?
The average athlete might only receive roughly $25,000, especially if a collective has a budget of a few million dollars. The next tier of players might command roughly $50,000.
Winning rosters can't necessarily be bought from high school recruiting, especially with current transfer rules.
NFL draft struggles evidence of misses at all levels
As collectives try to help the programs they support to keep pace in recruiting, patience and prudence may be virtues. The fear of missing out on the next great talent, however, could mean jumping to conclusions early in a recruit's high school career. Ultimately, a collective could end up paying a high price for a prospect who never matures as forecasted.
Even at the NFL level, evaluators miss after watching an athlete's body of work from college. Former Michigan State quarterback Drew Stanton was picked in the second round of the 2007 NFL Draft. The NFL journeyman ultimately played for six teams in 13 seasons. 
He has seen his fair share of first and second-round draft picks not pan out in the league. That's even after NFL scouts had at least three years to identify and evaluate players in college. 
"I think that's the struggle of the NFL, you look at how many first-round picks are misses," he said. "And that's their job, right? Evaluating these kids, they have a much larger sample size, and they're still missing at a 50% rate. So the trickle-down effect of what that means is the college talent pool, what you're drawing from."
Stanton also sees a major flaw with the million-dollar market for the top quarterbacks coming out of high school.
First-round quarterbacks have varying degrees of success when making the jump to the NFL. Some are misses, while others develop into All-Pro-caliber players. So, Stanton has a hard time believing a game-changing quarterback can be spotted at the high school level, especially with the weight 7-on-7 teams now hold. 
"You get the misconception, guys going to 7-on-7 – this is completely different when you're operating within the confines of the pocket," he said. "The talent that surrounds you. In college, you look at what these offenses are doing. All these kids are transferring at such a high rate.
"At the end of the day, there's only one quarterback playing out there."
How will on-field product, ROI shape future of NIL
John Ruiz is a diehard Miami Hurricanes supporter. His companies, Life Wallet and Cigarette Racing, have also been major funders of NIL deals. Over the 18 months of college athletics' new era, he has spent $10 million investing in deals and partnerships with athletes, with a focus on the Hurricanes. 
For all the cash he has put into deals, Ruiz said while, yes, he wants to see Mario Cristobal win games, he said his return on investment is not dependent on a recruiting class's hit rate. His return on investment is the attention he has brought to his two companies.
"The problem with the way people think about NIL is just winning and losing," he said. "That's not the way we see it. Obviously, when you win it's just great for the team. I know NIL, even if the team is winning, the product is not team-specific. It's player-specific."
While Ruiz strikes partnerships between athletes and his two companies, not everyone who contributes to NIL opportunities has a similar business tie. As coaches and athletic directors across the country have asked for fans to contribute to NIL collectives, some fans contribute to these organizations with the hope of roster retention and more wins on the field.
Contributing directly to players can lead to increased expectations, such as winning conference titles or challenging for a spot in the College Football Playoff. But what happens to the sustainability of a collective when it raises six figures for a former five-star recruit who doesn't pan out? Or a highly touted quarterback hits the Transfer Portal after just one season?
"If I'm spending $10 million on high school kids, that means I'm wasting, what, $5 million on failed investments," the veteran college football assistant said. "That's championship football if I'm able to get 50% from high school recruits. But that still means that 60% of my investment is all for not.
"If you do that as a business, you're going to be filing for bankruptcy within a year or two."
This story was written and reported by Jeremy Crabtree, Pete Nakos and Andy Wittry.