Bryce Young reclaims top spot in top 10 college football On3 NIL Valuations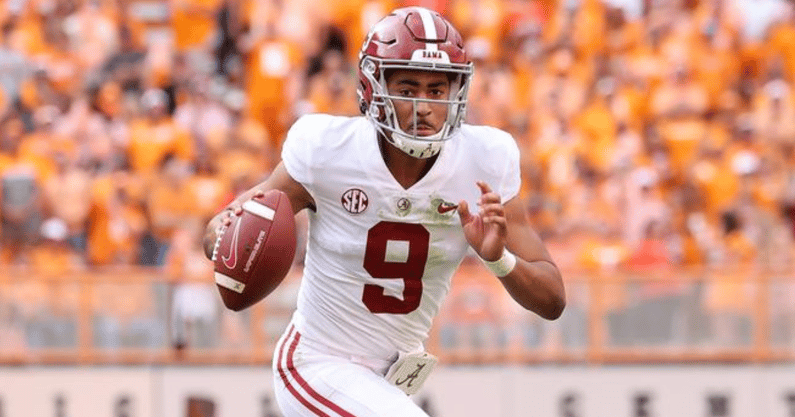 There's another name atop the top 10 college football On3 NIL Valuations entering Week 8.
Despite Alabama's loss at Rocky Top last weekend, Bryce Young has retaken the No. 1 ranking. Playing through an AC joint injury, Young threw for two touchdown passes and nearly completed the comeback.
There's another new name in the top 10 this week, too. North Carolina quarterback Drake Maye has joined in the part as he quietly has the Tar Heels at 6-1 on the season.
On3 is breaking down the top 10 On3 NIL Valuations entering Week 8 of the college football season. This season marks the second year athletes are able to profit from their NIL and their marketability can increase because of their accomplishments on the field.
Let's dive in.
1. Bryce Young
On300 Ranking: No. 3
On3 NIL Valuation: $3.4 milllion
Movement: +$795,000
Position: Quarterback
Yes, Alabama lost to Tennessee for the first time in 15 years. With Rocky Top blasting throughout Neyland Stadium and cigar smoke wafting about the Tennessee River, it's hard to picture a worse ending to the Third Saturday October. But it's also worth reflecting on what Bryce Young accomplished battling through an AC joint injury. The Alabama star finished was 35 of 52 for 455 yards and two touchdown passes in the loss. He made big play after big play for the Tide, rallying them back from a 28-10 first-half deficit. Bryce Young is not going to be the favorite for the Heisman this season. But the Alabama quarterback showed in Knoxville why he's still one of the top players in college football and in the NIL space.
2. C.J. Stroud
On300 Ranking: No. 1
On3 NIL Valuation: $2.6 million
Movement: +$5,000
Position: Quarterback
C.J. Stroud remains the odds-on favorite to take home the Heisman Trophy from New York City this season, despite Hendon Hooker and Tennessee's massive upset of Alabama. The Ohio State quarterback tore apart the Michigan State defense in East Lansing two weeks ago. And now coming off the idle week, the Buckeyes are set to face the best defense they've seen this season. Ohio State is a four-touchdown favorite against the Iowa, but that's not going to stop Stroud and his offense to prove a point. The Hawkeyes are currently allowing just 9.8 points per game, which ranks third in the country. All signs point to a collision course leading up to The Game. Look for Stroud and the Buckeyes to send a statement this weekend.
3. Caleb Williams
On300 Ranking: No. 10
On3 NIL Valuation: $2.1 million
Movement: +$334,000
Position: Quarterback
Caleb Williams continues to see his NIL stock rise. The USC quarterback's social media following has shot up to more than 181,000 after he saw his Instagram rise 12.2% this past week. He also saw his On3 NIL Valuation rise 19% — $334,000. The evaluation ranks No. 6 in the NIL 100, which is the first of its kind and the defacto NIL ranking of the top 100 high school and college athletes ranked by market valuation. Despite the loss at Utah, Williams threw for five touchdowns and 381 yards with a 59.5% completion rating.
4. Bijan Robinson
On300 Ranking: No. 4
On3 NIL Valuation: $2 million
Movement: +$4,800
Position: Running Back
Bijan Robinson has shown throughout his college career he can be a do-it-all running back. He has the speed to breakout some big-time runs, and he can also be a bruiser. That was on full display against Iowa State. Robinson carried the ball 28 times for 135 yards in the win, averaging nearly five yards per touch. He'll have another major stage this weekend when Texas travels to Oklahoma State for a top-20 matchup. Brands continue to see the value the tailback has off the field, too. He recently re-signed his deal with Athletic Brewing Company for another season. The third-year running back has crafted one of the strongest Name, Image and Likeness portfolios, and he'll only build on it when he reaches the NFL ranks.
5. Will Anderson
On300 Ranking: No. 9
On3 NIL Valuation: $1.4 million
Movement: -$279,000
Position: EDGE
Tennessee found a way to make Will Anderson's impact on the game minimal. The Alabama edge rusher tallied just three total tackles in the loss as the Tide struggled to put pressure on Hendon Hooker. The Vols quarterback was not hurried in the pocket and just sacked once. And Tennessee had its way with the Alabama defense, racking up 567 total yards. Anderson and the Tide now have to reload quickly with Mississippi State's offense coming into Tuscaloosa.
6. Marvin Harrison Jr.
On300 Ranking: No. 5
On3 NIL Valuation: $1.3 million
Movement: +$5,800
Position: Wide Receiver
At the halfway point of the season, Marvin Harrison Jr. has established himself as one of the top wide receivers in college football. He had an insane catch against Michigan State and finished the day with three touchdown catches. Entering this weekend's matchup with Iowa, the son of NFL great Marvin Harrison has 31 catches for 536 yards and nine touchdown grabs. He's averaging 17.3 yards per catch. And his social media following has exploded over the past few weeks. His total social following now sits north of 133,000. Harrison has a per post value of $2,500, too. Put Jaxon Smith-Njigba back in the mix and the Ohio State passing attack is going to be even scarier. It's also going to open up a few more looks for Harrison.
7. Shedeur Sanders
On300 Ranking: N/A
On3 NIL Valuation: $1.3 million
Movement: +$143,000
Position: Quarterback
Shedeur Sanders has pieced together one of the top NIL portfolios of any college athlete. Just in the past month, he launched his own barbecue sauce, dubbed the "#2 BBQ Sauce" in honor of his number. Although he signed with the company back in December, the quarterback has also has been tapped to become a long-term ambassador for Tom Brady's BRADY brand. And on Wednesday, he signed a long-term deal with Actively Black. With more than 1.1 million social media followers, he has emerged as an influencer. He's also built a strong reputation on the field, too, throwing for 22 touchdowns and just four interceptions in five games.
8. Quinn Ewers
On300 Ranking: No. 51
On3 NIL Valuation: $1.2 million
Movement: +$8,500
Position: Quarterback
In his second game back after exiting the Alabama game, Quinn Ewers showed why he is a former five-star plus recruit. The quarterback threw for three touchdowns and 172 yards with a 65.4% completion percentage. He continues to see his On3 NIL Valuation rise, too, now sitting at $1.2 million, which ranks No. 13 in the NIL 100. If Ewers can craft together another eye-catching stat line this week, Texas could knock off No. 11 Oklahoma State and be vying for a top-10 ranking.
9. Jordan Addison
On300 Ranking: No. 11
On3 NIL Valuation: $1.2 million
Movement: -$529,000
Position: Wide Receiver
Jordan Addison has done everything possible to defend his Bilentkoff Award. The USC receiver entered the Utah game with has 32 catches for 479 yards and six touchdowns. And he put together another eye-catching performance in the loss, tallying seven catches for 106 yards and a score. Addison also was injured on the final USC drive of the third quarter. What appeared to be a leg injury, he was tackled awkwardly on the Trojans sideline and finished the game on crutches. Lincoln Riley updated his status this week, classifying it as a day-to-day injury. Addison's absence the remainder of the game was apparent, as the Trojans struggled to move the ball. The Trojans are off this week before a trip to Arizona next weekend.
10. Drake Maye
On300 Ranking: No. 2
On3 NIL Valuation: $1.2 million
Movement: +$270,000
Position: Quarterback
The former four-star recruit and top-50 prospect has done nothing but wow in his redshirt freshman season with North Carolina. The younger brother of Luke Maye, Drake Maye is arguably the top quarterback in the ACC this season. The Tar Heels are currently 6-1 overall and running away with the ACC Coastal crown. The FBS leader in total offense and touchdowns, Maye has thrown for 2,283 yards on 70 percent passing. He's shown he can do it all, too, adding 478 yards on the ground with 27 total touchdowns. Oh yeah, only three interceptions in seven games. The quarterback has opted to spend his fall focusing on football, not inking NIL deals. But there will be plenty of opportunties when Maye chooses the time is right.
Dropped Out
+ Georgia tight end Brock Bowers slid from No. 10 to No. 11, thanks to Drake Maye's surging valuation.
About the On3 NIL Valuation
The On3 NIL Valuation is the industry's leading index that sets the standard market NIL value for high school and college athletes. A proprietary algorithm, the On3 NIL Valuation calculates an athlete's NIL value using dynamic data points targeting three primary categories:
+ Performance
+ Influence
+ Exposure
While the algorithm includes deal data, it does not act as a tracker of the value of NIL deals athletes have completed to date, nor does it set an athlete's NIL valuation for their entire career. The On3 NIL Valuation calculates the optimized NIL opportunity for athletes relative to the overall NIL market and projects out to as long as 12 months into the future.