College Station NIL Club joins list of YOKE-powered collectives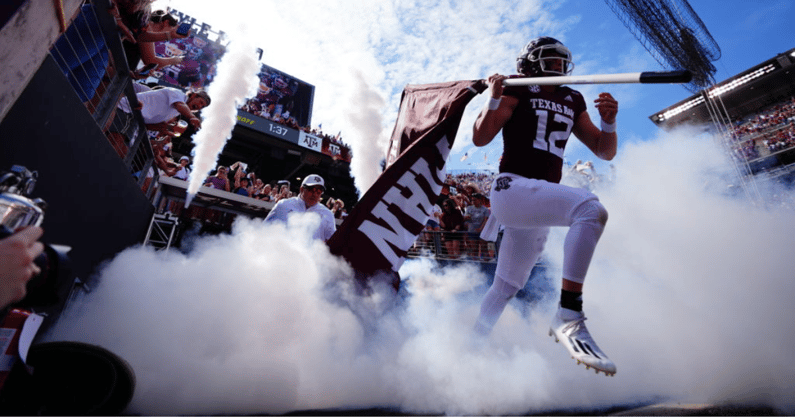 Another player-driven YOKE collective has launched, this time in the SEC footprint. The College Station NIL Club was announced last week, marking the second collective to hit the Texas A&M market.
Texas A&M tight end Donovan Green and defensive end Lebbeus Overton tweeted out statements outlining plans for the organization. Other players appeared in videos publicizing the College Station NIL Club. This move by Aggies' players follows news of new YOKE chapters launching at LSU and Oklahoma last week.
The College Station NIL Club (CSNC) plans to hit a $50,000 monthly goal through donations. While YOKE collectives that launched early on sold access passes, the recent iterations have switched to a donation system. When fans make a contribution to the College Station NIL Club fund, they will receive access to online to meet-and-greets with the team, members-only tailgates and an online community where they can interact with players. Merchandise will soon be on sale, too.
As of Monday morning, the NIL club has raised over $7,200. Donors are allowed to sign up to donate on a monthly basis. Those who put forth a $25 monthly contribution in August will receive a free Texas A&M Myles Garrett jersey. And fans who sign up to donate $100 monthly or more will be invited to a steak dinner with Aggies players this fall.
CLICK HERE to subscribe for FREE to the On3 YouTube channel
YOKE's website describes the company as the "premier web3 company providing technology for athletes to build community and receive equitable compensation" for NIL.
College Station NIL Club joins Texas A&M collective scene
The CSNC becomes at least the 12th YOKE-led collective to launch at a Power 5 school. It also becomes the second collective to join the Texas A&M market, but also the most public one. Deemed "The Fund" by organizers and boosters, the second of the Aggies collectives has been operating under the radar since NIL was approved by the NCAA and made acceptable in the Lone Star State.
No founders are listed anywhere, and no annual goals are available. Insiders say The Fund has generated tens of millions of dollars. Multiple investors in The Fund told The Athletic that several members of the 2022 football recruiting class did secure NIL deals, but the total numbers are in the low single-digit millions. The collective was in the middle of Nick Saban's feud with Jimbo Fisher, too, when the Alabama head coach accused Texas A&M of buying their entire recruiting class.
"A&M bought every player on their team," he said. "Made a deal for name, image and likeness."
Role of YOKE with College Station NIL Club
These player-driven collectives are not truly independent of outside parties. And it's inaccurate to describe the group as player-run if there's middleman.
Michigan State rising sixth-year senior right guard Matt Carrick recently explained how YOKE approaches to On3.
"The stuff that we're sending out, they make," Carrick said. "We push it out."
It started with YOKE employees sending direct messages to a few Michigan State players, Carrick said. Then the company contacted the team's leadership council.
"We were kind of held responsible to get everyone on board," Carrick said.
Players are not required to join these collectives. They have the option to opt-out and not take a cut of the profit. As the company has increased its scale, its platform fee has dropped from 25% to 18%, according to co-founder and CEO Mick Assaf. He said he hopes the platform fee can reach the single digits in the future.