Colorado's Travis Hunter signs NIL deal with Phil Long Ford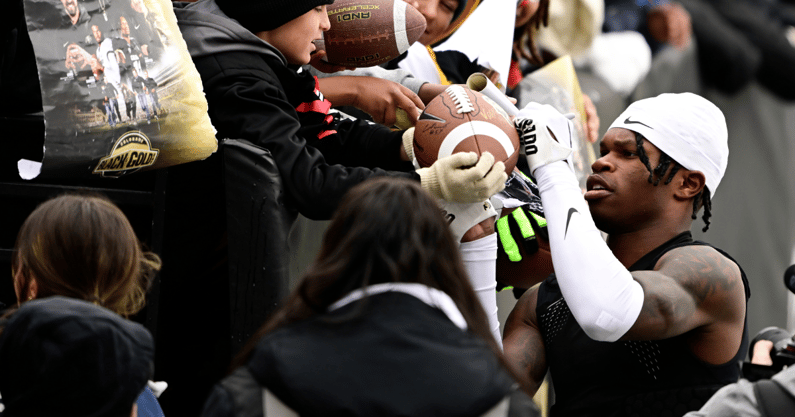 Much of the focus around Boulder this week has been spent on Deion Sanders and the transfer portal, but Travis Hunter appears to have landed a new set of wheels.
The Colorado defensive back has inked an NIL deal with Phil Long Ford of Chapel Hills, he announced on his Instagram page. The freshman appears to be sitting on top of a new Ford truck.
"I want to give a special thanks to Phil Long Ford of Chapel Hills for always going above and beyond with the car," he wrote on Instagram.
A former On3 five-star plus+ prospect in the 2022 recruiting class, he stunned the recruiting world when he flipped from Florida State to Jackson State on National Signing Day. He's now followed Coach Prime from the HBCU to the Pac-12.
In his first season of college football this past fall, he tallied 19 tackles with two interceptions and eight pass breakups. He had a touchdown catch and played cornerback in Saturday's spring game, showing that Sanders plans to play him on both sides of the ball at Colorado.
The former No. 2 recruit in the country hasn't wasted any time monetizing his name, image and likeness since arriving in college. He signed a multi-year deal with digital banking platform Greenwood back in July. Since then he has aligned with brands like Celsius Drink, the Michael Strahan Brand, Actively Black and SoHoodie.
Hunter used his commitment to Colorado as a moment to leverage his YouTube following, too. Back on February 1, he said he would make his commitment known when he reached 100,000 YouTube followers. He now has 148,000 subscribers, showing the test obviously worked.
Travis Hunter's On3 NIL Valuation
The Colorado cornerback has a $1.7 million On3 NIL Valuation, which ranks No. 3 in college football. It also sits at No. 5 in the On3 NIL 100, which is the first of its kind and defacto NIL ranking of the top 100 high school and college athletes ranked by their On3 NIL Valuation.
Along with his substantial YouTube following, Travis Hunter has also built up a major social media with roughly 1.3 million followers. He's been able to build a brand that also doesn't just revolve around his on-field play but provides an inside look at his personal life.
The On3 NIL Valuation is the industry's leading index that sets the standard market NIL value for high school and college athletes. A proprietary algorithm, the On3 NIL Valuation calculates an athlete's NIL value using dynamic data points targeting three primary categories: performance, influence and exposure.
About On3 NIL Valuation, Brand Value, Roster Value
While the algorithm includes deal data, it does not act as a tracker of the value of NIL deals athletes have completed to date, nor does it set an athlete's NIL valuation for their entire career. The On3 NIL Valuation calculates the optimized NIL opportunity for athletes relative to the overall NIL market and projects out to as long as 12 months into the future.