Company aims to create a sort of Yellow Pages for NIL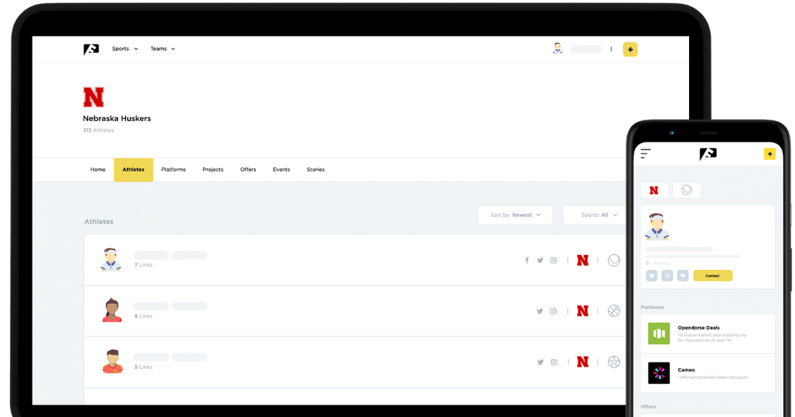 Christopher Aumueller, founder and CEO of the athlete storytelling and branding company FanWord, looked at the crowded NIL space and saw a void. The fast-evolving landscape lacked a singular site for businesses and fans to access to see the full depth and breadth of an athlete's brand – an aggregation of everything from their social media platforms to business ventures – along with a way to contact them.
That's where his company's latest product, FanWord Boost, comes in. Consider it a modern-day Yellow Pages in the NIL era. A public athlete directory, its mission is to amplify athletes' visibility, help them get discovered and simplify how businesses, donors and fans can connect with them. Today, FanWord Boost is unveiling its first group of partners – Boise State, Portland State, Oakland, Arkansas-Little Rock, Think NIL (a TCU-focused collective), Rising Spear (a Florida State-focused collective) and the Collegiate Gymnastics Association, with more on the way.
"We want to build the largest athlete directory in the country," Aumueller told On3.
Aumueller envisions his product carving out a niche in the increasingly saturated NIL space. Instead of rolling out a product that would compete against or perhaps replace a plethora of marketplaces and school partnerships, FanWord is introducing a tool that will complement and support them.
Here's how it works: Athletes will manage their own profiles, enabling them to aggregate everything about their personal brand in one place. That includes social media channels, various marketplace platforms they can be found on, relevant media content, entrepreneurial ventures and products and services they are selling. 
"It's like giving athletes their own mini-websites to help them save time when it comes to promoting themselves," Aumueller said. "One profile, one link for everything about their brand. And they can conveniently add this link to their social bios."
Each athlete can be contacted directly through their profiles, which simplifies how businesses, NIL-focused fans, donors and other supporters can connect with them – and all without athletes needing to publicly disclose an email address. And if the athlete has an agent or wants a school-specific collective to assist, they can assign individuals to manage communication on their behalf. 
On an athlete's page, all relevant links will be listed, such as for their Opendorse profile or INFLCR's Global Exchange. In addition, if schools have group-licensing deals with the Brandr Group, or use a NFT platform like Recur or Mercury, athletes can list those affiliations on their profiles as well and, in turn, drive traffic to those initiatives.
FanWord Boost is exclusively designed for marketing and discovery purposes. It is not a marketplace. It does not facilitate deals or manage partnerships. In other words, it helps drive traffic to other platforms, such as Opendorse, and NIL deal facilitation then occurs on the other platforms. 
Neither businesses nor fans have to create an account to browse through the directory. The directory lives on app.fanword.com, and each partner institution will have their own designated domain.
Another feature is that each athlete is tagged in multiple sub-categories. These include their sport, school, conference, etc. So a Texas fan, for instance, can browse through the directory and find all Texas athletes that are on Cameo, the popular site on which fans pay celebrities for personalized messages. 
FanWord Boost aims to benefit athletes beyond those who seek to monetize their NIL. It wants to benefit all athletes who seek to promote their brand for any purpose. Right now, Aumueller said, it is free for schools, teams and collectives to join the directory if they reach out to him to begin the onboarding process.
"We're really trying to fill that gap that we feel like is lacking because everyone in the industry is providing opportunities and innovating around creating more opportunities for athletes, whether it's collectives or marketplaces or any other platform," he said. "What we're really trying to do is help those athletes get discovered on those marketplace platforms or so forth and, regardless of how they pursue NIL, really allow them to be in the best position possible to maximize that."