David Hicks has an On3 NIL Valuation of $268,000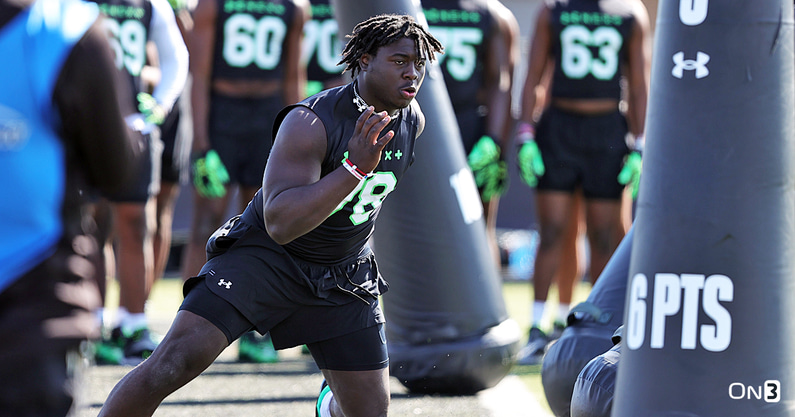 A five-star defensive lineman from Katy (Texas) Paetow David Hicks is one of the best prospects in the Class of 2023. In particular, Oklahoma and Texas A&M are in a major recruiting battle for his services. Because he's such a hot target on the recruiting trail, Hicks has seen a massive boost to his On3 NIL Valuation.
It now sits at $268,000.
Over the past few months, Hicks' On3 NIL Valuation appeared to be staying steady, sitting at $18,000 on February 15, 2022. That is until it shot up to $268,000. That's an increase of 1,360% over a 14-week period. This may seem like an extreme bit of growth, but it makes sense given the context of his recruitment, his talent and the NIL market.
At $268,000, Hicks is 14th in the On3 High School NIL Rankings. He is also 95th on the On3 NIL 100, which combines high school and college basketball and football players.
Another key aspect of his NIL value is his social media. Between Instagram and Twitter, Hicks has 13,000 followers between the two platforms. This helps contribute to his On3 Per Post Value being $239 on social media platforms.
What makes David Hicks a 5-star?
David Hicks is one of the best defensive linemen in the Class of 2023. The On3 Consensus lists him as the best defensive lineman in the class, just ahead of James Smith. The On3 Consensus also has Hicks as the fifth-best player overall. The On3 Recruiting Rankings, meanwhile, list Hicks as the 10th best player overall and the best defensive lineman in the country.
On3's Charles Power has great things to say about David Hicks.
"He's a physically-developed defensive lineman with advanced power along with length and quickness," Powers wrote in his scouting report. "Hicks possesses a big frame with a muscled build and an 80-inch wingspan at 6-foot-4. He has brute strength which he pairs with initial quickness to create steady disruption along the line of scrimmage. Hicks shows quick and powerful hands at the point of attack with some advanced pass rush technique for a young defensive lineman. He's a very much a power player at this point in his development, but plays with some nuance and technical skill."
What is the On3 NIL Valuation?
The On3 NIL Valuation is an index to help understand student-athletes proper NIL value. It is important to note, however, that this is not a tracker of NIL deals that a student-athlete has received. Instead, it's designed to show what their value is at a moment in time.
There are three basic things that contribute toward a player's On3 NIL Valuation. It starts with a player's social media. That's because this is the most tangible way of determining the type of fanbase, brand, and outreach that an individual player has. After that, their on-field achievement and skill are taken into consideration. This is followed by the access to endorsements and their past history of endorsements.
There are a few intangibles to remember. A quarterback always has a higher value than other positions, for instance. Family background is another intangible to take into consideration. Those, combined with his sill, have helped to give Arch Manning a massive On3 NIL valuation. Other times, success on the biggest stage, like the NCAA Tournament, can boost your valuation.
What's next for David Hicks' recruitment?
It looks like David Hicks' recruitment is a two-horse race. Oklahoma and Texas A&M are in a battle for him, though he has more than two dozen FBS scholarship offers. The On3 Recruiting Prediction Machine gives Oklahoma a 51.4% chance of landing Hicks, while Texas A&M has a 42.6% chance.
To this point, he has taken visits to Texas A&M and only two to Oklahoma. Though, given his geography, it's much easier to get to College Station than to Norman.
David Hicks is a key defensive lineman for either school going forward. Expect NIL and NIL collectives to play a major role in his recruitment by the end. Until then, it's an exciting battle to track.