Buffs4Life NIL Collective hosts first event with Colorado players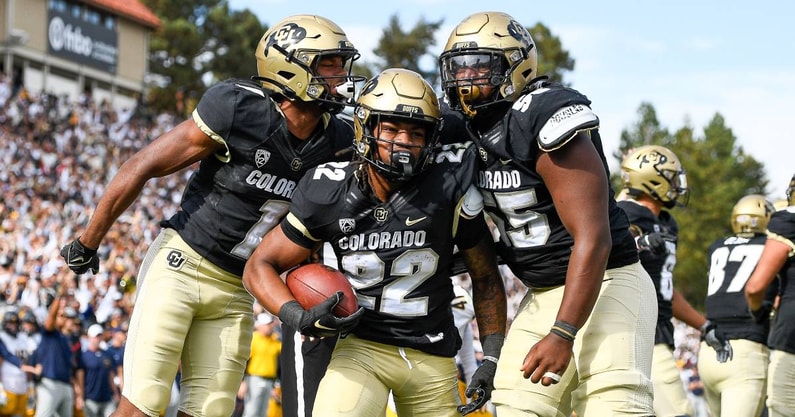 Buffs4Life NIL Collective hosted its first event with Colorado football players on Thursday night. At least nine Colorado players were in attendance at the Italian restaurant Carelli's of Boulder before the Buffaloes hosted the Washington Huskies in men's basketball.
The event comes at a critical time for Colorado. In early December, the university hired Deion Sanders from Jackson State, where he posted a 27-6 record in three seasons.
Colorado has since received numerous notable commitments, including from former five-star recruit Travis Hunter, who played both sides of the ball at Jackson State, and 2023 five-star cornerback Cormani McClain.
A tweet from Buffs4Life NIL Collective's Twitter account tagged running backs Anthony Hankerson and Dylan Edwards, wide receivers Jordyn Tyson, Montana Lemonious-Craig and Jimmy Horn Jr., offensive linemen Van Wells and Tyler Brown, cornerback Nikko Reed, EDGEs Jordan Domineck and Shane Cokes in a picture from the event.
Those players include some notable, recent additions to Colorado's roster.
Edwards is a former four-star recruit who was ranked in the top 200 nationally in the 2023 recruiting class, according to the On3 Consensus.
Horn transferred from USF, as welll as Domineck from Arkansas and Brown from Jackson State.
During Sanders' first team meeting at Colorado, which his son "Bucky" Sanders filmed and posted on YouTube, the elder Sanders infamously said he planned on bringing his own, metaphorical luggage to the school.
"And it's Louis (Vuitton)," he said.
Buffs4Life NIL Collective launched in October
Colorado athletic director Rick George discussed the state of the collective with Sanders before his hiring. George was a guest on the Canzano and Wilner podcast earlier in January to discuss the process of hiring Sanders.
"I talked very little to Coach through the process. We had a lengthy first phone call and really me just laying out what the opportunity was," George said. "At that point I didn't know if he was interested or not but I was very candid about where we were at with some of the stuff out there about not being able to get transfers in and you know, 'We didn't have a great collective.'
"And so, you know, you've got to talk about the good and the bad, and I think it's important that you lay that out because you don't want him to come in without knowing the total scope of this."
Colorado's fan and donor base was among the last in the Power 5 to launch an NIL collective. A collective is a catch-all term for various fan or booster-led organizations, ranging from marketing agencies to nonprofit organizations, that help create NIL opportunities for athletes at a specific school.
There are more than 200 nationally.
The Buffs4Life Foundation, which is a 501(c)(3) organization that provides financial assistance and mental health resources to former Colorado athletes, launched Buffs4Life NIL Collective in October.
Its website states, "A tax-deductible financial contribution to the Buffs4Life NIL Collective can be made to the general fund that supports all CU student-athletes or to a specific team, group of student-athletes, or an individual student-athlete. 15% of every donation goes to the Buffs4Life Foundation while the rest goes directly towards compensating student-athletes for their name, image and likeness."