Jackson State's Deontae Graham plans to use NIL rights for wine label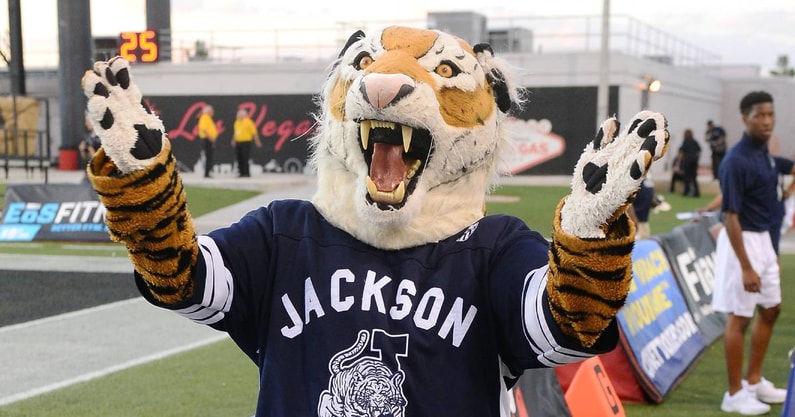 When Jackson State redshirt junior offensive lineman Deontae Graham plans to use his name, image and likeness rights to launch his own private wine label sometime in the future, it'll be a family affair. His brother Ronald Graham-Wilson, who Graham said is a junior at Jackson State, will be in charge of designing the physical label.
"He's been drawing since he was a little kid," Graham said in a phone interview. "He took up the initiative to major in graphic design and since then, he's been freehand drawing. He has this app on his iPad that allows him to create buildings and design things and also draw pictures and landscapes and whatnot.
"He's extremely talented when it comes to that."
Graham also credits his mother with the creative idea involving his NIL rights.
"She also likes wines as well and so I was to learn about (wine) that way," he said. "Then she had heard about people being able to get their own, private label wine and she was like, 'You can do this, do that.' So we started looking more into it and it's easier than it sounds, or than people may expect it to be.
"It's just a matter of getting in contact with those companies and figuring out which wine you like and want to connect your name and brand to."
Nineteen months into the NCAA's NIL era, college athletes and those close to them are exploring new, creative outlets for their NIL rights.
There have been relatively few alcohol-related partnerships given the limitations set by state laws or school policies. The Distilled Spirits Council of the United States also says "models, and actors employed should be a minimum of 25 years old" in alcohol advertising and marketing.
The creation of a private wine label is a business unto itself, rather than a one-off or seasonal series of promotions for a local bar or brewery.
The process of starting a private label wine
Graham said he's in the process of getting his liquor license. He said he has reached out to a few companies that produce wine and partner with private labels but he hasn't finalized a partnership yet.
Graham described the process as one where wine is bought and shipped in bulk. He hopes to market his wine label to local grocery and liquor stores. If that is a success, he'd like to expand nationally.
Right now, he's in the process of wine tasting. He'll go to stores in search of wine from the companies with whom he could potentially partner. Then he'll taste the wine at home.
Graham said one of his friends introduced him to a wine brand called Salt of the Earth. It soon became his favorite.
He said he'd like his private label to be for a sweet wine.
Graham is still thinking of potential names for his label. He has an image in his head of what he wants the physical label to look like.
"I want it to be more so a unique look," he said. "Something that looks appealing to everyone who buys wine. I want them to go and look at the bottle and not be like, 'Oh, this looks just like a cheaper piece of glass.' I want them to actually feel good about the bottle, something that they'll want to keep once they drink the wine, as well as going to get another one because they know the wine is good."
Graham hopes to release his label by the summer, according to "The Next Generation of Superstars" podcast.
Deontae Graham describes Deion Sanders' approach to content, branding
Graham enrolled at Quincy University in 2018, then he transferred to Jackson State, where he played under coach Deion Sanders.
Colorado hired Sanders in December.
At Sanders' first team meeting at Colorado, which his son "Bucky" Sanders filmed and posted on YouTube, the elder Sanders told the players, "I'm going to make y'all the most famous people walking this planet. But you gotta win."
What can Sanders' players learn from his approach to branding, business and content creation?
"It helped tremendously because he allowed us to see firsthand how he conducts business," Graham said. "He will always tell us, 'Always be professional in whatever setting or whatnot. You never know who's watching or who is who.' If you keep that professional edge and you know what you want to do and your plan to have a business plan set out, you never know who's willing to help with that so being professional will take you a long way."