Alabama quarterback Dylan Lonergan announces first NIL deal with KYMIRA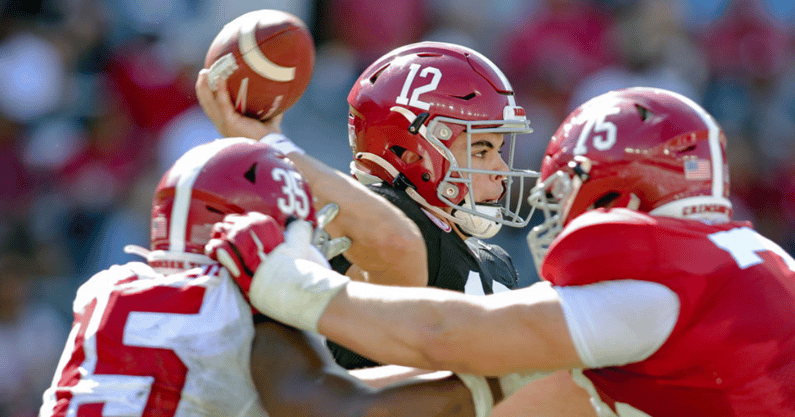 Dylan Lonergan has signed his first NIL deal.
The Alabama quarterback announced a partnership with KYMIRA Sports across his social media channels on Tuesday morning. The brand has worked with notable professional leagues like the NBA, NFL and Premier League to develop bio-responsive and bio-tracking clothing products.
In a post on Twitter, Lonergan referenced how he has used KYMIRA's clothing to help his body recover between training. The company claims to create apparel that help athletes train better and recover faster. On the company's website, the former four-star quarterback prospect promoted the men's recharge recovery T-Shirt, which helps, "your upper body perform and recover more effectively."
KYMIRA's work stretches past athlete recovery. The United Kingdom-based company has worked with the European Space Agency and Innovate UK to research cutting-edge technologies and e-textiles for healthcare.
"It's been great coming onboard with KYMIRA," Lonergan said in a statement on the brand's website. "I've noticed a big difference in recovery post-workout and in my sleep routine. This has really helped with getting used to the college schedule both on and off the field."
The quarterback and KYMIRA are also offering a 20% discount when using the code "lonergan20."
Crowded Alabama quarterback room
A member of Alabama's 2023 recruiting class, the 6-foot-2, 215-pound quarterback picked the Tide over South Carolina and Stanford. He opted to enroll early, arriving at Tuscaloosa this past winter and going through spring practice. Lonergan completed eight of 14 passes for 79 yards and a touchdown in April's A-Day Game.
The Tide's quarterback room is now loaded with the transfer portal addition of Notre Dame's Tyler Buchner. That's on top of Jalen Milroe and Ty Simpson going head-to-head for the starting job this spring. Lonergan is not the only freshman either, with former four-star recruit Eli Holstein also in the freshman class.
Lonergan is on Alabama's baseball roster, too. The right-handed pitcher from Brookwood (Snellville, Georgia) topped 90 mph on the mound in high school. He has not seen any playing time this spring.
"I think that both guys are making progress," Alabama head coach Nick Saban said following A-Day. "I think Dylan Lonergan has shown a little more poise playing the position. He's accurate throwing the ball."
Dylan Lonergan's On3 NIL Valuation
The Alabama quarterback has a $197,000 On3 NIL Valuation, which sits in the top 275 of the college football NIL rankings. Lonergan has roughly 10,000 social media followers spread throughout Instagram, TikTok and Twitter.
He has not publicly announced any NIL representation.
The On3 NIL Valuation is the industry's leading index that sets the standard market NIL value for high school and college athletes. A proprietary algorithm, the On3 NIL Valuation calculates an athlete's NIL value using dynamic data points targeting three primary categories: performance, influence and exposure.
About On3 NIL Valuation, Brand Value, Roster Value
While the algorithm includes deal data, it does not act as a tracker of the value of NIL deals athletes have completed to date, nor does it set an athlete's NIL valuation for their entire career. The On3 NIL Valuation calculates the optimized NIL opportunity for athletes relative to the overall NIL market and projects out to as long as 12 months into the future.