East Carolina fans launch Team Boneyard NIL collective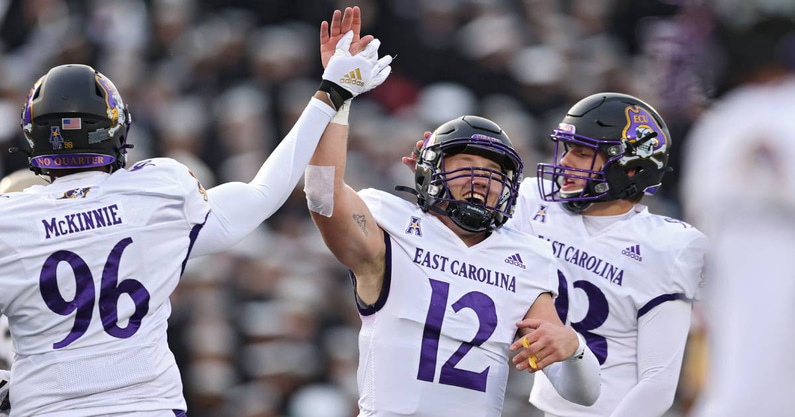 A group of East Carolina University fans embraced the school's nickname and mascot when naming the newly unveiled Team Boneyard collective. In a press release sent Tuesday, Team Boneyard said 100 percent of its contributions, which the group will collect via credit card payment at teamboneyard.org, PayPal and Venmo, will go to East Carolina athletes for NIL activities. Team Boneyard's press release said it's not affiliated with East Carolina University.
"Companies can capitalize on this new and unique opportunity by having ECU athletes promote their business through media campaigns, social media campaigns, autograph signings and/or public appearances," the release stated. "Team Boneyard will facilitate these marketing opportunities for companies and student athletes."
In the Team Boneyard press release, Vern Davenport, Travis Burt and Henry Hinton are listed as contributors to the collective. Team Boneyard is registered as a limited liability company, or LLC, in North Carolina. Hinton is listed as the registered agent for Team Boneyard, which he filed as an LLC on May 17.
What are NIL collectives?
Collectives are groups typically launched by fans of a specific school, which pool contributions that are then paid to athletes at the school in exchange for NIL-related services, such as social media posts or public appearances. Collectives are most common at the Power 5 level, especially in the Big Ten and SEC. The fan bases at some schools have created multiple collectives, including some that are designed to support athletes who compete in a specific sport. Some collectives have already merged.
In the American Athletic Conference, there are collectives to support athletes, including for athletes at UCF (Mission Control), Houston (Hoop and Holler Houston), SMU (Pony Sports DTX), Tulane (Fear the Wave) and Wichita State (Armchair Strategies). Soon-to-be AAC member UTSA has a collective, Runners Rising.
A recent trend in third-party groups that are designed to support a school's athletes through NIL, whether they label themselves as collectives or membership-based communities, is player-led groups of football players. With the help of the company YOKE, these groups have launched at Arkansas, Auburn, Kansas State and Michigan State, where the players who join the group will split their NIL earnings equally.
Michigan State sixth-year senior right guard Matt Carrick recently sat down with On3 to explain how the Spartans became the first group to announce a player-led fan community.
"College athletics is rapidly changing and the creation of this collective on behalf of ECU Athletics is critical to our continued competitiveness," Davenport said in a statement in the press release. "This collective will provide a trusted, compliant marketplace for Pirate Nation to successfully engage with ECU Student Athletes."