Top five On3 NIL Valuations in Egg Bowl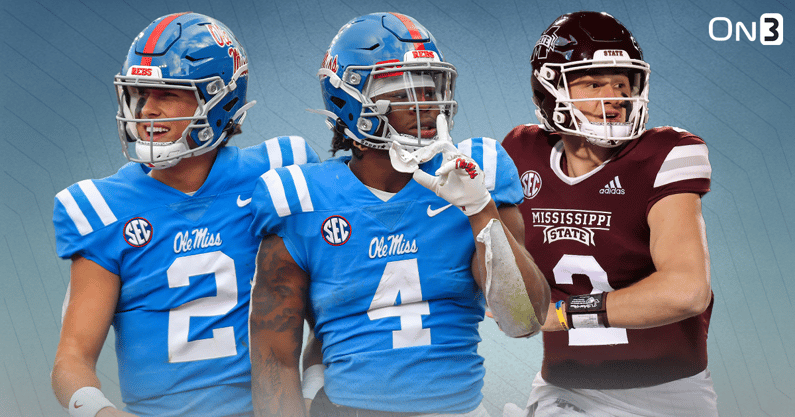 Will Lane Kiffin be at Ole Miss next season remains to be seen, but it is Thanksgiving which means the 199th edition of the Egg Bowl.
Thursday marks the 31st time the series has been played on Thanksgiving Day. Ole Miss enters reeling from back-to-back losses, while Mississippi State is 7-4 with an offense that can put points on the board in a hurry.
The matchup also features two of the fastest-rising NIL collectives in the country. The Bulldog Initiative tripled its membership and received $500,000 in new annual donations following John Cohen's move to Auburn. And The Grove Collective re-launched this fall with the full backing of the Ole Miss athletic department.
Before kickoff, On3 is breaking down the top-five On3 NIL Valuations ahead of the showdown.
1. Quinshon Judkins
On3 NIL Valuation: $512,000
Position: Running Back
Per Post Value: $977
On3 Impact 300 ranking: No. 33
A former three-star recruit, the Ole Miss freshman has been one of college football's biggest surprises this season. While Lane Kiffin has built a reputation for pass-first system, Ole Miss has turned into a prolific rush heavy attack this season. The Rebels have Quinshon Judkins to thank. He's already set the Rebels single-season rushing touchdown record with 16. An Alabama native, Nick Saban even admitted this season he wishes the Tide added him to their recruiting class. Through 11 games, the tailback is averaging six yards per carry. He's well over the 1,00-yard mark with 1,385 yards. He's only gotten better as the year has progressed. In the loss last week to Arkansas, he racked up 214 rushing yards with a score. Judkins' on-field success has made an impact on his NIL value, too. He's inked an agreement with the Grove Collective. He now has more than 84,000 social media followers. And he sits at 90th in the NIL 100.
2. Emmanuel Forbes
On3 NIL Valuation: $456,000
Position: Cornerback
Per Post Value: $405
On3 Impact 300 ranking: No. 39
A draft-eligible underclassman, Emmanuel Forbes has emerged as one of the nation's top cornerbacks this season. Last week against East Tennessee State, he returned the sixth pick-six of his collegiate career, setting the SEC and NCAA record. With an agressive nature, Forbes can have situations blow up in his face at times. But mostly this season, his bold decisions have resulted in interceptions. Ole Miss quarterback Jaxson Dart will have to keep tabs of the defensive back all Thursday night. Forbes has 10 interceptions this season, which leads the nation. He also has 30 total tackles and nine pass breakups. His On3 NIL Valuation has seen a 10-week growth of $210,000.
3. Zach Evans
On3 NIL Valuation: $411,000
Position: Running Back
Per Post Value: $825
On3 Impact 300 ranking: No. 139
With Ole Miss losing so much from its Sugar Bowl roster, Lane Kiffin hit the portal and walked away with the top running back. Zach Evans rushed for 559 yards and averaging 8.1 yards per carry in TCU's first four games against FBS opponents last season. But a foot injury basically shut him down for the rest of the season. He's started to settle in with Ole Miss after dealing with a hip pointer issue earlier this fall. In 10 games with the Rebels, Evans has racked up 899 rushing yards and eight touchdowns. He and Judkins have been the 1-2 punch of one of the top rushing attacks in the nation. Picking up yards has not been a problem for Evans he's averaging 6.9 yards per carry. He only needs 101 yards to cross the 1,000 yard threshold. Playing in an SEC market has helped his social media following, which is just short of 70,000 followers.
4. Will Rogers
On3 NIL Valuation: $360,000
Position: Quarterback
Per Post Value: $1,200
On3 Impact 300 ranking: No. 175
Will Rogers has put together one of the strongest NIL portfolios of any SEC quarterback this season. Mississippi-based Simmons Erosion Control pledged to donate $1,000 to Make-A-Wish for every touchdown pass the quarterback threw this season. And he partnered with Moe's Original BBQ in Starkville so he can treat his linemen to pregame meals every Thursday night during the season in exchange for his sponsorship of the restaurant. He also struck a deal with Tim Tebow's company CAMPUS, where Rogers has his club titled the "Cowboy Club." Annual memberships start at $99. The quarterback has been successful on the field, too, passing for 3,474 yards and 32 touchdowns. He's also only thrown five interceptions with a 68.1 completion percentage.
5. Jaxson Dart
On3 NIL Valuation: $342,000
Position: Quarterback
Per Post Value: $884
On3 Impact 300 ranking: No. 272
Lane Kiffin opted to stick with a two-quarterback system, not handing over keys to the entire offense immediately. But Jaxson Dart won out the competition and his confidence has continued to grow. The former USC quarterback is finally showing signs he is comfortable in the Ole Miss playbook. And with the Rebels success on the ground, it's opened up opportunties in the passing game. He's thrown for 2,363 yards this season with a 60.4 completion percentage and 16 touchdowns. Dart has shown he can make plays on the ground, too, carrying for 507 yards on 107 carries. The former four-star recruit signed an NIL deal with Blue Delta Jeans back in September.
About the On3 NIL Valuation
The On3 NIL Valuation is the industry's leading index that sets the standard market NIL value for high school and college athletes. A proprietary algorithm, the On3 NIL Valuation calculates an athlete's NIL value using dynamic data points targeting three primary categories:
+ Performance
+ Influence
+ Exposure
While the algorithm includes deal data, it does not act as a tracker of the value of NIL deals athletes have completed to date, nor does it set an athlete's NIL valuation for their entire career. The On3 NIL Valuation calculates the optimized NIL opportunity for athletes relative to the overall NIL market and projects out to as long as 12 months into the future.