Eli Holstein sees huge increase in On3 NIL Valuation after Alabama commit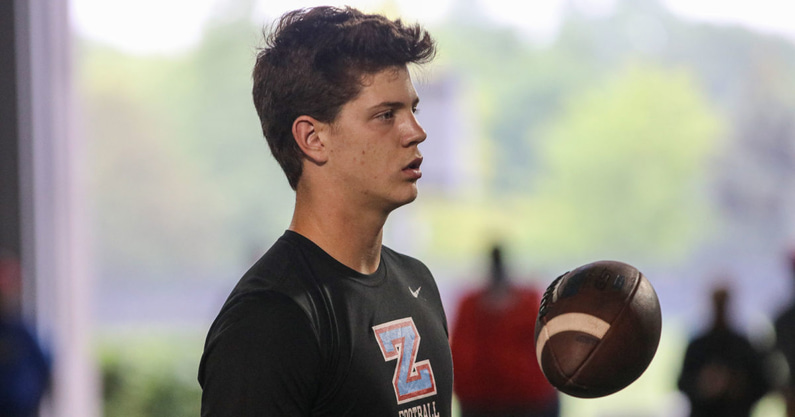 As he got closer to making his college decision, four-star quarterback Eli Holstein of Zachary (La.) High saw a steady increase in his On3 NIL Valuation. However, his NIL value shot through the roof after he committed to the Alabama Crimson Tide.
Holstein's On3 NIL Valuation climbed this week to $444,000, which is up nearly $50,000 from before he made his commitment on May 24. That jump accounted for a 12% increase in his On3 NIL Valuation in the week after he committed to Nick Saban.
A big reason for his On3 NIL Valuation increase was the fact he committed to Alabama, which is one top programs in the country when it comes to prestige.
His value also increased thanks to an influx of new social media followers. After his commitment, he saw a 13.2% increase in Instagram followers, a 14.3% increase in Tiktok followers and a 14.1% increase in Twitter followers. Granted, he still has a relatively small social media presence, but the footprint is definitely increasing after his Tide commitment.
Eli Holstein's NIL value trending upward
Moreover, Eli Holstein saw a 14-week growth in his On3 NIL Valuation of 1,452%. He also now ranks as the No. 8 player in the On3 High School Football NIL Rankings and the No. 70 player in the On3 NIL 100.
Many NIL experts think Eli Holstein's NIL value is going to only further increase.
"Eli is a little under the radar from a social media standpoint, but he is going to Alabama," a NIL expert told On3. "It doesn't get any bigger than that from a fan support standpoint. Look at how valuable Bryce Young is in the NIL world. Eli needs to perform to get into the million-dollar range, but he's definitely trending in the right direction."
The On3 NIL Valuation is an index that looks to set the standard market value for both high school and college-level athletes. The NIL valuation does not act as a tracker of the value of NIL deals an athlete has completed to date. It rather signifies an athlete's value at a certain moment in time.