Hall of GOATs strikes NFT partnership with Elite 11 finalists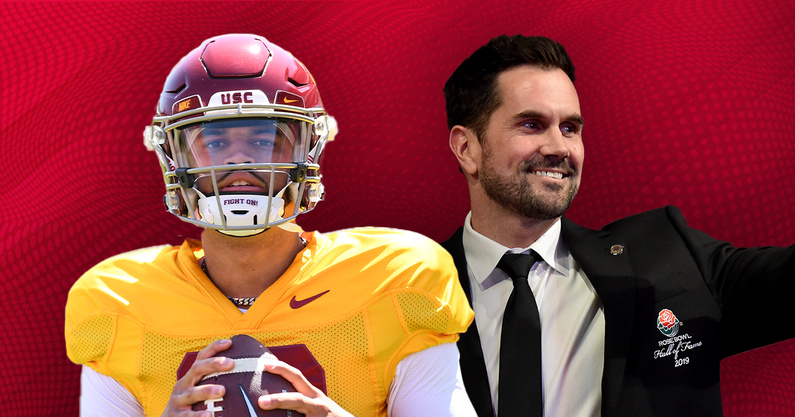 Hall of GOATs is partnering with the nation's premier quarterback camp to create a unique NFT partnership for this year's roster of Elite 11 finalists. The deal sets up NIL opportunities for some of the nation's top-rated high school prospects.
Founded by USC legend Matt Leinart and current Trojans quarterback Caleb Williams in early May, Hall of GOATs is a non-fungible token (NFT) platform for amateur athletes to build their personal brands through digital collectibles. Both quarterbacks are Elite 11 alums.
Hall of GOATs is developing and powering the release of NFTs for this year's roster of Elite 11 finalists. The nation's most prestigious quarterback camp, Elite 11 features around 20 of the 2023 cycle's top signal-callers are in Southern California this week to compete in the Elite 11 Finals.
Each Elite 11 finalist will receive an NFT avatar and co-branded merchandise from Hall of GOATS. Finalists will be allowed to opt in to sell their merchandise when they are eligible. This will run through an e-commerce storefront in collaboration with Elite 11 and Hall of GOATs.
The deal will also include an exclusive drop dedicated to the MVP of the event.
"Elite 11 finalists are the best of the best in high school football and they have the opportunity to set the standard for NIL moving forward," Hall of GOATs CEO Greig Carlson said in a press release. "Hall of GOATs' mission is to empower this next generation of athletes to continue to build their unique brands digitally and set themselves up for success long after their playing careers. We are proud to partner with Elite 11 and this incredible Class of 2023 quarterbacks, who are poised to become the faces of college and pro football in the coming years."
What is an NFT?
An NFT is a is a digital asset that represents real-world objects like art, music, in-game items and videos. NFTs are bought and sold online, frequently with cryptocurrency. More and more student-athletes are turning to NFTs as a creative way to make money off their name, image and likeness.
Although they've been around since 2014, NFTs have recently gained notice because they've become an increasingly popular way to buy and sell digital artwork. More broadly, NFT sales totaled $25 billion last year. It comes one year after seeing only $95 million in sales in 2020, according to data collector DappRadar.
Latest news from Elite 11
On3 named Iowa State quarterback commit JJ Kohl the MVP of Tuesday night's opening night. Per usual, the first night of Elite 11 featured drill work, with quarterbacks separated into four groups and working through different stations.
"The number of translatable, downfield throws we saw from Kohl earns him the slight the nod over Jackson Arnold as the On3 MVP," wrote On3's Charles Power. "The Iowa State commit is biggest quarterback in attendance, checking in at around 6-foot-6, 230 pounds. He showed the ability to generate considerable velocity on the football, driving the ball vertically with ease."
Texas commit Arch Manning and Tennessee pledge Nico Iamaleava are not in attendance. Iamaleava is missing the Finals due to an international volleyball tournament. Manning did not participate in any regional camps. They rank as two of the nation's top five prospects.