Eskimo Joe's signs Oklahoma State's Spencer Sanders in first NIL deal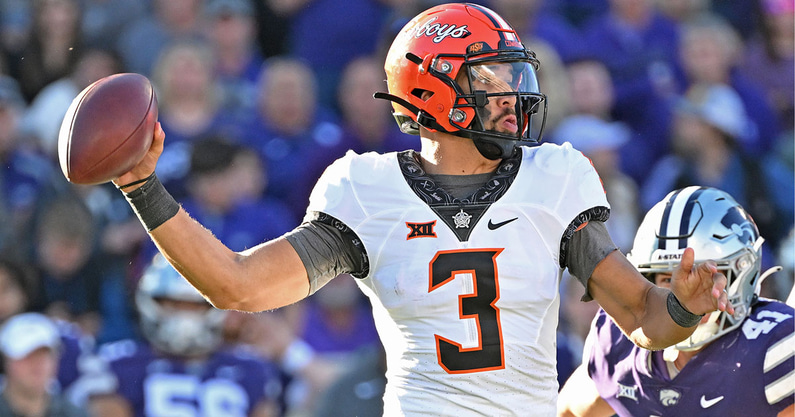 Oklahoma State quarterback Spencer Sanders and Eskimo Joe's – two Stillwater institutions – have entered into a NIL partnership.
Sanders and Eskimo Joe's, the iconic Stillwater watering hole known for its unique t-shirt designs and one of the best college bars in the country, announced the NIL deal earlier this week. As part of the partnership, Sanders signed autographs at Eskimo Joe's Wednesday night with proceeds of raffle ticket sales going to the Make-A-Wish Foundation.
As part of the deal, Sanders released a pair of Eskimo Joe's t-shirts. One of the shirts shows him standing arm-in-arm with Pistol Pete and Joe, features his autograph and displays the "Loyal & True" slogan. The other shirt has two action photos of Sanders with the tagline "Catch Me If You Can."
"Spencer reached out to us because he wanted to create a shirt for his family and friends," Stan Clark, CEO of Eskimo Joe's, told KFOR News 4. "He was so genuine, gracious, humble and unassuming that we ultimately decided to go all-in to create a full-blown, co-branded Eskimo Joe's, OSU and Spencer Sanders shirt featuring Spencer with Pete and Joe.
"This 'Loyal and True' on the t-shirt is from the alma mater. But we find Spencer loyal and true, just like Eskimo Joe's is loyal and true to OSU."
The deal was Eskimo Joe's first since NIL became allowed in July 2021. The partnership is a match made in Joe's cheese fry heaven.
"I'm basic like everyone else, I like the fries," Sanders told News 4. "Once I realized I could do a deal with Eskimo Joe's I knew they're very upfront. They take pride in what they do. They do it very well, obviously. So, I said why not give it a try."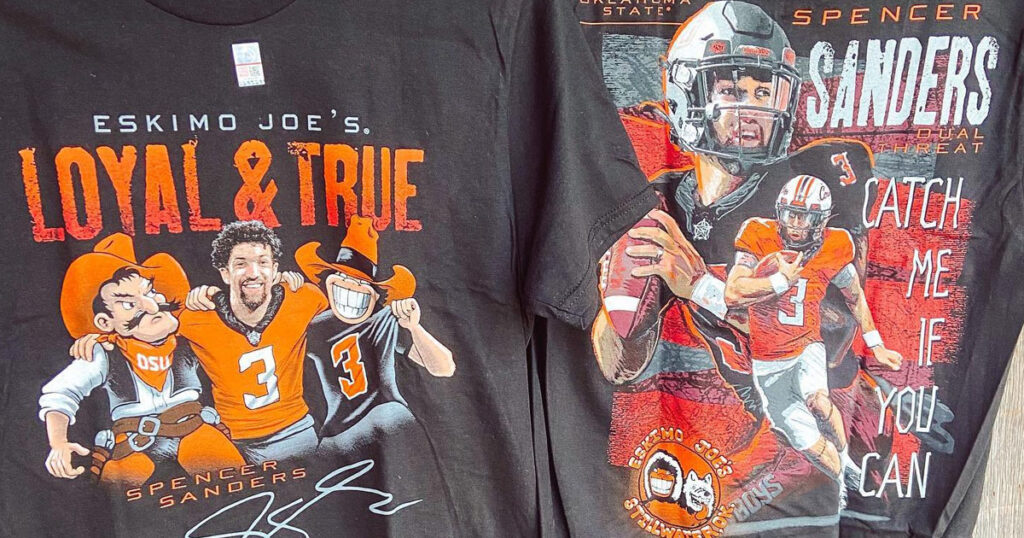 Spencer Sanders selective about NIL deals
Despite all of the success Spencer Sanders has had at Oklahoma State, he has not executed a large list of NIL deals to this point. Yet, he's also grateful for the opportunities and isn't shy about helping give back to charities like Make-A-Wish and Big Brothers, Big Sisters.
"I'd say for certain people, it's definitely a blessing," Sanders told KFOR. "Sometimes kids were sending their stipends home to their parents and stuff like that, just helping the family out. So, I think NIL is a big opportunity to give, too. It's not just an opportunity to receive."
Sanders currently has an On3 NIL Valuation of $238,000, which puts him at No. 165 in the college football NIL rankings. Despite returning for 2022 as the first-team All-Big 12 quarterback, his NIL value has slipped some during the 2022 season because he has been battling injuries.
A proprietary algorithm, the On3 NIL Valuation calculates an athlete's projected annual value using dynamic data points targeting three primary categories, including performance, influence and exposure.
While the algorithm includes NIL deal data, it does not act as a tracker of the value of NIL deals athletes have completed to date, nor does it set an athlete's NIL valuation for their entire career. The On3 NIL Valuation calculates the optimized NIL opportunity for athletes relative to the overall NIL market and projects out to as long as 12 months into the future.