Five-star LSU linebacker Harold Perkins inks first major NIL deal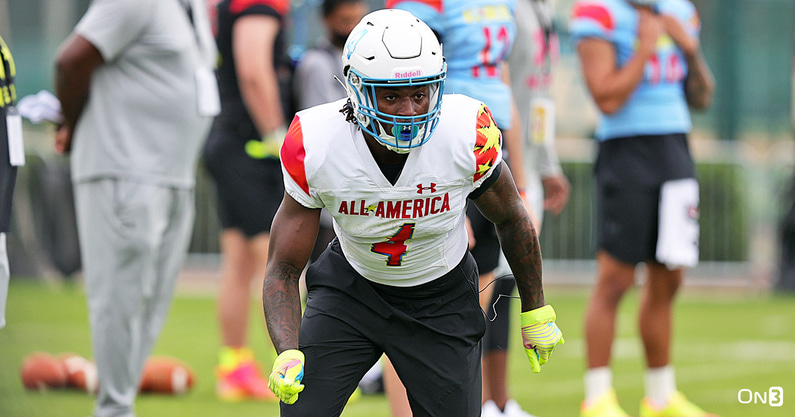 Harold Perkins, the coveted On3 Consensus five-star linebacker recruit who was the crown jewel of LSU's 2022 recruiting class, has agreed to his first major NIL deal.
Perkins, who was ranked as the nation's No. 1 linebacker and second-best recruit in the Lone Star State, announced he's agreed to a NIL deal with Gordon McKernan Injury Attorneys.
The terms of the deal were not released.
Originally from Louisiana, Harold Perkins moved from New Orleans to Houston following Hurricane Katrina. It was in the Houston area where Perkins developed into one of the nation's most coveted recruits. He was the center of an intense recruiting battle between LSU, Texas A&M and Florida. He eventually signed with the Tigers on National Signing Day.
"I followed my heart. I did what was best for me. Not for anybody else. The best decision for me." Perkins told On3 after his announcement.
As with most five-star recruits, Perkins is expected to make an immediate impact in Baton Rouge. He was named Tuesday to the On3 2022 Preseason True Freshman All-America Team. That expectation of instant success was a big reason why Gordon McKernan Injury Attorneys agreed to the NIL deal.
"Everyone is talking about Harold Perkins," attorney Gordon McKernan said. "The extent of his defensive talent as a freshman is a sure sign that he's destined for success. I'm thankful that the Tigers brought him back to Louisiana. It's a win for Perkins, a win for the Tigers, and a win for me to be able to partner with such a talented young player."
Harold Perkins not only NIL deal McKernan has executed
While other schools are buoyed by successful collectives, individually Gordon McKernan has become one of the biggest NIL deal makers in the country.
Yes, he hasn't generated as much national attention as Miami mega-booster John Ruiz and LifeWallet. But McKernan and his firm, Gordon McKernan Injury Attorneys, have struck major NIL deals with LSU stars like Kayshon Boutte, Jaquelin Roy, Malik Nabers and other impact Tiger players.
McKernan's firm is not just focused on football.
He's executed deals with LSU women's basketball star Alexis Morris, top Tiger baseball players Cade Doughty and Tre Morgan, and NCAA track national champion Sean "Squirrel" Burrell. Furthermore, he's also done deals with Louisiana Ragin Cajun players Dontae Fleming and Andre Jones.
When asked about his plans for further potential sponsorships, McKernan was clear: "I think there's a lot of value for helping a student-athlete and at the same time helping our company, so we're going to … do it across multiple sports," he told WBRZ.
"We look forward to helping the LSU community in the long-term, generating goodwill both for these athletes and for the Gordon McKernan firm."
McKernan also told Sports Illustrated the price tag for elite players is often at least $100,000 in NIL salary. McKernan said he will pay $500,000 in NIL deals this year.
Perkins has massive On3 NIL Valuation
Harold Perkins currently has an On3 NIL Valuation of $203,000. The On3 NIL Valuation is the industry's leading index that sets the standard market NIL value for high school and college athletes. The On3 NIL Valuation calculates the optimized NIL opportunity for athletes relative to the overall NIL market and projects out to as long as 12 months into the future.
Many insiders following Perkins' recruitment believed NIL played a major role in his decision to pick LSU over his original commitment to Texas A&M. Yes, he would have been able to strike major deals in College Station. But the opportunity to be "Back in the Boot" creates endless NIL opportunities. That's especially true if he performs as expected.
And all indications are that he's already making a big impression with the Tigers.
"It can get crazy for a young guy whenever you first get into college," linebacker Mike Jones Jr. told The Bengal Tiger Podcast.
"But from what I've seen he's looking like a veteran, at least from the way he handles himself off the field. I've had some meetings with Coach [Matt] House. Sometimes it's just me in there. I've noticed sometimes he'll be in there too. I'm like okay. He's getting it. And it took me a while to realize the importance of the mental side of defense and playing in college."