Four-star receiver Ryan Pellum signs with The Network Advisory for NIL representation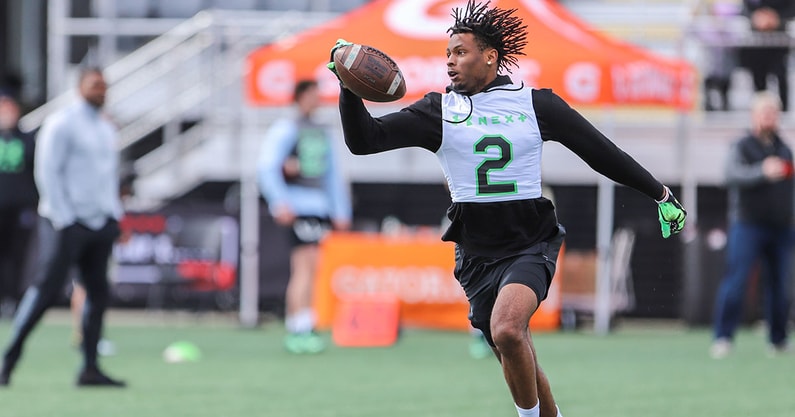 Ryan Pellum is setting himself up for success in his NIL endeavors.
The wide receiver and top-60 prospect in the 2024 class has signed with The Network Advisory (TNA) for NIL representation. With offers from more than 40 schools, the junior at Millikan High School in Long Beach, California, has his pick of college choices.
Because California is one of 21 states that allows high schoolers to monetize their Name, Image and Likeness, Pellum can start growing his brand before he walks on a college campus. And with another season remaining before he enrolls, he has plenty of time to start growing his network.
A full-service sports marketing, branding and public relations firm based out of Los Angeles, Pellum will be working hand-in-hand with industry veterans Justin Giangrande and Brian Sher.
"NIL is all about being marketable both on the field and off the field and Ryan Pellum is the poster child for that in the 2024 class," Giangrande told On3 in a statement. "He is an electric player, and we are excited to be able to partner with him throughout his high school, college and pro career."
Giangrande was formerly a vice president at Vayner Sports before forming Levels Sports at the start of the NIL Era. Levels was dissolved following his partner, Chris 'Coach Frogg' Flores, being arrested for alleged sexual assault of a minor.
TNA was started before Levels folded and includes a talent roster featuring fashion influencer India Love, actor Peyton Meyer and musical artist KOH. Sher owns Hollywood entertainment company, Crossover Entertainment, and has a track record of working with high-profile musical talent, as well.
Update on 2024 receiver's recruitment
Ryan Pellum finished his junior season with 1,028 receiving yards over 52 catches with 12 total touchdowns. It was enough to be named the Moore League Player of the Year.
And now the attention shifts to his recruitment. Speaking to On3's Chad Simmons earlier this month, Pellum said he is "starting to get ready" to whittle down his list of options. Alabama, LSU, Oregon and Texas will all make the cut.
"It's about where I'm at, the team, the brotherhood there," Pellum said of his recruitment. "The family there, the city and about the player development, make sure I can get what I can get out of the program."
As the No. 9 receiver in his class and the fifth-ranked prospect coming out of California, staying on the West Coast could be attractive. But he has two SEC programs among his top schools.
The On3 Recruiting Prediction Machine currently gives Oregon the edge to land Pellum at 21.2%. In second sits Texas A&M at 18.5%. The 5-foot-11.5, 170-pound prospect has also visited Ohio State twice in his recruitment, as the Buckeyes sit in third with a 15.9% chance of landing the receiver.
Ryan Pellum's On3 NIL Valuation
He currently holds an On3 NIL Valuation of $78,000. The four-star recruit's roster value plays a large role in his evaluation. An athlete's roster value is the calculation of an athlete's respective value to their collegiate team.
And he 6,300 social media followers with a per-post projection of $192.
The On3 NIL Valuation is the industry's leading index that sets the standard market NIL value for high school and college athletes. A proprietary algorithm, the On3 NIL Valuation calculates an athlete's NIL value using dynamic data points targeting three primary categories: performance, influence and exposure.
While the algorithm includes deal data, it does not act as a tracker of the value of NIL deals athletes have completed to date, nor does it set an athlete's NIL valuation for their entire career.
The On3 NIL Valuation calculates the optimized NIL opportunity for athletes relative to the overall NIL market and projects out to as long as 12 months into the future.