Francis Mauigoa has On3 NIL Valuation of $237,000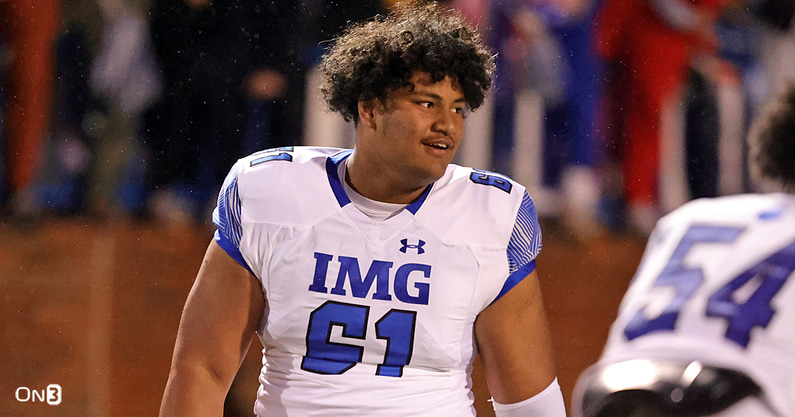 Francis Mauigoa is an On3 Consensus five-star offensive tackle from IMG Academy in Bradenton, Fla. Being such a high-profile player with an incredibly important recruitment, Mauigoa's On3 NIL Valuation has climbed to $237,000.
The On3 NIL Valuation is not a tracker of deals that an athlete has received. Instead, its goal is to show the athlete's value at a given moment in time.
Mauigoa's On3 NIL Valuation of $237,000 means his On3 NIL rank is 20th among high school athletes. Meanwhile, he is just outside of the On3 NIL 100, which combines high school and college athletes in both basketball and football, showing where those athletes' NIL value currently stands.
One of the key factors that go into a player's NIL value is their social media presence. That's because it is a way to tangibly see how many people are interested in and interact with a particular athlete. For his part, Francis Mauigoa uses Twitter and TikTok, where he has a combined 7,200 followers. This gives him an On3 Per Post Value of $213.
Francis Mauigoa shot up recently with his NIL value. For a few months, it had stayed steady at $13,000. Since then, though, it has climbed quickly. Mauigoa's On3 NIL Valuation has seen a 1,711% increase over a 14-week period.
What makes Francis Mauigoa a 5-star?
On3's Consensus ranking has Francis Mauigoa as the second-ranked offensive tackle and the 10th-ranked player overall. The On3 rankings are a little different, though. On3 has him as the second-ranked tackle and 14th-ranked player overall.
On3's Charles Power is a fan of Mauigoa.
"Mauigoa is a wide-bodied, nimble mover who is excelling in his first season as a full-time offensive lineman," Power said. "He works at right tackle for IMG, but likely projects on the interior due to his arm length and build. Mauigoa played very well against a national schedule and some top pass rushers as a junior. He uses his natural strength to create a big push in the run game. Mauigoa with a wide base and has considerable pop in his hands. He has mauling qualities as a drive blocker and is athletic enough to get to the second level with ease."
About the On3 NIL Valuation
The On3 NIL Valuation is an indexing tool designed to keep track of athletes' NIL values. It tracks individual players' values at a given moment in time. It does not track NIL deals that they've received. That distinction is important to remember.
There are three things that factor into a player's NIL valuation: social media, athletic achievement, and prior endorsements.
Social media matters because it's tangible. It shows how many people follow a student-athlete and interact with their posts. This gives an idea of how many people would see and interact with a paid advertisement for a post. Their on-field athletic achievement is key because it helps with how well known they are. Things like what position you play and awards you've won matter. Finally, understanding what endorsements an athlete has received and what is available to them is important in determining NIL potential.
What's next for Francis Mauigoa's recruitment?
Francis Mauigoa's recruitment is heavily contested. Several teams, from all over the country, are fighting for his services. USC has the best chance of landing Mauigoa. The On3 Recruiting Prediction Machine gives the Trojans a 35.6% chance of landing him. Tennessee and Oregon are the next in line, with a 29.2% and 16.8% chance of landing Francis Mauigoa, respectively.
Miami, with an 8.4% chance of landing Mauigoa, Alabama with a 4.3% chance, and Florida, with just a 2.9% chance, are all still in the running. He's taken visits to both schools, as well as a visit to Michigan State. However, it's clear that the tide of Mauigoa's recruitment is going against them.