Georgia Tech shifts NIL focus to newly launched The Tech Way collective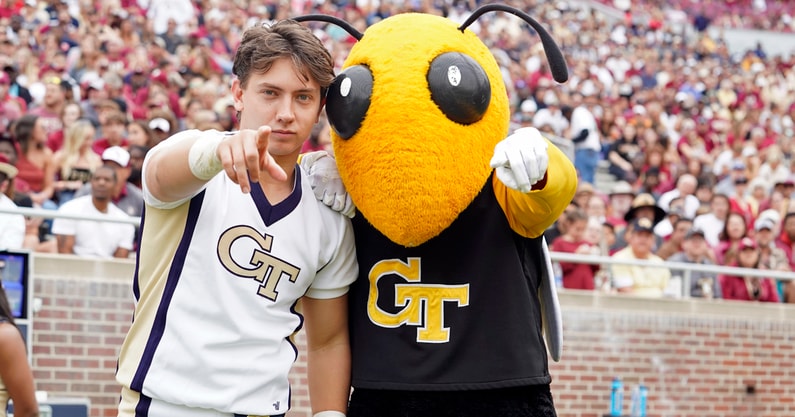 The NCAA Division I Transformation Committee, which was tasked with remaking Division I, released its final report Tuesday. It provided a list of recommendations to the Division I Board of Directors, including that they should consider providing championship access in team sports for up to 25 percent of their members. The report also suggested that the dozens of state laws nationally that regulate NIL will soon limit the number of teams that can compete for national championships.
"Issues that are common to student-athletes and athletic departments across the country are being regulated by vastly different state laws," wrote Georgia President Jere Morehead, who chairs the Division I Board of Directors, in the introduction of the 39-page report. "We're already seeing that with name, image, and likeness compensation, which has inspired 30+ individual state laws.
"In short time, this patchwork of state laws will cripple the notion of integrity of athletic competitions, diminishing the number of teams in a position to fairly compete for national championships."
However Morehead or the Division I Board of Directors define "the notion of integrity," there's little evidence that the presence or absence of state laws has directly impacted competition.
Nearly half of the top 10 teams in college football and men's and women's basketball this season are located in states that don't have NIL legislation.
Half of the best football programs in 2022 are located in a state without an NIL law
Since the start of the NCAA's NIL era on July 1, 2021, there has been a gradual trend — in an admittedly limited sample size — of increasingly better AP poll rankings for college football programs located in states without an NIL law in effect.
In the college football preseason AP Top 25 poll, five of the top 10 programs are located in a state that didn't have an NIL law in effect at the time the poll was released. Six of the top 12 teams in the latest AP poll can say the same, including Michigan, the No. 2 seed in the College Football Playoff.
This data reflects states with laws in effect at the time. Some states passed laws that didn't take effect until late 2022 or 2023. For example, the state law in Michigan didn't take effect until Dec. 31, 2022.
While there was a rush among state legislatures in the spring and summer of 2021 to pass laws regarding NIL, many of those same lawmakers amended or removed their law a year later.
In 2022, lawmakers in two states that are home to two of the most successful football programs in the College Football Playoff era — Alabama and Clemson — temporarily or permanently removed their state NIL laws. Alabama Gov. Kay Ivey approved the repeal of the state's law. South Carolina's General Assembly ratified the suspension of the state's NIL law for the 2022-23 fiscal year.
Lawmakers in Illinois, Louisiana and Tennessee also passed amendments to their state laws to provide more freedom to institutions and athletes.
For states that have an NIL law, there are few enforcement mechanisms or a willingness to use them. On3 was unable to find evidence of any reported violations of state NIL laws in the first year of the NCAA's NIL era.
The NCAA has also shown little ability or willingness to enforce its interim NIL policy and subsequent guidelines.
"Suddenly, the NCAA's authority to apply consistent rules to schools across the country has been thoroughly strained," Morehead wrote in the report.
Purdue men's basketball didn't reach No. 1 until NIL era
Purdue is currently ranked No. 1 in the men's basketball AP Top 25 poll. It's a perch the Boilermakers had never held until last season, when they were ranked No. 1 for one week in December 2021. Purdue has been ranked No. 1 in the AP poll in each of the last four weeks this season.
Purdue is located in Indiana, which is also home to the NCAA's headquarters in Indianapolis. Indiana doesn't have a state law regarding NIL.
Reigning national champion Kansas, as well as Gonzaga, which perennially contends for a No. 1 seed in the NCAA tournament, are also located in states without NIL legislation.
In the latest AP poll, nine of the 25 teams are located in states that don't have a state NIL law, including four of the top nine teams.
Suspension of South Carolina law changes dynamic in women's basketball
In the latest women's basketball AP poll, 10 of the 25 teams, including four of the top eight, are located in a state without NIL legislation in effect. The top seven teams in the final AP poll at the end of the regular season in 2022 were located in states with NIL legislation in effect but that dynamic has changed this season.
It certainly helps that No. 1 South Carolina is located in a state that suspended its law for the current fiscal year.
The patchwork of state laws that Morehead referenced hasn't led to an immediate advantage for schools in states with NIL legislation, especially as state lawmakers have repealed, suspended and amended their laws.
Many of the dominant programs in sports that produce the most revenue are the same ones that dominated prior to the NCAA's NIL era. Then there are examples of programs that have reached unprecedented heights in the last year and a half seemingly independent of whether or not their state has passed NIL legislation, like TCU football and Purdue men's basketball.
That's neither proof of crippling "the notion of integrity of athletic competitions" nor "diminishing the number of teams in a position to fairly compete for national championships."