G.G. Jackson signs with Carolina Rise collective following reclassification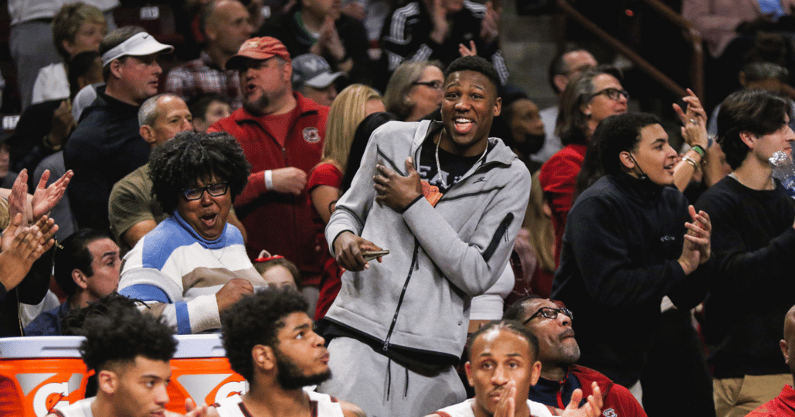 G.G. Jackson has inked his first NIL deal following his commitment and reclassification to South Carolina.
Formerly the top-ranked prospect in the 2023 class, Jackson announced on Twitter on Thursday night that he has signed with the Carolina Rise collective. The power forward made college basketball recruiting history last month when he became the first player to decommit from North Carolina in the modern era and attend another college.
A Columbia, South Carolina, native, Jackson has since signed his National Letter of Intent with the Gamecocks and will be immediately eligible to play this upcoming season. It's a big-time pickup for first-year head coach Lamont Paris' inaugural recruiting class. The news of his signing with a South Carolina collective comes within two weeks of his flipped commitment.
Jackson's decision to stick with his hometown school made him the program's highest-ranked recruit in school history. The 6-foot-8, 210-pound power forward originally picked the Tar Heels over Duke, Auburn, Georgetown, the G-League and South Carolina. 
He averaged 22.1 points, 10.9 rebounds and 2.3 blocks per game as a junior in helping lead the Blazers to the 2022 South Carolina Class 5A State Championship. He was named the 2021-22 South Carolina Boys Basketball Gatorade Player of the Year. 
The Carolina Rise collective was launched this past May, marking the second NIL crowdsourcing organization to launch in the market. Garnet Trust was one of the initial collectives to launch at the start of the NIL Era in 2021.
With his reclassification to the 2022 class, Jackson is the No. 9 overall player and the second-ranked power forward, per the On3 Consensus.
G.G. Jackson's On3 NIL Valuation
Since his commitment to South Carolina near the end of July, Jackson has seen a jump of nearly $50k in his On3 NIL Valuation. With a current evaluation of $96k, he places in the top 20 of On3's college basketball NIL rankings.
Jackson's social media following has climbed since his decision, too, bringing his per post value to $796.
The On3 NIL Valuation is the industry's leading index that sets the standard market NIL value for high school and college athletes. A proprietary algorithm, the On3 NIL Valuation calculates an athlete's NIL value using dynamic data points targeting three primary categories:
+ Performance
+ Influence
+ Exposure
While the algorithm includes deal data, it does not act as a tracker of the value of NIL deals athletes have completed to date, nor does it set an athlete's NIL valuation for their entire career. The On3 NIL Valuation calculates the optimized NIL opportunity for athletes relative to the overall NIL market and projects out to as long as 12 months into the future.