Gordon McKernan adds Mason Taylor to growing NIL roster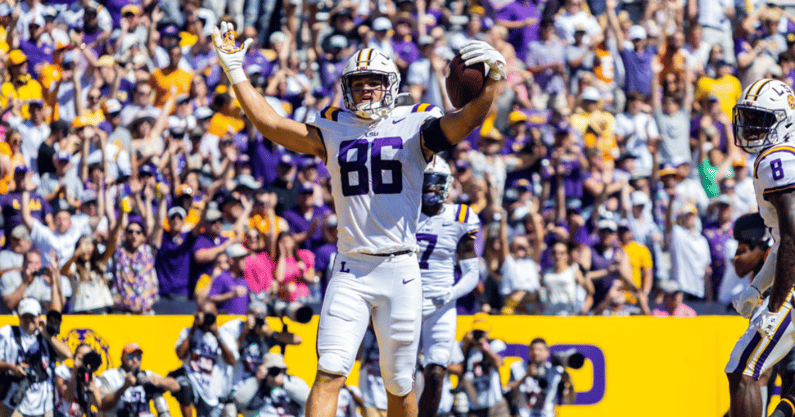 Mason Taylor has become the latest LSU football player to land an NIL deal with Gordon McKernan.
The Baton Rouge-based injury firm has scooped up the freshman tight end, making him the latest athlete to come to terms on an endorsement deal. McKernan quickly added Jayden Daniels and Josh Williams last week. And now, Taylor can add his name to the list.
The tight end was named the SEC Freshman of the Week following LSU's upset of Alabama. In that game he had three catches for 36 yards and a touchdown. He also helped deliever the win. In overtime, Daniels rolled to his right and found an open Taylor, who fell into the end zone for the game-winning, two-point conversion.
Taylor is the son of Jason Taylor, a former defensive end and outside linebacker for the Miami Dolphins, who was inducted into the NFL Hall of Fame in 2017. A former three-star recruit out of Ft. Lauderdale's St. Thomas Aquinas, he has two touchdown catches on the season.
LSU entered the College Football Playoff picture following the win over the Tide. And the Tigers held on this past weekend on the road at Arkansas. With a berth in the SEC title game wrapped up, there is a legitimate path to the playoff in Brian Kelly's first season.
The deal with McKernan may also just be a start to a growing NIL portfolio for Taylor. While he is only a freshman, he could grow into an LSU star and a household name around Baton Rouge.
Gordon McKernan's growing NIL roster
Gordon McKernan has been one of the most active figures in NIL. He hasn't generated as much national attention as Miami mega-booster John Ruiz and LifeWallet. But McKernan and his firm have struck significant NIL deals with top student-athletes at all of the top college programs in Louisiana.
He is also a supporter of LSU, and many NIL insiders believe he's helped the Tigers massively support roster maintenance in Baton Rouge. Taylor now joins an NIL roster that includes Kayshon Boutte, Harold Perkins, Maason Smith and John Emery Jr. 
McKernan previously told Sports Illustrated the price tag for elite players is often at least $100,000. He said he will pay $500,000 in NIL deals this year.
Mason Taylor's massive On3 NIL Valuation
The LSU tight end currently holds a $516,000 On3 NIL Valuation. His evaluation has spiked $10,000 following across the last 10 weeks. And he recently signed with VMG Sports for NIL representation.
The On3 NIL Valuation is the industry's leading index that sets the standard market NIL value for high school and college athletes. A proprietary algorithm, the On3 NIL Valuation calculates an athlete's NIL value using dynamic data points targeting three primary categories: performance, influence and exposure.
While the algorithm includes deal data, it does not act as a tracker of the value of NIL deals athletes have completed to date, nor does it set an athlete's NIL valuation for their entire career.
The On3 NIL Valuation calculates the optimized NIL opportunity for athletes relative to the overall NIL market and projects out to as long as 12 months into the future.
Jayden Daniels sits at No. 92 in the the NIL 100, which is the first of its kind and defacto NIL ranking of the top 100 high school and college athletes ranked by their On3 NIL Valuation. He also ranks No. 52 among college football players.