Great Clips signs Matthew Mayer, Caroline Ducharme to NIL deals ahead of March Madness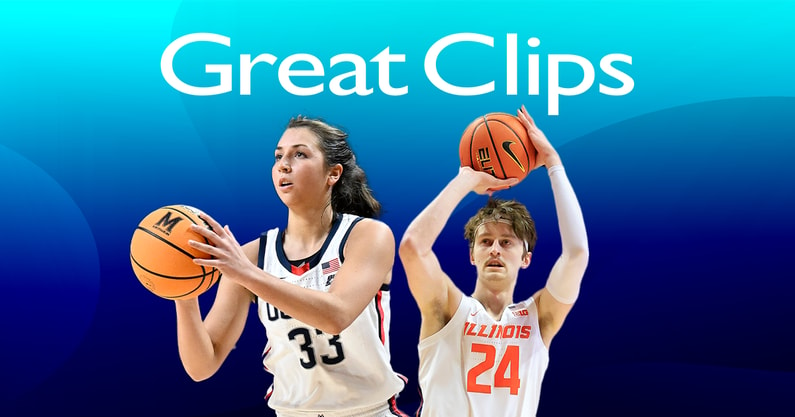 As March Madness inches closer, more and more brands are launching advertising campaigns and giveaways through NIL deals.
Great Clips – known as the "official hair salon of March Madness" – is one of those brands tipping off the NCAA Tournament with NIL agreements. The company announced in a press release Tuesday that it's introducing the "Hats Off Sweepstakes" and has inked partnerships with Illinois star forward Matthew Mayer and UConn standout guard Caroline Ducharme.
To inspire fans to go "Hats Off" during March Madness, Great Clips connected Mayer and Ducharme with some of the top trick-shot artists on social media. In a YouTube short released by Great Clips, Mayer and Ducharme are joined by social media content creators Trixshot Sam, Lucas Shapiro, Christian + Scooby and Kenny Chao showing off their "own unique and creative hat flips" after getting fresh haircuts for March Madness.
"You don't have to flip out over your hair," Mayer says in another YouTube short. "Great Clips has you covered. Show us your best hat flip for a chance to win a trip to the Men's and Women's Final Four. Looking this great, I don't need a hat anymore."
Great Clips sweepstakes details
Fans that participate in the sweepstakes have a chance to win a trip and tickets to the NCAA Men's or Women's Final Four. From March 7 through March 19, fans can share a photo or video of their hat flip on social media using #HatsOffSweepstakes or on the Great Clips website.
All eligible entries will be entered to win a trip and tickets to see the Men's or Women's Final Four games. The prize package includes two tickets to the winner's choice of either Men's or Women's semifinal and championship games, roundtrip airfare, hotel accommodations and $300 for food and local transportation.
"This March Madness, we're asking fans to ditch their hats because we know that a fresh haircut from Great Clips can give them an extra boost of confidence when cheering throughout the tournament," Lisa Hake, vice president of marketing and communications at Great Clips, Inc., said in a news release. "We're excited to see all the different ways college basketball fans will flip their hats for the chance to win a trip and tickets to the Men's or Women's Final Four games."
Great Clips announced a multi-year marketing partnership with the NCAA in 2020. The partnership includes NCAA March Madness, NCAA Men's and Women's Final Four, as well as marketing, media and activation rights surrounding all 90 NCAA Championships. Great Clips' partnership with the NCAA is through a joint agreement with Turner Sports and CBS Sports.
Ducharme, Mayer making a big impact with NIL
Caroline Ducharme was a McDonald's All-American coming out of high school in Milton, Massachusetts, and she made a big impact right away for the Huskies. In the 2021-2022 season, Ducharme was a second-team All-Big East selection and a member of the All-Big East Freshman Team. Ducharme is having another solid season for the Huskies averaging 7.4 points and 3.9 rebounds.
Ducharme, who has more than 25,500 followers on Instagram alone, has been extremely active on the NIL front. To go along with Great Clips, she's executed deals with Moolah Kicks, Bumble and TIAA. She was also named to the second edition of the Degree Deodorant Breaking Limits NIL team this past August.
Mayer, who won a national championship last season at Baylor before transferring to the Illini, has an On3 NIL Valuation of $115,000, which ranks No. 68 in men's basketball. He's also struck NIL deals with NextName and Cameo. Mayer is averaging 13 points, 5.4 rebounds and 41.9% from the field this season for the Illini.