SEC NIL oversight would suffer 'defeat after defeat in court'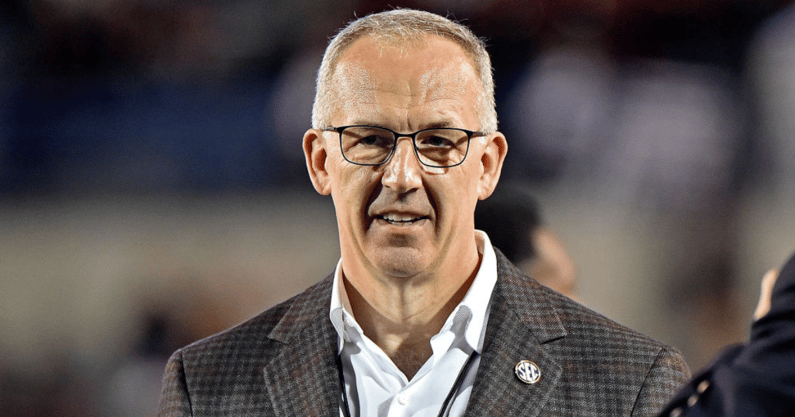 While Mark Emmert exits stage left, Greg Sankey attempted repeatedly to play by the rules and restore order to the lawless age of NIL.
But the time may be coming for him to take the reins.
The commissioner of the SEC went to Washington, D.C., with Pac-12 leader George Kliavkoff, in early May, pressing Congress to enact federal legislation to police NIL. No action items have emerged from his meetings.
He's called on the NCAA to make a move, too. The updated guidance has been characterized as a "whiff" and "lame."
And all of this comes as the commissioner just endured the most volatile moment of the NIL era. Nick Saban and Jimbo Fisher held a must-watch jousting match as the Alabama head coach accused Texas A&M of buying its entire 2022 recruiting class.
There's a reckoning coming. Greg Sankey gave his best assessment at SEC meetings this week of where the future sits: Conference oversight is not out of the question.
"It's a discussion point," he said. "As you asked the question, is it legal? I'm not the one to answer. We've certainly seen court outcomes that speak to conference oversight of certain aspects of college sports rather than national. And that's something we'd engage with our counsel in determining.
"To have a national standard, it appears to us that Congress has to act. And Congress may opt to not act. If that happens, we're now in hypothetical land and the [ sic ] question is a relevant one about conference oversight."
On3 spoke to NIL lawyers and experts, college coaches and athletes to answer the question: Could conference oversight be a viable, realistic option in the coming months?
More laws, more problems
NIL lawyers who On3 talked with were intrigued by the idea of the SEC exploring oversight. Many agreed major barriers could emerge for the conference and Greg Sankey.
The conference could be immediately in the crosshairs of an antitrust lawsuit. The NCAA v. Alston delivered a blow to amateurism in June 2020. The Supreme Court ruling stated the organization violated antitrust law by placing limits on the education-related benefits. The decision made it known NCAA restrictions — including on NIL activity — could face serious legal challenges in the future.
"It would appear that no one at the SEC has read the Alston decision," said Michael Caspino, an attorney based out of Newport, Calif., who has been a major player in crafting deals for recruits. "All nine Supreme Court justices stated loud and clear that you cannot suppress the earning capability of student-athletes in the name of 'preserving competition.' It is against anti-trust law for the NCAA or anyone else that wants to try and use that very poor excuse for exploiting athletes.
"If any conference wants to give this a try, just like the NCAA, they will suffer defeat after defeat in court."
Others involved in the NIL landscape disagreed. Darren Heitner, a lawyer and NIL advocate, believes it would be a viable option.
"There is nothing that precludes a conference from self-regulation," he told On3. "In fact, it likely makes more sense from an antitrust and normative perspective to leave any reasonable regulatory scheme to the conferences as opposed to it coming from the NCAA."
Ramifications past the courtroom
Even if the SEC's NIL oversight stood up in the courtroom, the conference could be facing plenty of other complications.
Mit Winter, a Kansas City-based NIL attorney, sees the possibility of oversight putting the SEC at a competitive disadvantage. With the number of NIL deals for recruits and players in the transfer portal, other conferences could offer more lucrative packages.
"I'm not surprised they'd explore it," Winter said to On3. "But I'm not sure they'll actually move forward with it for two reasons. One, if the SEC is the only conference to put in more restrictive NIL rules, other conferences will use that against the conference in recruiting. If that happened, I think the SEC would quickly rescind the rules."
Winter has concern for the SEC if other conferences follow suit.
"If other conferences put similar restrictions in place, it would look like collusion between the conferences and they'd be sued for violating antitrust law," he said.
SEC will have to overcome state laws, NCAA
The NCAA lifted its NIL law last summer because states' legislation was set to go into effect on July 1. The guidance released by the organization was significantly less stringent than many states' legislation, though.
Some states have opted to repeal NIL legislation to put universities on a fair playing field. Others have amended laws to fit the new landscape of donor-led collectives. But when shaping conference oversight, Greg Sankey and his team of lawyers would have to consider state laws.
"They will also have to consider the varying state laws that apply to some of its member schools," Dan Greene, a NIL expert and associate attorney at Newman & Lickstein in Syracuse, N.Y., told On3. "In Louisiana's pending amended bill, there is language stating that any contract disclosed by an athlete to its school shall be confidential and not subject to the public records law. Texas' law says that a NIL contract can't extend beyond the athlete's participation in the school's athletic program. States like Tennessee and Mississippi have been able to amend their NIL laws to allow their schools to facilitate deals for their athletes. Florida has not been able to gain traction on such amendment."
Others working with NIL do not see NCAA pushback as a factor, though.
"I don't think the NCAA will step in, because of their Alston related fears," Brad Blevins, a sports attorney based in San Antonio who represents athletes, told On3.
Blevins describes the NCAA's reluctance over enforcement in NIL as an example. And with the organization in the midst of leadership change, "the NCAA would be more than happy to let someone else take a seat in the chair."
SEC NIL oversight: What happens to the players
The NIL era opened Pandora's Box.
But what is the impact if the SEC does come down with NIL supervision? Would it be favorable to athletes or would it put them at a significant disadvantage?
Jason Stahl, the executive director of the College Football Players Association, believes collective bargaining is not out of the question.
"I mean, where is the player's voice here?" he told On3. "What do players get to have input about any of this? Is that possible? I think the truth is, they haven't even thought about it, because they're so used to infantilizing this workforce.
"I do think unionization and collective bargaining has to be done just like every other money-making sports American institution out there."
The key is to maintain a free market for athletes. Grant Frerking, a receiver at Tennessee and the president of On3's NIL U, has witnessed the installation of NIL in an SEC locker room.
Frerking has been adamant NIL has not reverberated into the locker room.
"I think everyone can agree we are currently living in a land with no laws right now," he said. "I think it's incredibly important that there is some type of regulation that ensures a sustainable future of college athletics, especially within football, where we see the majority of dollars being pumped into. Striking a fine balance between preserving college athletics while also maintaining a free and open market for athletes to earn and brands to reap benefits from is incredibly important."
SEC coaches standing in unison
SEC coaches made clear this week they support the idea of stricter guidelines.
"Would absolutely welcome it," an SEC recruiting coordinator told On3 of the possibility of SEC oversight. "Not looking to take anything away from their players but putting up some guide rails, not leaving it to individual interpretations and adding some teeth to pay for play/recruiting payments."
Ole Miss head coach Lane Kiffin has been a chief proponent of athletes profiting. Outspoken on the topic, he has been upfront on the impact NIL has had on the college game. He was candid at SEC meetings on what direction the sport is headed.
"Everybody's on the same page that something needs to be done," he said.
Later in the press conference, he outlined exactly what he and his peers are looking for.
"A lot of them would prefer to go back to how it was supposed to work," Kiffin said. "Players were going to come in, get NIL deals based on their performance and based on marketing. Now, you have players going in and getting money … for where they go to school."