Northwestern State's Hansel Enmanuel inks NIL deal with T-Mobile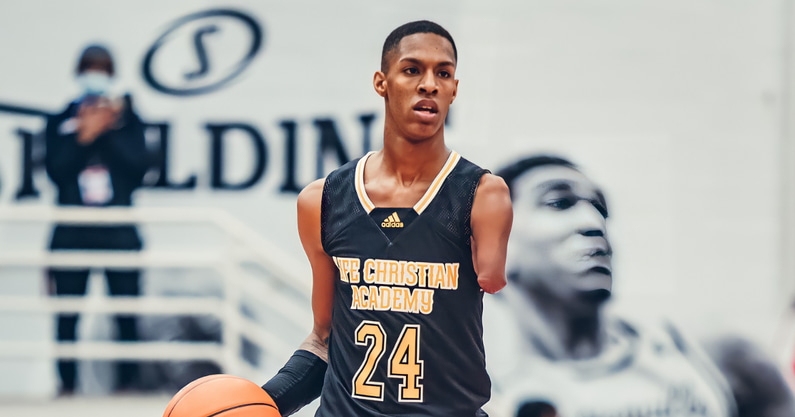 Less than a month after he is believed to have become the first NCAA athlete to receive an O-1 visa for NIL-related purposes, Hansel Enmanuel has signed a major NIL deal.
The Northwestern State freshman guard has inked a partnership with T-Mobile. The mobile telecommunications company is the second landmark deal for Enmanual, who signed with Gatorade back in June.
This is also the most notable move T-Mobile has made in the name, image and likeness space. Boost Mobile set the precedent at the start of the new era, signing the Cavinder Twins. And AT&T Fiber recently signed a handful of Tennessee athletes.
The deal was brokered by Z-Axis Sports. Details of the contract were not disclosed in Instagram announcement.
"Happy to be part of the T-Mobile family," Enmanual wrote in the post. "Like T-Mobile, we continue shattering expectations."
A former three-star recruit, Enmanuel had one arm amputated as a child after an accident. Born in the Dominican Republic, he played high school basketball at Life Christian Academy in Kissimmee, Florida. He held offers from Memphis, Bethune-Cookman and Tennessee State.
Before he received his new visa status in October, he was forced to travel outside of the country to finalize his deals. For the Gatorade commercial, the photoshoot took place in Mexico City.
He's seen some early action this season for Northwestern State, making his first appearance last week against Illinois State.
Hansel Enmanuel's On3 NIL Valuation
Enmanuel has an On3 NIL Valuation of $1.5 million, which ranks No. 9 in the On3 NIL 100. His On3 NIL Valuation also played a role in his O-1 visa being approved.
"You have to show that somebody has commanded a high salary, which in this case was an NIL deal that he had from a very big name that I cannot disclose without their permission because they're going to roll out a big announcement, which is going to be very exciting," Amy Maldonado, who helped present Enmanuel's case, told On3's Andy Wittry back in October. "… We definitely went with salary and we also actually used…On3's article about his valuation to support the fact that he would command a high salary… It was very helpful, I will say that."
The freshman also has a monster social media following of more than 4.2 million followers. He has a projected per-post value of $20,000.
The On3 NIL Valuation is the industry's leading index that sets the projected annual value for high school and college athletes' NIL opportunities. A proprietary algorithm, the On3 NIL Valuation calculates an athlete's NIL value using dynamic data points targeting three primary categories: performance, influence and exposure.
While the algorithm includes deal data, it does not act as a tracker of the value of NIL deals athletes have completed to date, nor does it set an athlete's NIL valuation for their entire career.
The On3 NIL Valuation calculates the optimized NIL opportunity for athletes relative to the overall NIL market and projects out to as long as 12 months into the future.